If you love to craft delicious cocktails, you know that having the right barware and tools is essential for creating the perfect mix. Whether you are an experienced mixologist or just starting out, having the right bar essentials is a must. Here are 5 bar essentials you should have in your home bar to craft the best cocktails.
5 Essential for Your Home Bar 
Jigger – A jigger is a two-sided measuring cup that is essential for measuring out the perfect amount of each ingredient in a cocktail. A jigger will help you create cocktails with the right balance of flavors and ensure that your drinks are properly mixed. 
Cocktail Shaker – A cocktail shaker is a must-have for any aspiring mixologist. It allows you to mix your ingredients together to create the perfect blend. Cocktail shakers come in a variety of styles, so you are sure to find one that fits your style. 
Muddler – A muddler is a tool that is used to mash fruits and herbs in order to extract juices and flavors from them. Muddlers are great for making mojitos and other refreshing drinks. 
Bar Spoon – A bar spoon is a long-handled spoon that is used to stir cocktails. It is essential for any bartender who needs to mix drinks quickly and accurately. 
Strainer – A strainer is a tool used to strain out the solids from a cocktail. It prevents chunks of ice, fruit, and herbs from ending up in the finished drink. Strainers come in a variety of styles, so you can find one that fits your needs.
These five bar essentials are essential for crafting delicious cocktails. With the right tools and ingredients, you will be able to create amazing drinks that you and your friends will love. So, stock up on these bar essentials and start crafting your favorite cocktails!

5 Winter Cocktail Ideas
Winter is here and with it comes the perfect opportunity to cozy up with a delicious cocktail. If you're looking to get creative with your winter drinks, here are a few delicious winter cocktail ideas and easy-to-follow recipes.

Spiced Pineapple Hot Buttered Rum Toddy


A delicious hot spiced rum beverage, this spiced pineapple hot buttered rum is perfect for fall and winter. It's a rum toddy which is ideal as a holiday cocktail. Ingredients for this warm rum drink include black spiced rum and butterscotch schnapps.

Vegan White Russian
This Vegan White Russian is made with just 3 ingredients and is the perfect cocktail to make to get in the holiday spirit! It's 100% dairy free, yet equally rich and creamy. Perfect for hosting, a nightcap, or sipping by the fire on Christmas Eve.

Apple Cider Whiskey Sour with Smoked Cinnamon


This apple cider bourbon cocktail is the perfect balance of sweet, sour, apple and spice! An apple whiskey sour is the perfect cocktail to enjoy throughout the Fall and Winter seasons.

Sugar Cookie Martini Recipe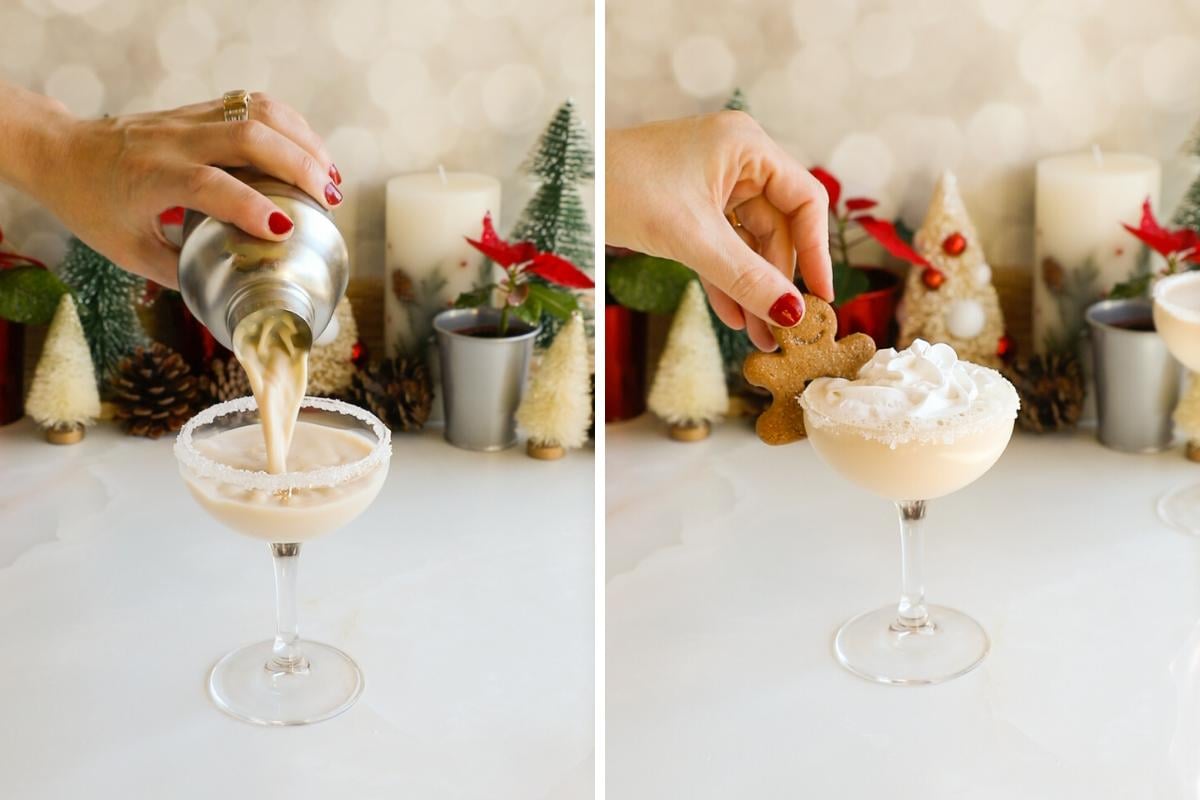 This delicious sugar cookie martini recipe is a fun and festive drink to serve at your next Christmas or holiday party!

Mulled Wine Recipe: Hot Spiced Wine for The Holidays
The mulled hot spiced wine is the ideal drink for the holiday season! This delicious, mulled wine Christmas punch is hot and spicy!
Holiday White Cranberry Sangria with Rosemary

This white wine cranberry sangria recipe with rosemary is the perfect adult drink to serve when entertaining for the holidays!

Winter Wonderland Margarita

When Old Man Winter strikes, nothing gets you through the cold night like a seasonal cocktail by the fire. Made with sweet and savory rosemary simple syrup and bright white coconut milk, this Winter Wonderland Margarita is your perfect sipper for the occasion. Serve with a candied rosemary sprig for a sparkly, wintry touch.
Peanut Butter Old Fashioned

Let's give a nostalgic twist to a classic cocktail with this peanut butter old fashioned! Sweet Skrewball peanut butter whiskey takes the place of your traditional bourbon or rye to make a decadent old fashioned that goes down oh-so smoothly. Get excited, my fellow peanut butter lovers — this Skrewball old fashioned is your dream cocktail you'll want to sip on every chance you get.

Poinsettia Mimosa

Poinsettia mimosas are a festive take on a classic mimosa, using cranberry juice in place of orange juice for a pretty drink that is full of holiday cheer. These beautiful cranberry Christmas cocktails are perfect for the holiday season, or any time of year!