Airport Tips And Tricks Every First Time Traveler Should Know. I have spent a lot of time in different airports around the world. I am probably in the minority when I say this, but I actually enjoy hanging out at the airport. The people-watching is like nothing you have ever witnessed and when you are prepared and comfortable, it's actually not that bad. I'll admit, most of my airport hangouts have not been by choice, and are usually a result of delayed or canceled flights. Yes, delayed and canceled flights suck but these airport tips and tricks are the difference between having a stress free airport experience vs the experience from hell.
Airport Tips And Tricks Every First Time Traveler Should Know
Never Check Your Phone or Laptop Charger (Like EVER!)
You have no idea how many times I have had a flight delayed for hours or flat out canceled. It only took one time of being without a phone or laptop for hours for me to realize that having your chargers with you as opposed to in your checked bag is a must. It allows you to keep cell phones and laptops charged during long delays which means you have communication as well as a way to occupy your time.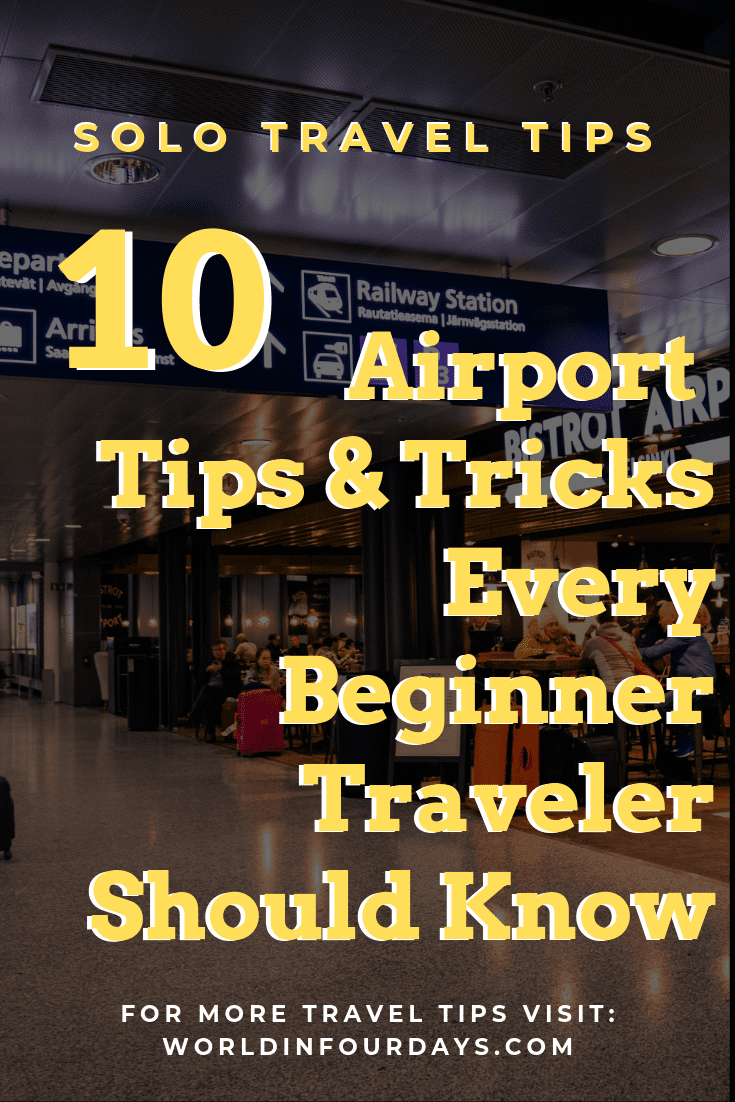 Always Bring A Power Strip
Power strips are like gold when you travel with lots of equipment that needs to be charged. You can charge phones, kids iPads, laptops, camera batteries, etc. all at the same time, and you only have to worry about finding one plug. Power strips are cheap and can be picked up for less than $5. I've even seen them at the dollar store. Here is the link to the one  I use. It comes in 2, 4 and six-port and I love that you can change things by standard plug and USB. Airport plugs are hard to come by however, someone might be more willing to unplug their charging phone if you offer up your power charger for everyone to share.
Don't Go Broke At The Food Court
Airport food is expensive and unless you just like lighting $20 bills on fire (poof…gone) bring your own food. Candy, chips, sandwiches, etc can all be packed the night before and brought with you. I avoid airport food at all costs since lines are usually insane anyway. My favorite airport snacks are frozen grapes, carrot sticks, nuts, hummus and pita chips, baked chips, gummy bears and crystal light packets.
Download your tunes and don't forget your headphones
Airlines usually charge $5 or more (if they even offer/sell them) and they are usually cheap with awful sound quality. Seriously, just bring your own. You can get to your seat, get settled in and be two tracks into your favorite playlist o your tunes all before the plane even starts down the runway…while everyone else waits for the flight attendants to make their way down the aisle. Plus, they are perfect for blocking out that chatty neighbor when you just don't feel like talking.
If you absolutely must check a bag don't forget to take a picture
You should photograph the outside of the bag, the inside to shows its contents, as well as the routing tags. If your bag is ever misrouted or lost, a picture is worth a thousand words. Telling the airline your black Samsonite luggage is lost is way different than showing them a picture of your black Samsonite luggage, with a picture of everything in it, as well as the routing tags.
Bring a Scarf on the plane, even if it's 100∘ degrees where you are going
A scarf can double as a mini blanket, if your neighbor decides to blast their air vent, an eye mask, if you want to take a nap, a pillow, when balled up, or a barrier between your face and the window (yeah, never lay your bare face on the window…thats just gross). Check out a few of my favorites. I love oversized warm scarfs in neutral colors because they go with everything.
Free wifi is great…having your identity stolen is not
Many people don't realize that the free wifi at the airport is not secure. That means a semi-decent baby hacker can access all of your information with just a few clicks. Avoid logging into accounts like Facebook, email and other social media sites. And for the love of  God, NEVER log into your online banking. Save the free wifi for music and streaming videos.
If you have a long layover, invest in a pass to the first class lounge
Most airlines have a first-class lounge and man oh man, some of them are awesome. All offer free food, drinks, wifi, quiet zones, and TVs. Some even offer a spa, massages, jacuzzis, showers, private sleeping rooms and kids play areas. This is one splurge I always plan for when I travel. They are a great place to relax and unwind if you have 2+ hours to kill between flights. First-class lounges are not cheap. Access to the American Airlines and Virgin lounge will set you back about $50-$75 however, a quick search on craigslist or eBay before you leave can usually get you a discount on a pass that's about to expire. These Passes usually sell for $20-$30 each.
Missed your flight or got bumped?
Don't line up at the counter with everyone else. Instead, call the airline directly on the phone. They have the exact same system and many times you can get your flight rescheduled in half the time, and you won't have to stand in a long line with cranky passengers.