Have you been to Disney World a million and one times? If so, here are 6 Alternative Things To Do At Disney World…on your million and second visit!
You already know that you can go on Space Mountain, Splash Mountain, It's A Small World, or visit a Haunted House, and that's only some of the popular Disney rides. But did you know that there are super-duper, extra-special things you can do at Disney that isn't necessarily common knowledge? So if you've already been there like 100 times, do select something new from my list of alternative things to do at Disney World.
Take An Epcot Dive
Plunge into the Caribbean Coral Reef, Epcot's 5.7 million-gallon saltwater aquarium and swim alongside thousands of sea creatures like dolphins, angelfish, sea turtles, and sharks. You can also wave hi to your family through the pavilion's 56 giant windows and then buy a souvenir DVD of your 40-minute diving experience. Who's in?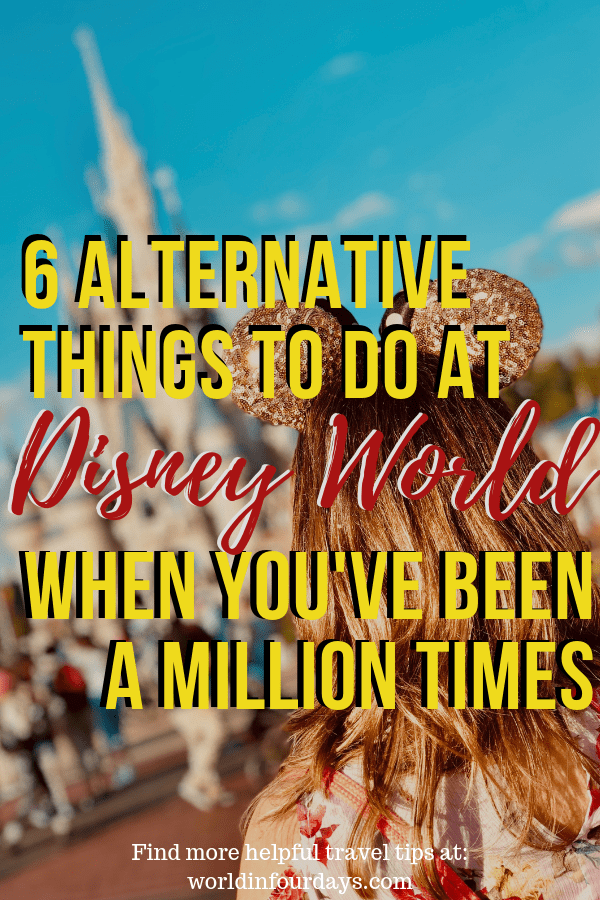 Go On A Disney Safari
Being in the wild is thrilling enough. Now imagine experiencing this in total darkness and that's what you'll get from the hour-long expedition of Disney's Animal Kingdom Lodge Night Safari. You'll get to travel on an open-sided safari vehicle, wear on night vision goggles, and explore the habitats and its wide array of animals if you dare.
Surf At A Disney Water Park
You can hang ten and shout cowabunga as you tackle up to 100 challenging waves in Disney's largest outdoor wave pool. Best of all, you can do this before the park opens or after it closes, so you won't have to wait too long, cause each session only allows 25 surfers, so you're bound to catch a wave or two. Just don't wipe out!
Go Backstage
You've already seen the way Disney works on the outside. Now it's time to pull the curtains back and discover how things really work backstage on a 7-hour tour that explores the inner workings of all 4 theme parks, the Magic Kingdom, Epco, Disney's MGM Studios, and the Animal Kingdom. Who knows, you might uncover some secrets you never even imagined. We're willing to bet you didn't know there were underground tunnels under the Magic Kingdom, but there are.
Shop This Post
Head to the park in style with these cute Disney items

Meet The Dolphins
Also on our alternative things to do at Disney World list is to hang out with the dolphins at Epcot's The Seas with Nemo & Friends Pavilion and learn all there is to know about these awesome creatures from their trainers. In under 3-hours, you'll also learn how the dolphins are trained to do trips and discover how environmental issues threaten the lives of dolphins. You can even get waist deep in the water and interact with these majestic creatures, and if you're nice, you can also take a photo with them too.
A Pirate's Life For You
Go on the Pirates and Pals Fireworks Voyage and you'll get to rub elbows with Captain Hook as you sail off from Disney's Contemporary Resort and experience a voyage around the Seven Seas Lagoon. You and your kids can munch on some pirate grubs and then enjoy the fireworks above Cinderella's Castle before living happily ever after, that is if you can avoid being thrown overboard for mutiny. Arggh!
Check Out These Other Awesome Disney Posts!
10 Don't Miss Experiences at Disney California Adventure This Summer
*This post contains affiliate links. To read our affiliate link policy, please click here.