"This is a sponsored conversation from Mums the Word Network and The Stork® OTC, an at home cervical cap insemination kit. All opinions are my own."
I can't believe that I'm spending the afternoon planning Reese's 9th birthday. Where the heck did the time go. I seriously feel like she was born just yesterday. Either she's growing up at lightning speed or I'm just getting old really fast…It just might be a little of both.
The other day we were looking at old pictures from when I brought her home from the hospital when she asked me, "What was it like when I was in your tummy mommy". I went into instant panic mode thinking this was leading to the inevitable birds and the bees talk but I was wrong (whew…dodged that bullet lol).
I wish I could have given her this amazing feel-good story about how I loved being pregnant but the truth is, I was sick as a dog. I had what doctors called Hyperemesis Gravidarum which in layman's terms means I spent every day of my pregnancy uncontrollably vomiting. It was awful and I remember thinking, "my gosh, I can't wait for this to be over". There was even an incident when I upchucked in a Ralphs grocery store.  My friends and family laughed at the irony of "ralphing" in a Ralphs…the humor was lost on me back then but now I can laugh about it. But in all seriousness, I was over it.
What makes it even more ironic was before getting pregnant I remember wanting nothing more than that little line on the pregnancy test to show up with a friend lol.  I think we tried everything under the sun short of fertility treatments to get pregnant, which looking back, I honestly didn't need. What I really needed was patience, but when you have baby fever, every month that goes by makes you crazy.
I remember doing a lot of research online about things I could eat, or positions I could lay in to get pregnant faster. I became known as the queen of the headstand lol. Then, after about 6 months of trying, that little line turned blue and showed up with a friend. Heck yeah..two lines meant pregnant and I remember thinking it's about time. But I also couldn't help but think about all those along the way I had met in chat rooms and Facebook groups. We had all formed a bond and had become friends and it broke my heart that a few of them didn't have it as easy. They needed a little more than patience, they had true fertility issues.
The Stork® OTC: An At Home Cervical Cap Insemination Kit

Nowadays there are so many options available to women who are struggling with fertility issues include a new over the counter at home cervical cap insemination kit called The Stork® OTC.
The Stork® OTC is a home conception device that helps with getting pregnant. This at home OTC medical device uses the cervical cap insemination technique that has shown to have up to a 20% success rate* 
The Stork® OTC is best used by couples who have been unable to conceive naturally and have received a diagnosis of low sperm count, sperm immobility or an unfavorable vaginal environment. The Stork® OTC contains a cervical cap inside a condom-like silicon sheath and is used to collect semen, then deliver it to outside of the cervix as an aid to conception.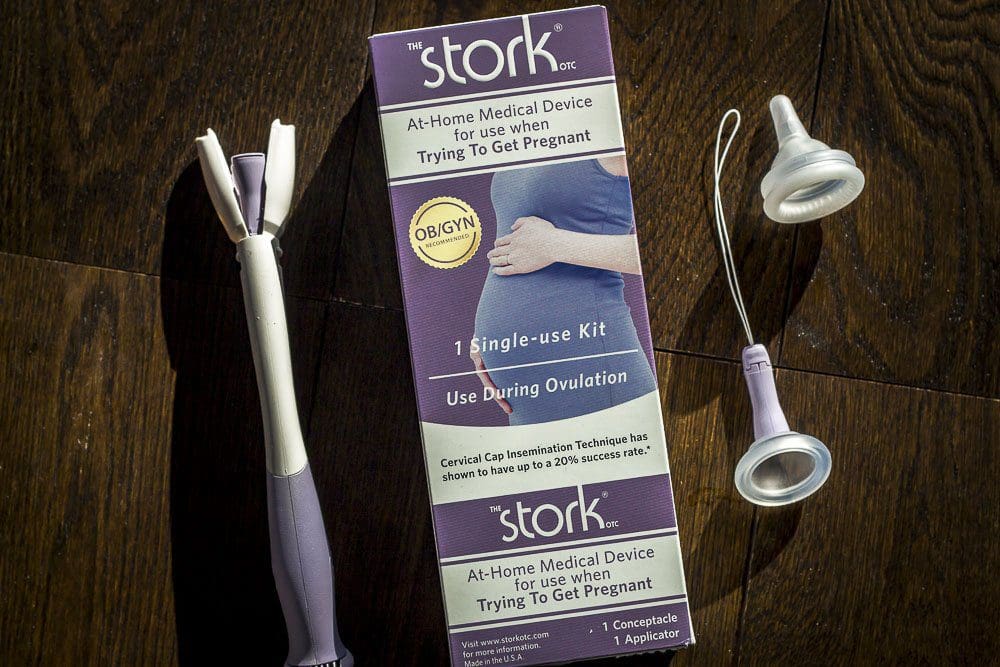 Pricing for The Stork® OTC is $59.00 at most retailers and can also be found at Target in the family planning section next to ovulation test kits! The Stork® OTCkits are single-use kits and can be disposed of in a trash receptacle after use.
As with any medical device, consult with your doctor before trying The Stork® OTC. You should also avoid use if you have been diagnosed with the following conditions: No sperm in semen (azoospermia), blocked fallopian tubes, known STD's or have had a hysterectomy. The Stork® OTC is also not meant to be used as a contraceptive device and is to be used strictly as an at home cervical cap insemination kit.
If you are struggling with fertility issues and looking for solutions, join me
November 29th at 8 pm EST
on
Twitter.com
for a twitter party as we discuss
The Stork® OTC
in more detail.
Use the hashtag #StorkOTC and/or #GettingPregnant to find us and participate. If you can't make the party but still want to try The Stork® OTC, you can pick it up now for $59.99 at Target and most retailers. The Stork® OTC is also available online at www.storkotc.com.