This post "Back To School Basics: Back To School With Primary!" was sponsored by Primary.com. All opinions expressed are my own. For more information on or sponsored and/or affiliate link policy, please click here.
Our Favorite Back To School Basics
No, school hasn't started yet, but the back-to-school season has. As a mom, the pressure of shopping for Reese feels real. Not only do I have to buy the school items she'll need to get through the school year, but I also need to make sure that she's got plenty of basic staple items that are school-appropriate, comfortable, and well…cute! Fortunately, I didn't have to rush to the nearest store to go shopping. Back To School Basics
This year I decided to stock Reese's wardrobe with beautiful, brightly colored basics from Primary.com. Believe me when I tell you that they have so many back-to-school options that are so freaking cute, that you'll quickly find yourself adding more and more pieces to your shopping cart. Back To School Basics
I was really excited to find a children's clothing company that makes durable clothes that Reese and I can get excited about. The hardest thing for us when we go clothes shopping, is we end up wasting an insane amount of time browsing through and trying on clothes. Then, we usually end up needing to find someone to help us find what we're looking for in Reese's size. On top of that, we have to drive to the store, too! And once you're done trying on a million outfits, you finally get to stand in line at the checkout. It's a total waste of time! Back To School Basics
Just The Basics – No Patterns, No Slogans!
That's why this year, I decided to keep it super simple and made sure to grab all back to school wardrobe basics online at Primary.com. I LOVE that Primary offers clothes that are all solid colors, and slogan-free. Best of all? The quality of the clothes I got for the price I paid is ridiculously good. Plus, the solid colors allow you to mix and match pieces and create some super cute and fun outfit combinations that are perfect for school, and even birthday parties!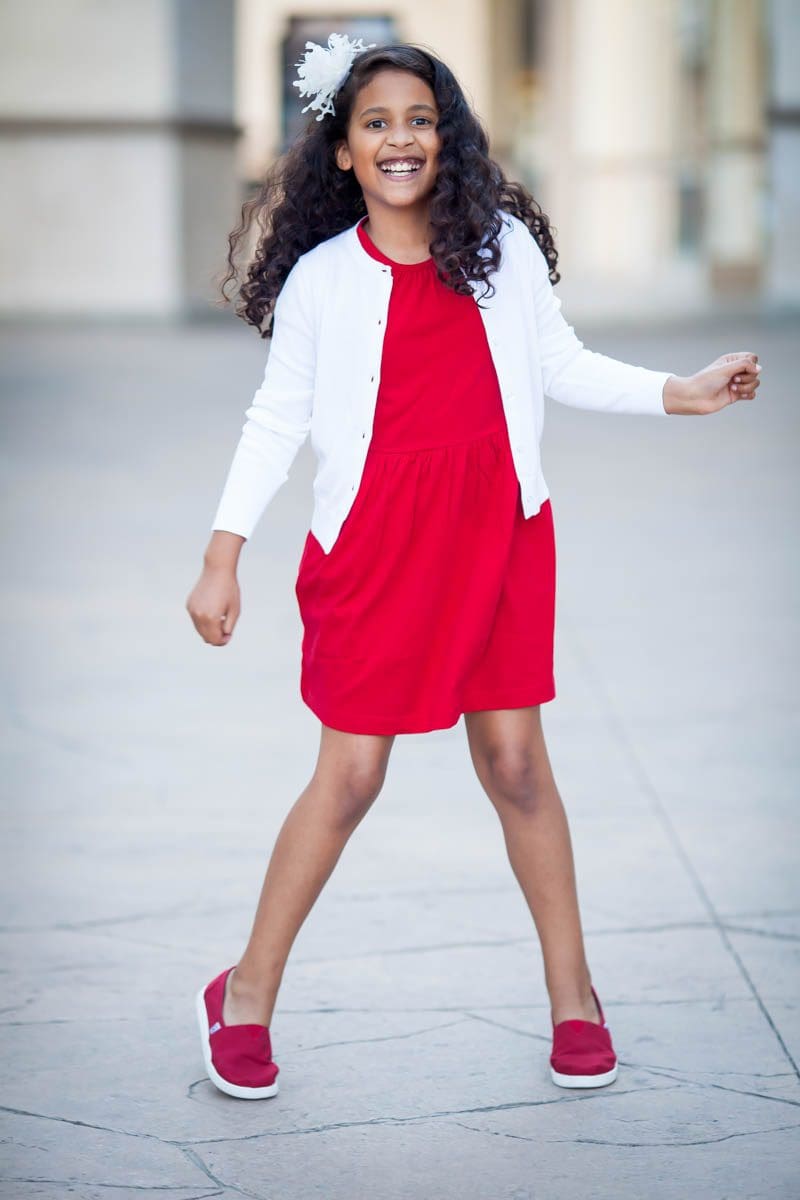 So one afternoon, Reese and I sat down and browsed through Primary's online lookbook. I'll be the first to admit that I went a little overboard with the purchases, but, there were so many solid basics I just had to stock up for the year! I got Reese a couple of Premium Slim Tees—one was grape colored, but I also bought her a few in black, grass, and raspberry for only $12 each. I chose those shades because they easily make her eyes stand out, but they also add a pop of color without making the outfit feel "too flashy." Back To School Basics
Our Online Shopping Haul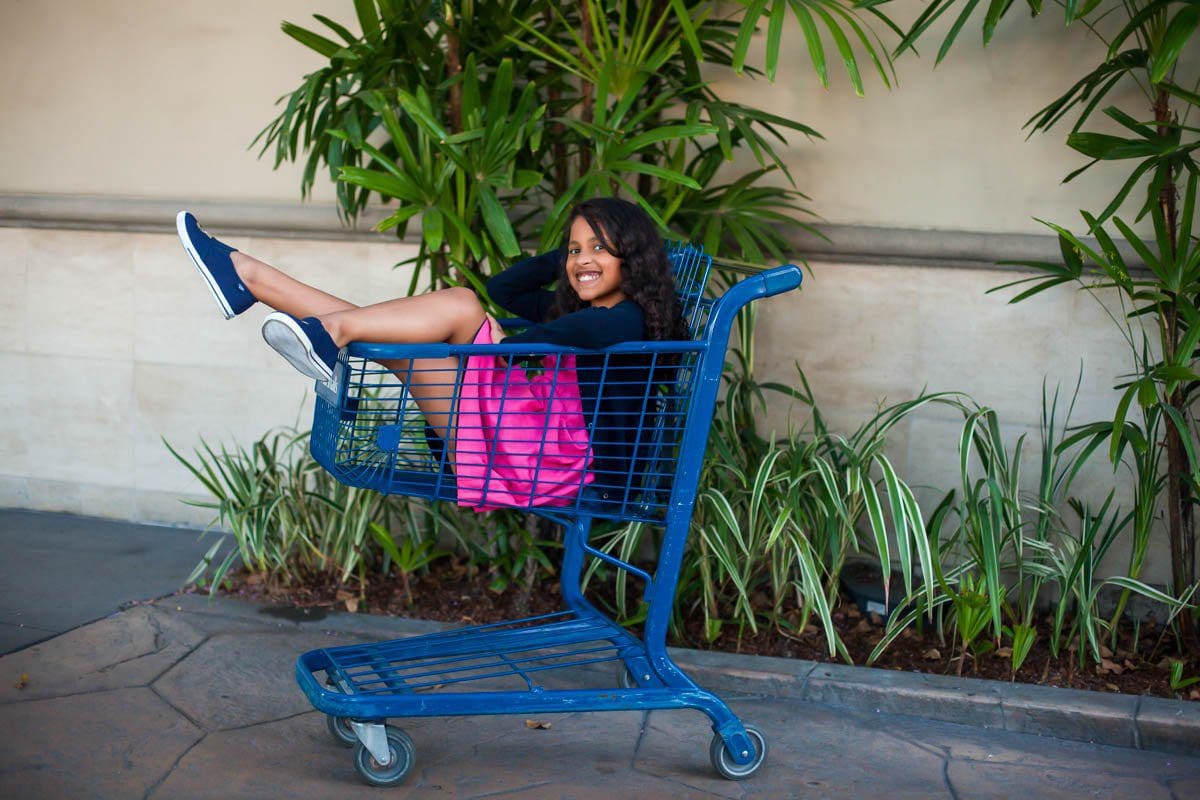 I also bought her two new Pocket Skirts—one in sunshine and the other in grape for $12 each. But since the Fall and Winter seasons are right around the corner, I bought her three Cozy Hoodies—one navy colored, one black, and one heather charcoal, which cost me $24 each. I even got her some Cardi Sweaters for $24 each—one in the sunshine, one in navy, one in white, one in dandelion, and the other in heather charcoal color. If you pair them up with neutral dresses and shirts, or even dresses and skirts you already have that have fun prints you can make tons of different outfit options…you can even let your kid dress themselves. Even a 3-year-old can coordinate solids and still look fab!
Since we live in sunny California and it will still be warm when Reese heads back to school, I made sure to get her a couple of Short Sleeve Dresses too. One in cherry for $16 and a navy colored one for $32. I made sure to include a couple long sleeve dresses in the color "dandelion" and another one in "raspberry" for $18 each. Since I couldn't help myself, I also got her three Tanks—one in cherry, one in navy, and one in pool color for $8 each, because you can never have enough tank tops! Back To School Basics
Reversible Clothes…Say What!!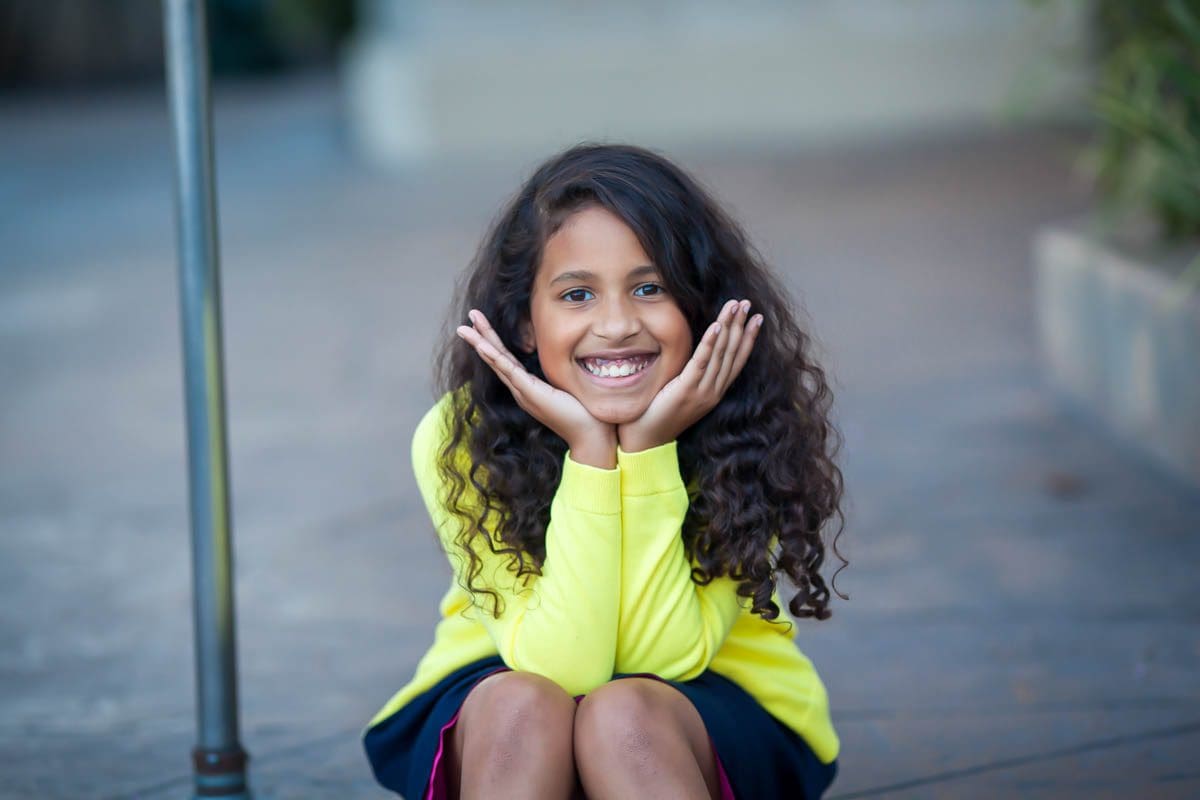 But the star of this virtual shopping trip has got to be the super convenient Reversible Sundress for $24. It's soft, comfortable, and it comes with side pockets too (That was a major win for us since we LOVE pockets). But the thing I like the most is how easy it is to put on and take off. In fact, I love it so much that we ended up snapping some fabulous pics with the blue and pink reversible sundress that caught Reese's eye first. She just fell in love with it, and judging by the quality of the dress, I'm willing to admit she's got great taste (like her momma lol)!
I love that Primary offers so many different colors to play around with and mix and match. From yellow, white, black, and almost every color in the rainbow. Primary is perfect for those days when your kid needs a pink shirt for Valentine's Day or a green shirt for Earth day or St. Patricks day or just about any other color-themed holiday your school throws at you.
Primary.com's main focus is on making modern classics that are both simple and soft but sturdy at the same time. Primary carries children's sizes 0 to 12. And if you need to stock up your child's wardrobe right away, Primary gives you the option for overnight shipping (which we did), and you also get free shipping on orders over $50. If it weren't for Primary I'd be in quite a bind, but now Reese will be ready to show off her awesomeness when the school year begins on Monday! Back To School Basics