I'm a sucker for a good muffin for breakfast or even as a snack. Muffins are my go-to because they are easy to make, are great for breakfast on the go, they can be made ahead of time and frozen, and the possibilities are endless so you'll never get bored. If you're looking for a tasty muffin recipe check out the Breakfast Muffin Roundup.
Last week I spent some time whipping up a few muffins for breakfast for the week. Since we're officially in fall and one of my favorite falls fruits is cranberry, I decided on a Glazed Cranberry Pecan Muffin and it was a hit. I shared it over on Instagram and people fell in love with it so I thought I would share a roundup of a few other muffins we love.
Breakfast Muffin Roundup (Vegan Options Included)
If you want to add muffins to your breakfast menu or even keep them on hand for snacks, check out a few of these:
Switch up your breakfast routine with these Glazed Cranberry Pecan Muffins made from scratch. They're a great alternative to cereal and good for breakfast on the go. Make ahead of time and freeze them for a quick breakfast. @manthatlooksgood
Checking Out This Muffin Pan

Delicious Pineapple Coconut Muffins that bring that tropical flavor to your mouth. Easy to make and are sure to please those who enjoy coconut and pineapple. @momsandmunchkins
This egg-free and dairy-free blueberry muffin recipe is easy, simple, and quick. It only requires 8 ingredients total and can be mixed all in one bowl. Yay, for only a few dishes to clean!
If you want a recipe that tastes great with your fresh blueberries, then give this recipe a try. Don't have fresh blueberries? No worries! Frozen blueberries work just as well. @plantprosperous
Delicious and quick walnut and pear muffins – the perfect sweet treat or lunch box filler! @simplifycreateinspire
These pumpkin cream cheese muffins combine pumpkin, fall spices, and a cream cheese swirl for one delicious bite. They're perfect for a grab and go breakfast, a pumpkin dessert, or brunch. @playpartyplan
These apple streusel muffins are perfect for breakfast or a mid-afternoon snack. Loaded with fresh apples, warm spices, and a crunchy streusel topping, they are perfect any time of year. @tastesofhomemade
There is no better way to enjoy Fall flavors at breakfast (or as a snack) than with tasty moist muffins with pumpkin. Best of all, you can whip up a batch of these easy pumpkin muffins with yogurt in less than 30 minutes. With a delightful pumpkin flavor and moist texture, these homemade pumpkin muffins are one of my favorite muffins to bake at home. @creatorsofcoffee
Soft, fluffy, and moist Banana Nut Muffins topped with brown sugar and walnuts. This easy muffin recipe comes together in minutes, and they bake up perfectly every time. @celebratingsweets.com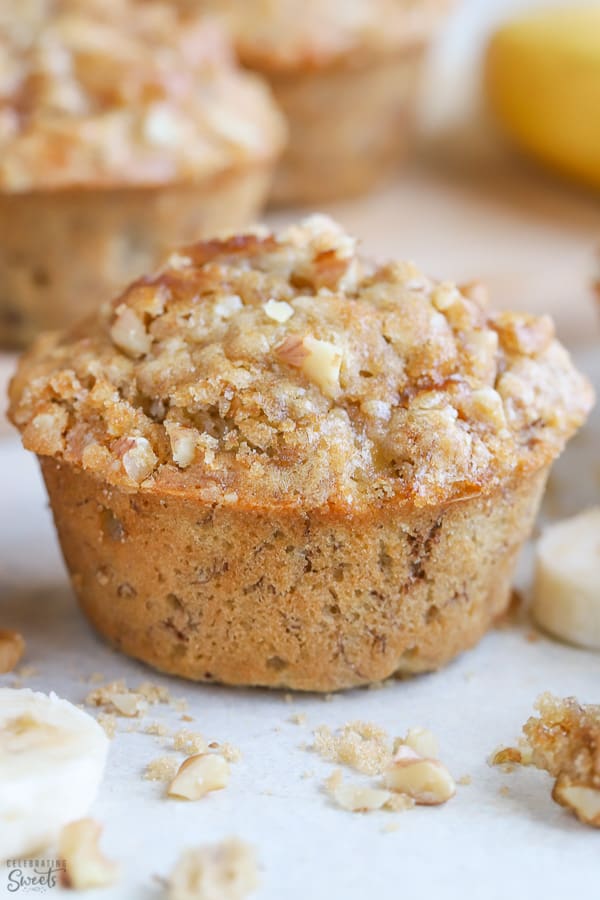 These pumpkin spice muffins are the perfect vegan Autumnal bake. Packed with spice, not too sweet, and ready in just 35 minutes! @shivanilovesfood
Raspberry Muffins are a tender and quick breakfast recipe loaded with juicy red raspberries and topped with an irresistible sugar crumble. @sugarandsoul.co