Can I brag for a minute? I know you're probably still rocking sweaters but here in California, it's May and 80 degrees and we're searching for cute swimsuits for little girls. We might have sky high rent and insane traffic but we also have amazing weather which means outdoor swimming in May.
Cute Swimsuits For Little Girls
Since our summer weather starts earlier than most and usually lasts longer, we go through a lot of swimsuits. Between the beach and hotel pools, this kid sees a ton of water and I wouldn't have it any other way. Since we've already picked up our summer swimsuits (like this cute one from OshKosh), I decided to round up a few others that I thought you guys might like.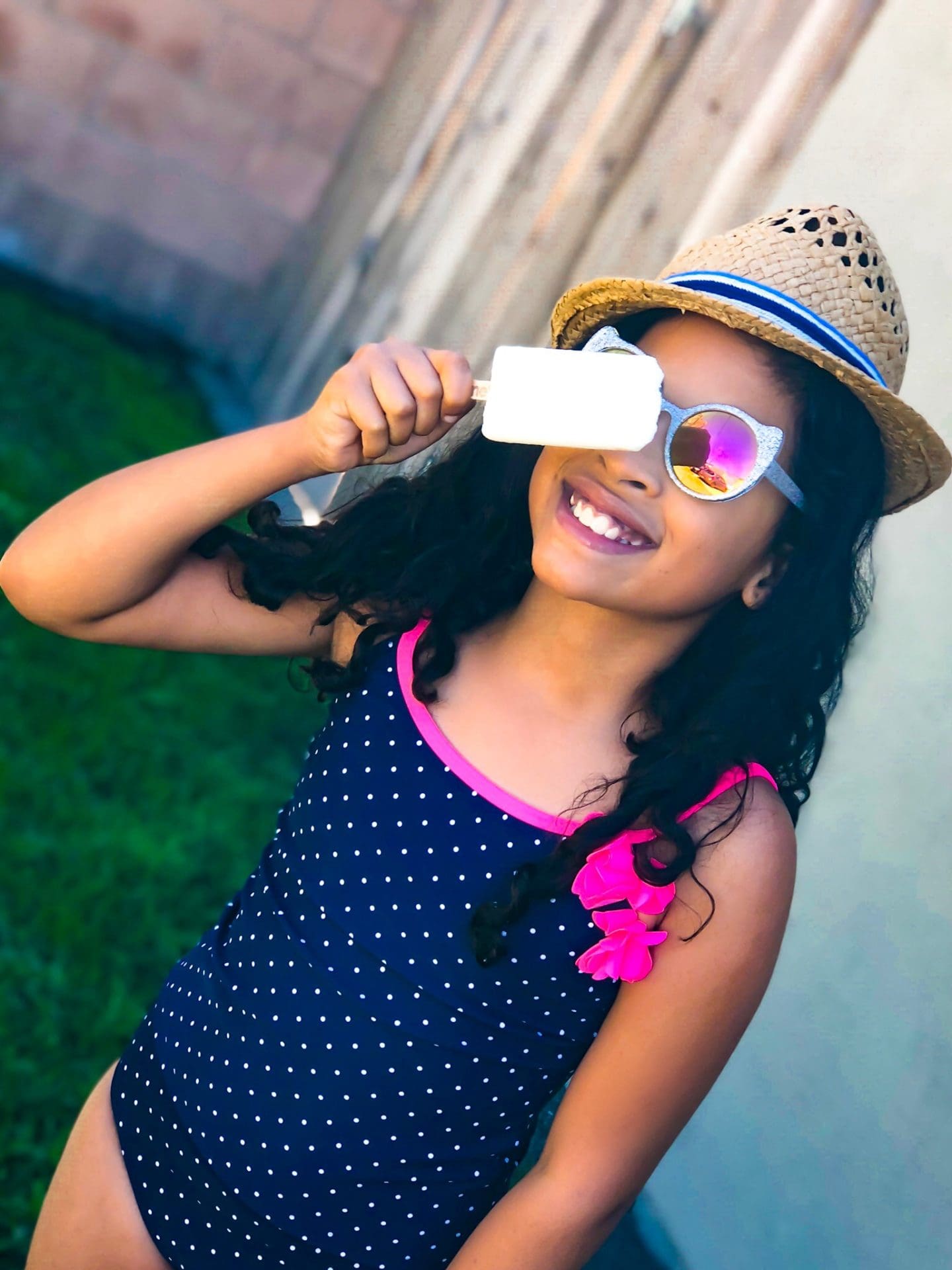 We looked at a lot of cute swimsuits for little girls this weekend but Reese fell in love with the Moana one below. She was Moana for Halloween (in case you missed that post) so when she saw the Moana swimsuit she lost her mind lol. This swimsuit has super cute ruffles and is an off shoulder tankini with shoulder straps so you don't have to worry about it falling down. We're headed to check out one of the Disney hotels this summer so this one was perfect for lounging by the pool in true Disney fashion.
They actually had a couple of really cute designs like this one shoulder one and even one for toddlers.
When Reese is not hanging poolside during the summer you can usually find her glued to her iPad playing Minecraft. I was actually really surprised we ran across this swimsuit because we don't usually see a lot of Minecraft stuff made for girls. Reese loved the creeper graphic on the front so getting this one was a must. This one arrived after we had already shot the photos for this post but I'll be sure to add a photo of her wearing it on Instagram so you can see the fit. It's actually really well made and fits perfect.
We love hitting up the mall any chance we get but we've really come to love shopping on Amazon We can search a wide range of stores, add things to wish lists and come back for them later as well as monitor deals. I have an Amazon Prime account so that means I get really cheap fast shipping (sometimes same day!). Amazon has an amazing returns policy so if you happen to pick up something that does not fit, returning it is no big deal.
On a side note, if you don't have an Amazon Prime account you can Try Amazon Prime Free for 30 days. If you decided it's not for you, no biggie. You can cancel it at any time but, I have a feeling you'll love it just as much as we do.
We are so excited to kick off spring and break in our new swimsuits. If you have a few more months of cold a in your neck of the woods don't worry. Use this time to search for cute swimsuits so that when the weather breaks you can head straight to the pool! Cute Swimsuits For Little Girls
Looking For More Ideas? Check These Out!