This post "Christmas at Disneyland Featuring Disney Plus Size Fashion Ideas" has been made possible by Rakuten Marketing on behalf of Macy's. All opinions expressed in this post are my own.

Holidays are stressful, there's no denying it. You've got shopping, cleaning and preparing to do. Your lists have lists. It isn't easy to keep it all together, whether you are planning to decorate a tree, or wrapping those last minute presents while you pray the kids don't wake up. I get it. You're stressed. But take a moment while you're doing all of this holiday preparation to remember what it felt like to be a kid. The joy and the wonder of the decorating, all the wonderful smells to take in, and family. Do you remember it? Disney Plus Size Fashion Ideas
It is so important to take time out to be a kid once and awhile. To just appreciate the here and now, with no worry about tomorrow or regrets from yesterday is a gift. My family believes in embracing our inner children, especially during the holiday season. How do we do it? Like all adults, we do our best work over brunch! Disney Plus Size Fashion Ideas
Now if I'm going to head off to Disneyland, I have to look the part, right? So today I'm busing out my Disney plus size fashion ideas for you. You know I can't go visit one of the happiest places on earth without the proper attire-that would just be uncivilized!
Thanks to Macy's, I have found a few fantastic Disney plus size fashion ideas and options for this year's holiday brunch. I was so excited about my options that I just couldn't pick. I decided to go with a classic Minnie Mouse look, and I need a little help choosing which one to go with.
Disney Plus Size Fashion Ideas Look #1
If you're looking for the perfect pair of skinny jeans that look effortless, you have to try these William Rast Plus Size Perfect Ripped skinny jeans. They hugged my curves in all the right places, and with the rips at the knee, I have the perfect carefree look going on. To keep my Minnie Mouse theme going, I teamed it up with Hybrid's Plus Size Minnie Mouse Sweatshirt. I must admit, I have never looked so adorable! Disney Plus Size Fashion Ideas
Disney Plus Size Fashion Ideas Look #2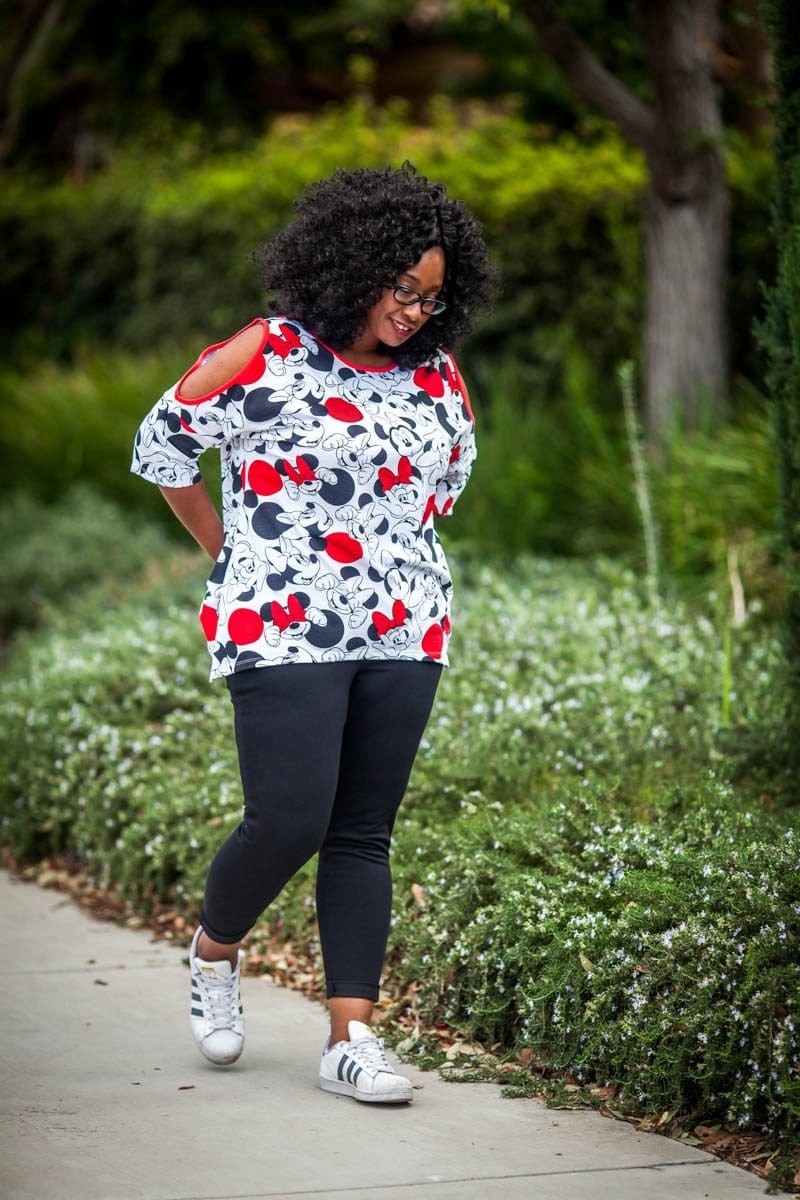 Now you're going to see why I can't decide which look I like best. It doesn't get any more classic Minnie than this. For look #2, I'm wearing Hybrid's Trendy Plus-Size Cold Shoulder Graphic Top – it has these adorable prints of Minnie and her bow all over, and the peek of shoulder gives it just the right amount of sass. For the bottoms, I chose  Levi's Plus-Size Pull-On Jeggings in black to allow the details from the top to really shine through. Disney Plus Size Fashion Ideas Look
I cannot wait to get to that brunch and be merry in my Minnie Mouse outfit. But which is it going to be? Help me decide! And while you're at it, make sure you head over to Macy's to grab yourself a few pieces of clothing too. After all, Mom needs a few presents under the tree!