The holidays are officially here, which is when my family and friends gather at my house for a pre-Thanksgiving brunch. They also stick around for the main holidays like Thanksgiving and come back for Christmas and New Year's Eve. What can I say? We love hanging out together over the holidays! But what we love more than each other's company is the food. Boy, do we LOVE eating some good food!
Now, let keep it real…I'm on a tight budget, but I make sure to cook some delicious homemade treats and snacks, which literally cost 3 times less than it would if we all went out to a brunch. And even though I truly love hosting my family and friends, I have to admit that I hate doing dishes, (but then again, who doesn't?) Cleaning up after cooking is usually okay when it's just me and Reese. But, add a house full of guests and their dirty dishes…no way! We're doing paper plates and napkins this yeat #noshame 
I waited until the last minute (like usual) so I was happy for
Amazon's
 next day delivery. Everyone knows
Amazon
offers a wide selection of affordable household products, which is great, because between my family and all the guests, I definitely need all the products I can get, like
Dixie® Everyday paper plates
. These are a real lifesaver. Not only can they hold up to 2LB of food, but they're durable for just about anything you serve on them, heavy or light, like eggs, chips, croissants, olives, rice, or pizza. The best part is that after everyone's done, all I have to do is throw the plates in the trash and I'm done. No more cleaning dishes, Yay!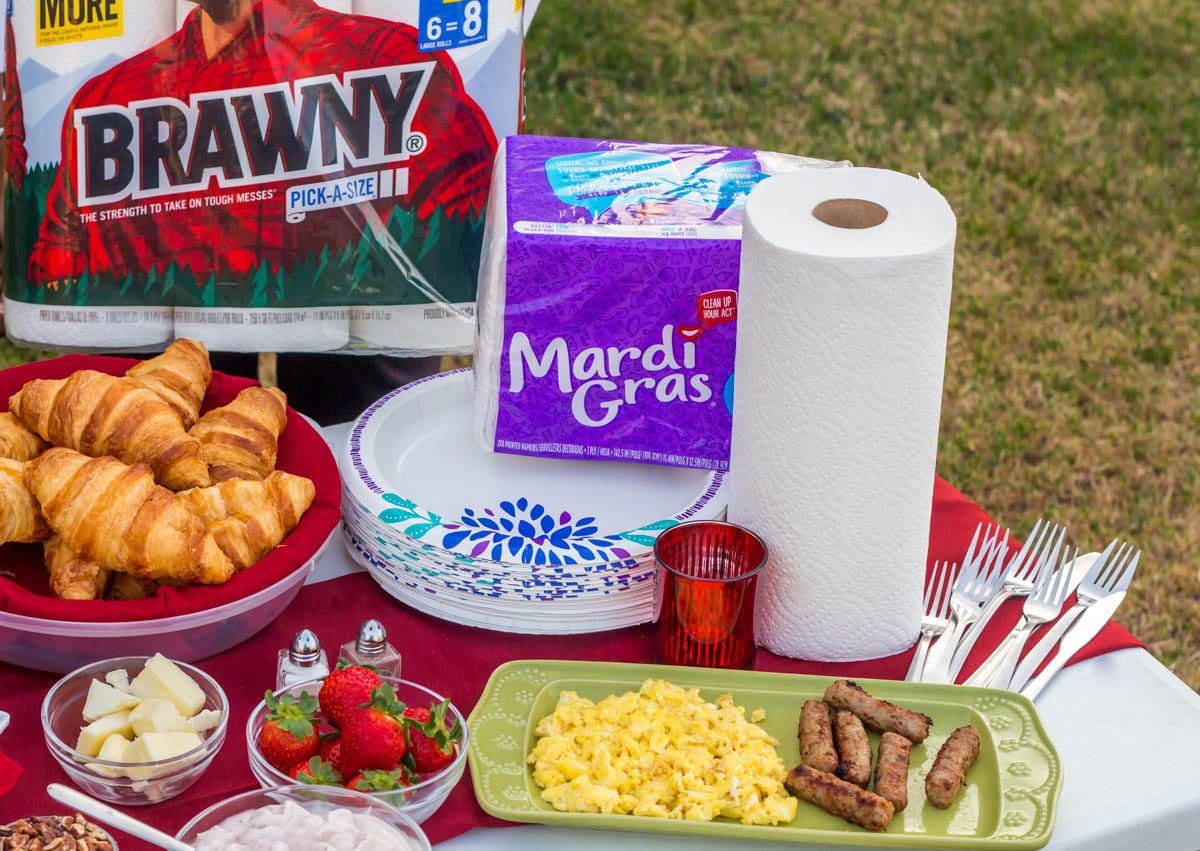 Of course, kids wouldn't mind wiping their chins with their shirt sleeves. Then again, they're not the ones who have to do laundry. That's why I'm so glad I can count on Mardi Gras® Paper Napkins. Not only do they have a saucy collection of super fun and super fetching napkins, but it ensures that my family and friends don't wind up with looking like a mess.
Parties get messy. I'm honestly not the type to freak out over a little mess. After all, it's the holidays, which means someone's going to drop a plate of macaroni salad or spill their tea, juice, or coffee, and that's okay. I don't worry too much about it because I got Brawny® Paper Towels. The power of Brawny can handle even the toughest messes, which allows me to clean up quick and easy, so I can get back to what's important, my family, my friends, and obviously, all the fun!
As a busy mom, nothing keeps me calm, collected, and happy like having disposable products because they give me the real freedom to celebrate the holiday without having to stress out over who's going to clean that mess. After all, who wants to be stuck in the kitchen washing dishes, while everyone else gets to have all the fun, right? Since December is also going to be a busy month, I've decided to plan ahead and you should too.