This post "Mom 2.0: How Dove Is Changing Lives With The Dove Self Esteem Project" is sponsored by Dove. All opinions expressed are my own. For more information on our Sponsored post and/or affiliate link policy, please click here. 
If you are a regular follower, you probably saw all of the excitement at The World In Four Days. I had the opportunity to attend Mom2.0 this past week, where Dove was the title sponsor. It was an honor to be able to share the stage with people who are as dedicated to their work as I am. Besides being able to attend amazing conferences and seminars, I was able to see first hand the work the folks at Mom2.0 are doing with the Dove Self Esteem Project HourWithHer. You can find out more about the Dove Self Esteem Project here. 
How do you add more incredible to an already incredible day? You add an icon in, of course! Debbie Allen is a powerhouse and has been for decades. Whether she is dancing, acting or directing, she brings grace and excellence to everything she does. Being able to meet her at Mom 2.0 was one of the best parts of the experience.
https://www.instagram.com/p/BiaGZvCBWEB/?taken-by=courtneyblacher
While I attended, I was able to sit in on Dove's  #hourwithher conference. During the workshop, we worked out of the Dove self-esteem workbook. Here is how it worked: We started the workshop talking about the power of language and how words can be used to build us up or tear us down. Words like fat, disgusting, huge vs words like powerful, beautiful, strong. We use the worst language to describe ourselves sometimes, and it really affects our lives in ways we have never imagined it could. 8 in 10 girls with low body confidence will opt out of important activities, such as raising their hands to voice their opinion. Less confident women mean women will continue to receive less credit in the workplace and society at large.
One of the things that really struck me as I was working through the workbook was how dedicated Dove is working to assist girls in feeling good about themselves. When you believe that you are not beautiful, and you are inherently wrong, you treat yourself and allow others to treat you in ways that are unhealthy for you. It is critical that women learn their value and see their beauty. Dove made it a point to drive home the Dove Mission: to ensure that the next generation grows up enjoying a positive relationship with the way they look—helping young people raise their self-esteem and realize their full potential.
We also explored how we began feeling bad about the way we looked. During this exercise, we went in our workbooks wrote about a time someone else made us feel bad about ourselves. There are circumstances in our lives where someone will criticize our appearance and it will stick with us forever. I shared a story about a time in middle school I had a sleepover at a friends house for a birthday party. Her mom bought cute PJ's for all the girls but because I was bigger than everyone else mine didn't fit. I spent most of the night in the bathroom sad and upset because I didn't fit in because of my size. I was picked on for years after that.
We shared our story with our partner and talked about how that moment made us feel and how that small moment in time affected our self-esteem. This made me feel self-conscious about my weight and started to do things like wear baggy clothes, avoid situations where I would be the only "big girl" there. I also avoided all sleepovers.
Next, we were each able to rewrite our story with a script on how we would have handled the situation different and ways to deal with times in the future someone made us feel less. It was great being able to revisit the situation and craft a speech on how we wished we would have handled the situation. It was also great hearing other people stories and realizing that everyone shared experiences. It was also nice to take back the "power" that we felt was stripped from us by rewriting our history.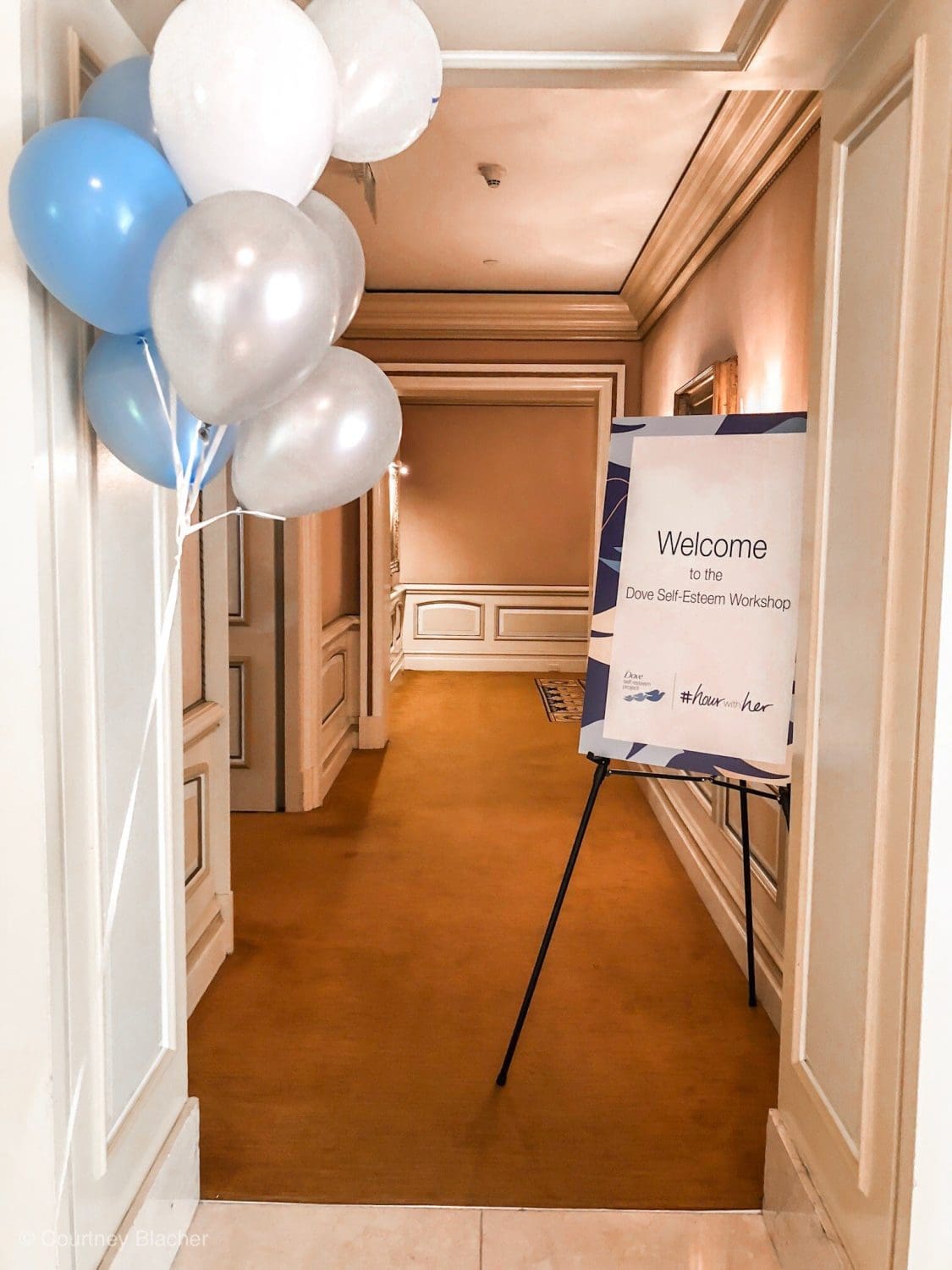 Since 2004 the Dove Self Esteem Project has helped more than 20 million young people develop a positive relationship with the way they look by encouraging women to spend time talking to a girl in their life about beauty, confidence, and self-esteem. I wish that something like this existed for the little girl who locked herself in the bathroom. The Dove Self Esteem Project is so powerful, and it is changing what it means to be a confident woman. 
Dove didn't stop there though. They included a beautiful suite where women could come to get pampered, relax, and talk with a self-esteem coach. You could also pick up some personalized baby Dove products, and all of this glam was included in your ticket price! What made this particularly exciting for me was that they were able to do my hair! Usually, when you go to events like this, you encounter stylists that are not prepared to work with African American hair, leaving many of us out of the fun and feeling less than special. I was very glad that Dove thought about this dynamic and sought to include every woman. This time I wasn't left out. The suite was absolutely beautiful. 
This is an experience I wouldn't trade for the world! Dove has an incredible message to spread and I am so grateful that they are using their powerful platform to empower women. Thank you, Dove, for helping women to reclaim their self-esteem!
For more information on the Dove Self Esteem Project and #HourWithHer, please visit: https://www.dove.com/us/en/stories/campaigns/hour-with-her.html