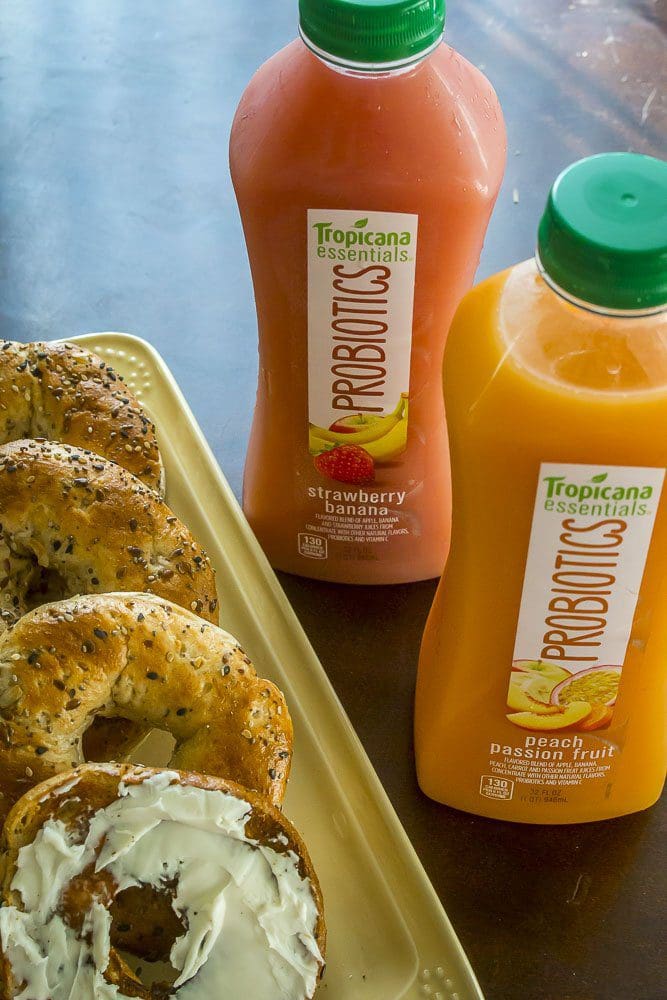 Breakfast is the most important meal of the day and gives us good fuel to power through whatever life throws at us. Sleep is important too! So since we like to sleep in, we had to find a way to incorporate breakfast into our sleepy little mornings. Easy Breakfast Ideas
Fortunately, we came up with a great plan: Tropicana Essentials® Probiotics. Tropicana Essentials® Probiotics is an easy, fast, and, when paired with a bagel and cream cheese or high-protein breakfast bar, it's a quick and tasty breakfast we can grab on the way out the door.
I love that Tropicana Essentials® Probiotics is packed with 100% real fruit and there is no added sugar, no artificial colors or flavors, so we are making a great food choice. As if that wasn't enough, there are other goodies in the juice: each serving has one billion live and active cultures in it.
Probiotics are great for you. Reese loves the Strawberry Banana Tropicana Essentials® Probiotics that is made with apple juice, banana, strawberry and even vegetable juice puree. I love Tropicana Essentials® Probiotics
because it allows me to sneak in an extra serving of fruits and veggies into her daily diet without
a fight. #momwin Easy Breakfast Ideas