This post "Our Favorite Educational Mobile App Game For Killing Time" is sponsored by Zynga, but the content and opinions expressed here are my own. For more information on our sponsored post and/or affiliate link policy, please click here. 
Our Favorite Educational Mobile App Game
Finding time to bond with my daughter is tough, especially since we're always on the go. If we're not
traveling across the US, I'm too busy managing my business, or I'm running off to one of Reese's
afterschool activities. That is why I try to find ways to spend some much-needed mother/daughter time!
Fortunately, I found a super fun mobile game called Words With Friends 2 that not only keeps my brain active, but it also makes me feel smart and connected when I play with Reese. But who says the fun has to end when she goes to school? Educational Mobile App
I have friends, cousins, and of course, my parents, scattered all across the nation. But ever since we all started playing WWF2, we've been feeling like playing this game has helped us stay connected. So, if your family is living in another city, state, or even country, you should definitely download this exciting game. It's the ultimate way to stay in touch while playing the perfect word game. I can even stay connected with my friends with this app, who I don't see often enough because I'm always running ragged doing errands. The other day, I played a game with my bestie who's two states away, but even though we're both busy moms, we still had time to have a battle of the words with a quick game. Actually, make that five games. We just couldn't quit! WWF2 does so much more than keep me connected to my loved ones. Educational Mobile Ap
Words With Friends makes me feel smart and empowered, particularly when I'm having one of my
#Winning moments, if you know what I mean. In fact, I had one of those the other night while I was
playing with Reese. I know what you're thinking, though. Why didn't I let her win? Well, I didn't have to. Mrs. "Smartypants" had already won 4 games in a row, so finally catching up to her felt so good! I just had to brag and enjoy that winning moment, even if she had already beat me on 4 different occasions. Then we had a chuckle and decided it was enough for the day. Educational Mobile App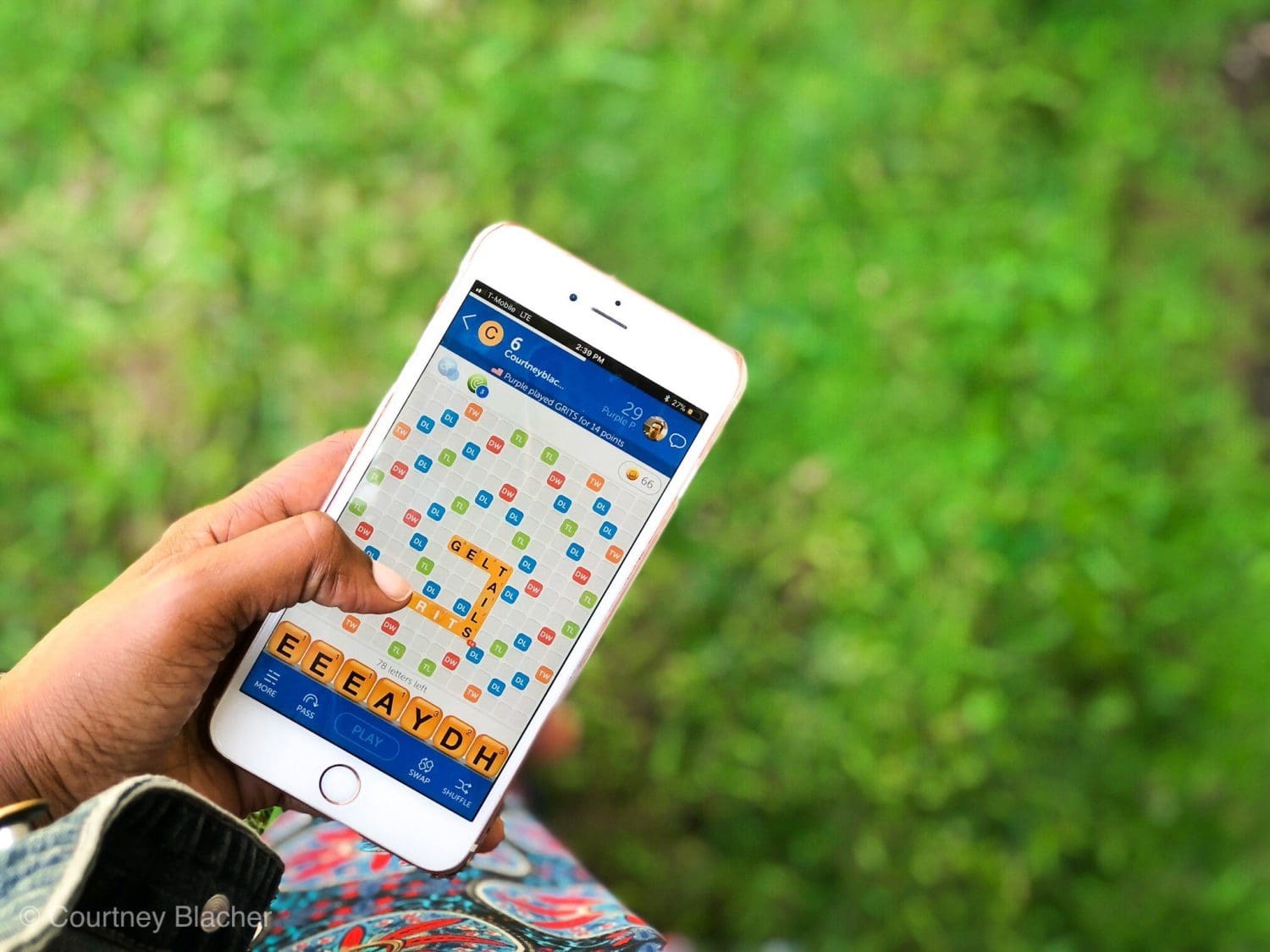 As a grownup, I need things to keep my brain sharp and this game gives me the best mental workout
ever. WWF2 is also a great pastime! I mean, as long as I'm waiting for the food to cook in the oven, I
might as well hang with my daughter, while we play a little match. But the game also allows me to
recharge mentally throughout the day. It's easy. After I drop my daughter off at school, I'll play a round or two.
WWF2 also works perfectly when I'm on-the-go. I usually play it while I'm sitting in the parking lot before and after I go to yoga class, or after I've met up with friends. Oh, and it's a real stress reliever when I'm stuck in traffic for 40 minutes, I'll tell you that much. But what I love the most about this game is that allows Reese and I to enjoy some quality time together, and it definitely helped my daughter keep her grades up in school by practicing her vocabulary. Educational Mobile App
Honestly! This WWF2 game is a lifesaver on so many levels, so if you're a busy parent like me and you need to keep your brain active, or you simply want to spend a little more time bonding with your loved ones, then download the game today! Don't forget to give your friends and family your unique
username so they can find you and play with you too. Now get ready to roll! Educational Mobile App