Fall is in full swing and with the changing winds and autumn colors come the seasonal recipes. Eating the foods that remind us of the warm cozy fall feelings is a great way to get into the season and a great excuse to indulge in some sweet treats. It doesn't have to be a big calorie bomb though, that's what Thanksgiving and Christmas are for. Instead, I'd like to focus on some fall recipes that will make use of the apples that Reese and I will pick at
Willowbrook Apple Farm
.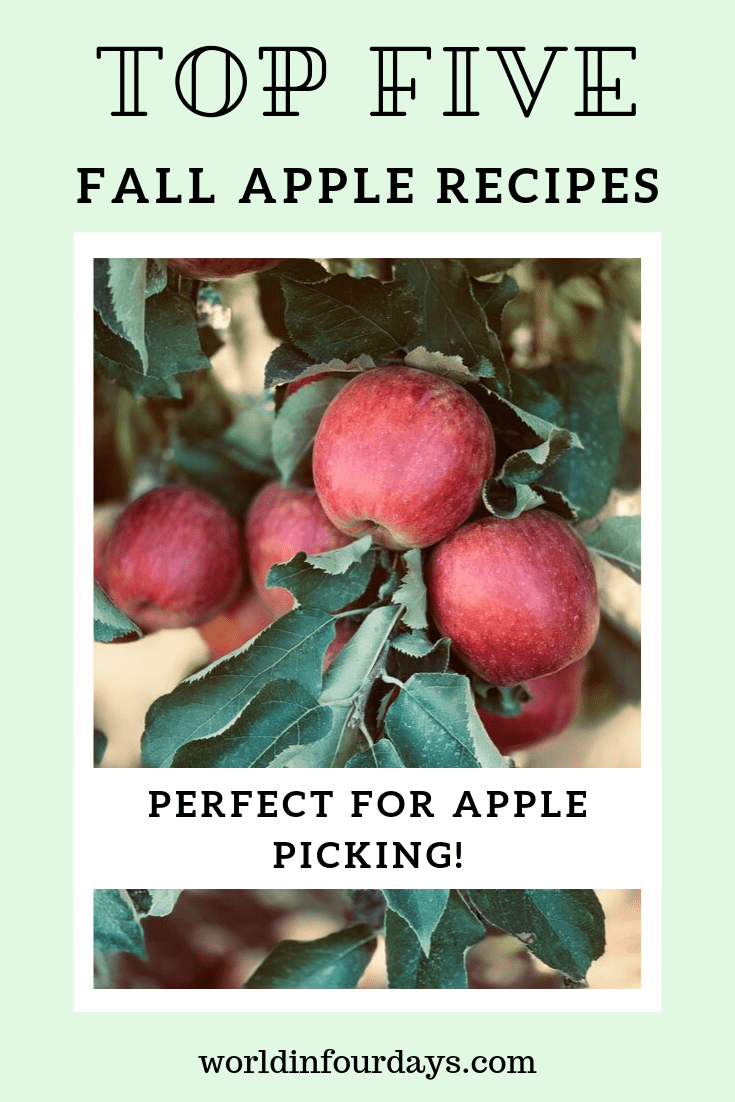 It's a yearly tradition for us and one that yields us with more apples than we know what to do with. This leaves us with the task of finding the best way to take advantage of all the fresh fruit that we've brought home. When it comes to making great recipes, freshness is key and I can't think of a better way to ensure the freshness of your apples than to pick them yourself. With all that said, I would like to share some of the best recipes that I've found centered around our favorite Fuji's and our juicy Jonagold's. Here are my top five fall apple recipes!
Perfect for a fall-themed party this recipe is one that I can personally say is a crowd favorite. You'll be lucky if there's any left by the time the party's over. Another bonus is that it is a super easy and simple recipe, simply buy the ingredients and assemble, no cooking or baking required. If you ever find yourself in a pinch and you haven't prepared your dish yet for the soccer party potluck, keep this recipe in your back pocket, because it may just come in handy.

This Baked Cinnamon Apple Chip recipe is super simple and only requires three ingredients. These make for a great on the go snack which is both delicious and healthy. They'll last you throughout the week so it's the perfect addition to your meal prep routine. I like them because they are a much healthier alternative to potato chips and something that both Reese and I can make and enjoy together. This recipe also comes in handy if you already have apples that your kids haven't eaten yet and you don't want them to go bad. A great way to save the produce and excite your kids with a new way to eat apples. Give this one a try if you're looking for a fun delicious way to make snacking healthy or if you're looking to cut some salt out of your diet.
Here's a little something for the adults because it's not a top-five list unless there's a drink recipe somewhere in there. For this list, I wanted to feature the caramel apple martini. A little sweet, a little bubbly, and very simple to make, this recipe is perfect for hosting a fall-themed get together. This recipe is perfect for me because it only needs three ingredients for the drink itself and doesn't require that one be an expert in mixology to assemble. It also allows me to use my fresh apples as a garnish for the martini. That coupled with a caramel rim makes for a stunning drink which is sure to wow all of your guests. Of course, if alcohol isn't your thing I've got an alternative that is just as stunning and delicious.

This Chilled Sparkling Apple Cider recipe is great because it can be prepared with non-alcoholic apple cider to make for the perfect mocktail. Keep it simple or dress it up, this recipe is awesomely versatile and a great seasonal addition to your fall get-togethers. Great for family gatherings, this recipe allows for younger folks to enjoy the party as well as those who choose not to drink. Keep this recipe in mind for your next family event.
Last but not least, Apple Fries with Caramel Pecan Dulce De Leche Cream Dip. So far these recipes so far have been fairly simple, this one, however, goes a little farther but is absolutely to die for. These are the apple fries with caramel pecan dulce de leche cream dip. I know, rolls right off the tongue. If you've got the time this is one that is sure not to disappoint and something that all your friends will be asking how you made. This recipe is a fantastic dessert dipper option for parties or if you're just looking to self indulge a little bit. For me, it makes great use of the fresh apples that Reese and I have picked and makes for a great treat at the end of a busy day. Try out this recipe for a not so guilty way to have your dessert and actually eat it too.
Looking for more fun apple recipes? Check these out