This shop/post has been compensated by Collective Bias, INC. and The Coca-Cola™ Company, all opinions are mine alone. #PlayPauseRefresh #CollectiveBias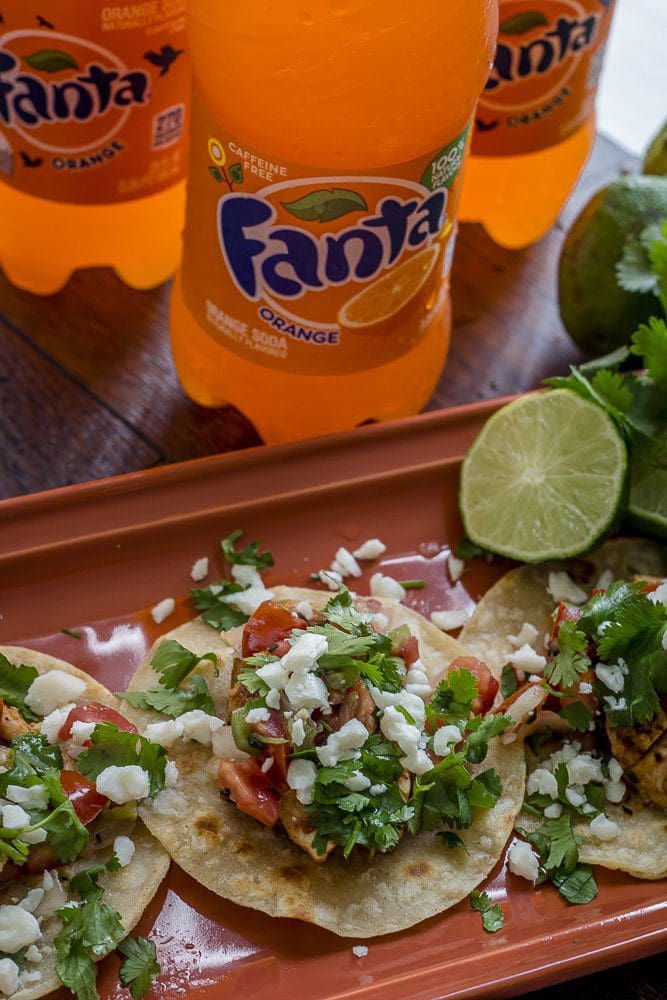 Grilled Chicken Street Tacos
Do you love tacos? Do you love Grilled Chicken Street Tacos? Of course, you do! Who wouldn't? In fact, they're so delicious that a few friends and I have started a sizzling new tradition. We pick a Tuesday once a month and turn it into Taco Tuesday Girls Night! Now, why is this important? Because scheduling some fun with friends is just as important as school and work. So, for me, it's the ultimate excuse to gather my girlfriends for a night of fun, tacos, our favorite drinks, Fanta, and our favorite TV shows.
Now obviously we can't have a party without inviting our guest of honor, Coca-Cola™, specifically Fanta because I think they pair best with Mexican food! Don't get me wrong, us girls love the taste of classic Coca-Cola, but Fanta offers so many flavors, everyone is sure to find a favorite. I usually pick up orange, pineapple, strawberry, and grape from my local Walmart! 
While I'm on the subject of Fanta, have you heard about the cool new sweepstake that Coca-Cola is offering? While you're watching your favorite show, you have a shot at winning some pretty awesome prizes. How cool is that? Entering is super easy, just take a selfie of yourself enjoying your favorite Coca-Cola brand beverage (Coca-Cola™, Coca-Cola Zero™, Diet Coke®, DASANI® / DASANI® Sparkling, Gold Peak® Tea ) during TV night. Then upload the photo on Instagram or Twitter using the hashtags #sweepstakes and #programyounight. Just make sure you have or create a Coca-Cola Company Account before you enter. For more information about rules and restrictions, please visit the Coca-Cola sweepstakes website.
My friends and I are crazy busy with careers, family, hobbies etc. so if not for planned adult playdates, we would never see each other. About six months ago, we all decided that every month we would get together no matter what and hang. Tuesdays just happened to work best for all of us and it was not until the second time we got together that we realized it was Taco Tuesday. That when we decided to take our adult playdates to the next level by making our monthly playdates, all about Taco Tuesday and agreed that each month one of us would test out a new taco recipe.
So far, we've done shrimp tacos, steak tacos, ground beef tacos and even veggie tacos. This month was my turn to cook and I was excited to test out my kitchen skills on a new recipe I dreamed up…yes I said dream. I can't be the only one who dreams of food and recipes….right?
Anyways, I like recipes that are quick and easy and pack a punch with flavor. These tacos were so good I even impressed myself and most importantly they didn't involve me hanging out in the kitchen all night making them. I was able to whip these bad boys up in 20 minutes flat (after I marinaded the chicken the night before). Okay, brace yourself, here's how to make them:
Easy Grilled Chicken Street Tacos
Grilled Chicken Street Tacos Ingredients
1.5 lb marinade boneless skinless chicken thighs (See below for recipe)
20-22 mini white corn tortillas, warmed on a skillet*
Pico de gallo (See below for recipe)
1 /2 cup fresh cilantro, chopped
Fresh lime juice
Hot sauce, optional 
Grilled Chicken Street Tacos Marinade
1⁄3cup olive oil
1⁄4cup lime juice
4 garlic cloves, minced
1tablespoon fresh parsley minced
1teaspoon ground cumin
1teaspoon dried oregano
1⁄2teaspoon pepper
Pico de Gallo
3 cups of diced ripe tomatoes
Kosher salt
3/4 cups white onion finely diced
1 to 2 jalapeño chilies, finely diced (remove seeds for a less spicy salsa)
1/2 cup fresh cilantro  finely chopped
1 tablespoon lime juice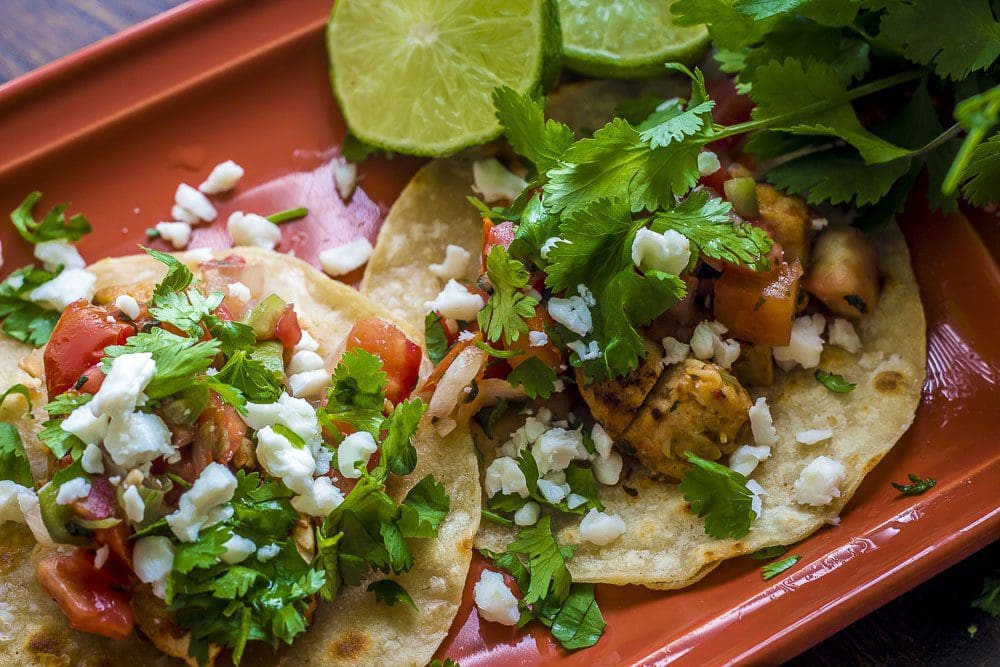 Grilled Chicken Street Tacos Instructions
Make chicken marinade by combining all marinade ingredients in a large ziplock bag. Add chicken thighs.
Refrigerate for at least 1 hour or overnight.
Preheat grill over medium-high heat. *This is where I cheated and used my indoor tabletop grill. Granted I live in California and I probably could do this one the grill any time of the year but, 1. I'm lazy and 2. I still don't know how to light a girl (shhh, don't judge me). Anyways, Oil the grill with canola oil or spray generously with cooking spray. Remove chicken with marinade and place on hot grill.
Cook for about 4-5 minutes on each side, flipping once (thickest part of the chicken thigh should register about 165 degrees).
Transfer to a plate and allow to rest for a few minutes before chopping into small pieces.
Layer two warmed mini corn tortillas together. I love my tortillas slightly grilled but not everyone does so I did half grilled and half just warmed. I did this by brushing a little olive oil on them and tossing them on the grill while it was still hot.
Top the layer mini corn tortillas with chopped chicken, pico de gallo, cilantro and hot sauce, Spritz with a little bit of lime juice, crack open your favorite Fanta and serve immediately.
These grilled chicken street tacos were crazy easy to make and were a total hit, especially when combined with your favorite tv show and ice cold Fanta.
Are you planning an adult playdate or your own version of Taco Tuesday? Stream some fun with Coca-Cola and let see those recipes from your fun night in. And don't forget to snap those selfies for your chance to win