This post was sponsored by the Invisalign® brand and all opinions expressed in my post are my own.  
Fall is one of Reese's favorite seasons and part of the reason is that she has a sweet tooth! That means she can enjoy all the candy I'll allow her to have. You're only a kid once, right? This year, because of her Invisalign treatment, we were planning to be a bit more cautious with her candy eating and let me tell you, Reese was NOT pleased. Fortunately for her (and me), I didn't have to put the candy back on the shelf. Invisalign® aligners let you transform your smile without compromise, so you can enjoy your favorite things while in treatment. That means Reese can wear her cutest Halloween gear and still eat all of the chocolate, candy apples, gummies, and whatever other sweet sticky messes she wants to get into.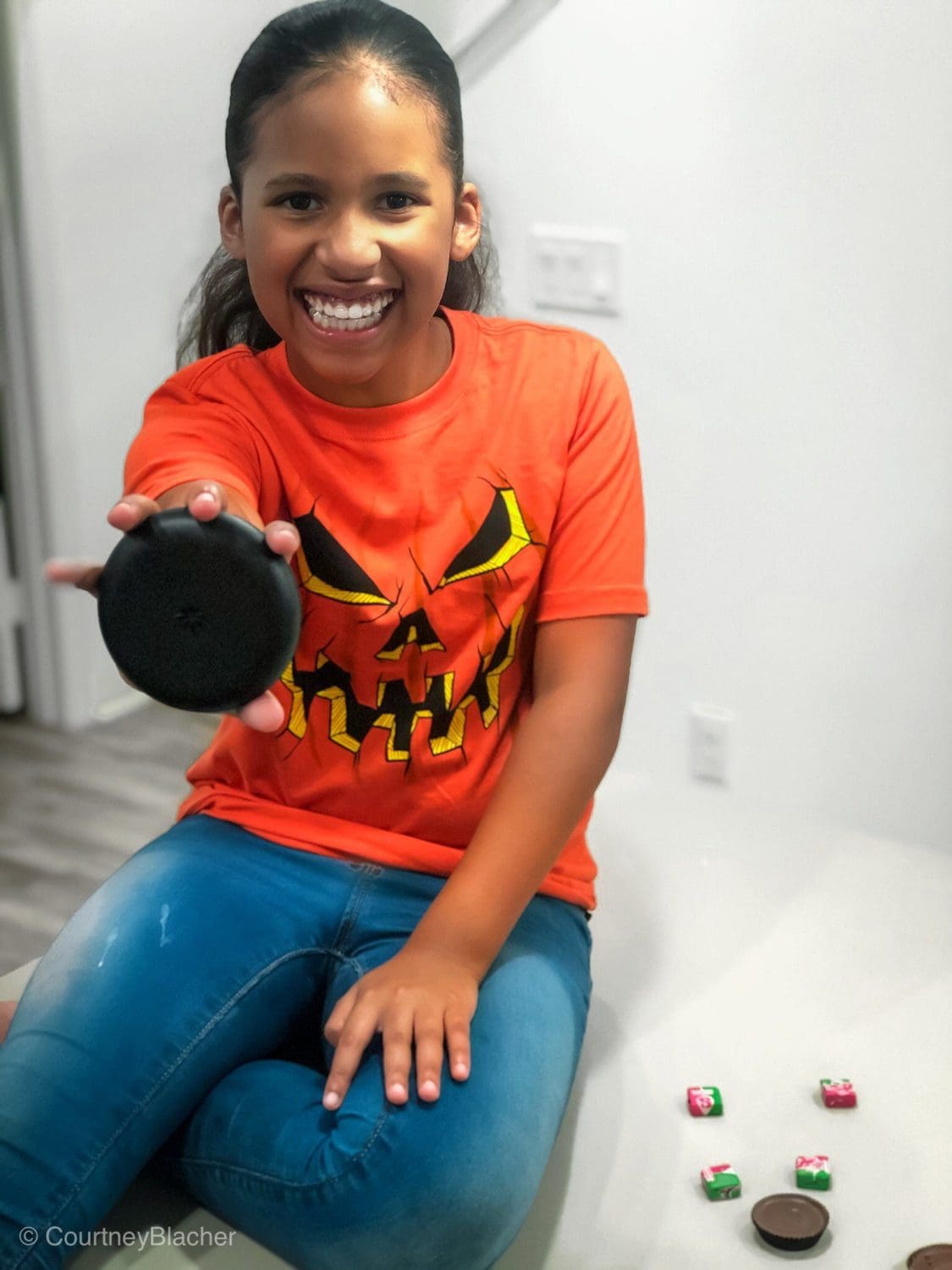 Invisalign treatment is the most advanced clear aligner system in the world. Invisalign treatment uses SmartTrack® material which applies gentle constant force, improved control of tooth movement which I think can make Invisalign treatment 50% faster than traditional braces (with weekly aligner changes, compared with two-week aligner wear). Those advancements mean that Reese's Invisalign aligners can be removed, her teeth can get brushed thoroughly and she can replace them without harming the treatment process at all. Over 20 years of innovation and 7 million+ smiles have enabled Invisalign treatment to correct simple to complex orthodontic cases. 
Invisalign clear aligners are confidence-boosters, while they're on, they're virtually invisible so your son or daughter can feel and look their best. Reese loves that they are difficult for people to see when she wears them, and the flexibility of her being able to enjoy her favorite foods is awesome. I love that I can already see a remarkable change in her teeth (especially her front teeth) and her bite. 
Invisalign treatment has not slowed my kid's sweet tooth down this season, and it won't slow your kid's down either (sorry, Mom). Let them eat cake, candy, or whatever their little hearts desire in moderation. If you think Invisalign treatment would do the trick for your child, take the time to learn more here: http://bit.ly/2Ms4m4l. 
To see if your child is a candidate for Invisalign treatment, take the free Smile Assessment: http://bit.ly/2ESDnJ4
If you like what you see and can't wait to get started, you can head here to find a doctor near you: http://bit.ly/2JYh8pn .