This post "Kids Water Shoes + Other Must Have Kids Beach Essentials" is not been sponsored however it does contain affiliate links. For more information on our sponsored post and/or affiliate link policy, please Sponsored Content and Affiliate Link Policy click here.
I've been to the beach less than ten times in last ten years. That's pretty pathetic seeing as though I live in California and live less than 5 miles from the beach.  It's not that I don't like the beach, but I will admit that hanging poolside is much easier. I always feel like I have to drag my entire life to the beach in order to be comfortable (which I know is not really the case).
The other day, Reese made it clear that she wants way more beach time this summer. I was picking up a few things last week and figured it would be cool to share a few of our must-have beach essentials. I'll probably even do a beach essentials haul video for you guys this week.
In the meantime, here a are a few of our must-have kid's beach essentials!
Kids Water Shoes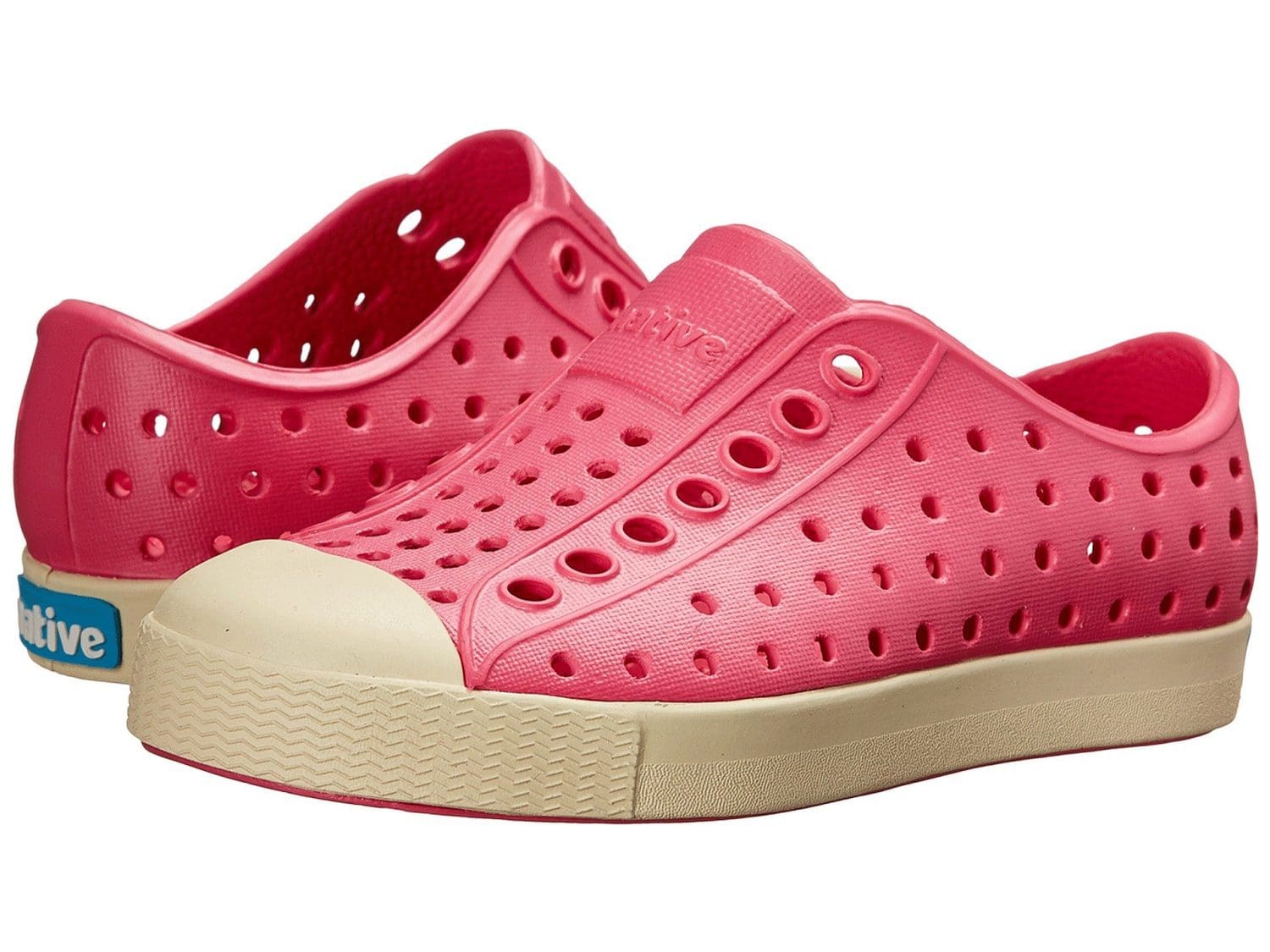 For this reason alone, kids water shoes are a must. Kids water shoes are perfect for trecking through the hot hand, It protects their feet from anything they might step on while at the beach (think glass, hard plastic, and even seashells). Water shoes are awesome because they can go from san to water without having to take them off. Plus, have you ever stepped on seaweed…YUCK! Water shoes are a must for us.
We look at a few but in the end, decided on these. I loved these because they were cheap but sturdy and looked like they would last. I also loved them because they matched her swimsuit. 


One Piece Swimsuits
Reese is really active so she needs a swimsuit that can hold up to running, jumping, cartwheels and everything else. Reese loves two-piece swimsuits but when it comes time for the beach we only do one piece. I feel like they stay on better and don't have to worry about a wave coming in and her losing her top. It's happened to us once a few years ago and boy was that embarrassing.
We spend a lot of time at the pool and the chlorine can really eat up a suit, so we have several. I picked up this one and this one for her because they matched her kid's water shoes but here are a few other ones that we ran across that we also loved.
Dedicated Beach Towels
One of my biggest pet peeves is using regular everyday bath towels at the beach or pool.  For starters, I think it's gross. Yes, I know they get washed, but the thought of drying my clean body off at home with a towel that been all over the beach is just nasty. I also feel like regular everyday towels are never big enough and they don't absorb as well.
Sun Screen
Being a nurse I've seen my fair share of patients with skin cancer so we go hardcore on the sunscreen. Reese and I both have sensitive skin so we're limited to the brands we can use. This one seems to work really well for us and it's not super expensive.
A Hat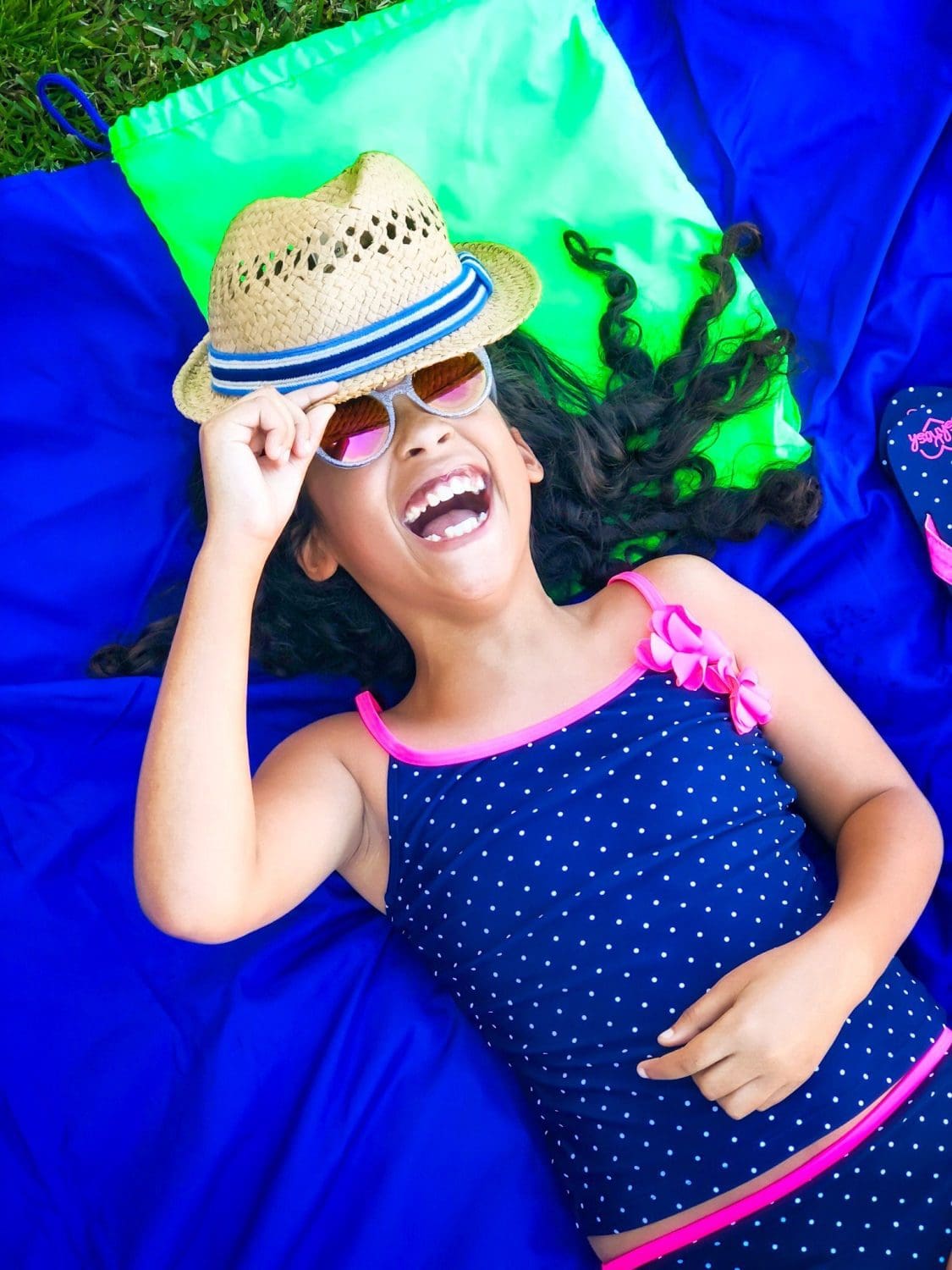 Sun protection is important to me so in addition to sunscreen, we don't hit the beach or pool without a hat. A hat can help fight off the heat and keep your face protected from the sun.
Kids Water Shoes