This post "5 Must Have Small Appliances + Kitchen Gadgets Under 100!" is not sponsored however it does contain affiliate links which means we earn a small commission when you click through and purchase something from our website. For more information on our sponsored post and/or affiliate link policy, please click here.  
5 Must Have Small Appliances + Kitchen Gadgets Under 100 Dollars
We're bakers and no strangers to cooking so it goes without saying that our kitchen is decked out with all the coolest small appliances and kitchen gadgets on the market. But, what if you're new to cooking and baking and don't want to spend a ton of money outfitting your kitchen with appliances and kitchen gadgets that you might not need.
That's when you buy on a budget and upgrade down the road when you're 100% sure baking and/or cooking is a hobby you'll want to keep up with. So, what does every new baker or cook need and what brands are affordable yet quality? We've done the homework for you and tested out the following items and for the price, they're winners in our book. So, here are our picks for the top 5 Must Have Small Appliances and Kitchen Gadgets Under 100 dollars.
During the winter, soup is my go-to meal and we make it in batches. Pumpkin soup, butternut squash, tomato, I love them all.  For the longest time, I was making soup in a food processor or using my blender and while it did work, it was a pain. I always felt the food never broke down as well and I always found chunks no matter how much I blended. I think the blades were just too big. About a year ago I went into a soup making frenzy and was making soup 2-3 times a week. I was tired of dealing with a blender so I finally decided to get the Cuisinart® Smart Stick® 2-Speed Hand Blender and it was the best decision I made. Kitchen Gadgets Under 100 dollars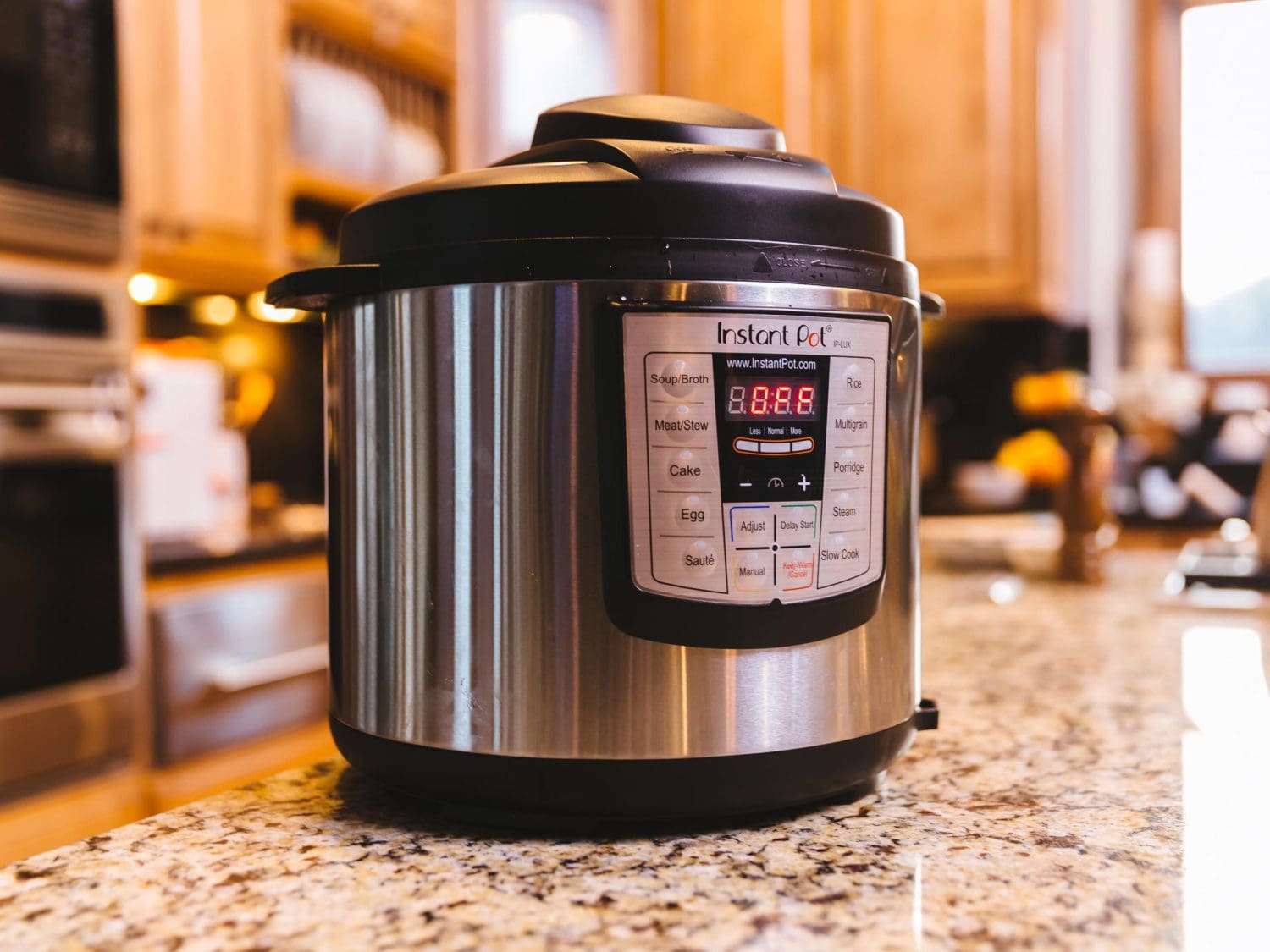 Okay, I'll admit, I bought this one out of pure curiosity. For a while, it seemed like everywhere you turned someone had a new instant pot recipe and I was dying to try it. I had never used one before so I read a bunch of reviews and went with the one that had the best rating for the best price with the best features. That so happened to be the Instant Pot Lux 1000W Electric Pressure Cooker. It took me a few uses to figure out how to use all the features but once I got it down, this quickly became one of my favorite small kitchen appliances. Looking for a super easy dinner instant pot recipe? Check this one out. 
One thing I am a stickler for in my house is wasted food… I hate it. It can be hard to keep things from going bad when it's just me and Reese especially when even shes at her dad's a few days a week. Since most food items come in family size, I needed to come up with a way to store extra food. Finally, I invested in a used deep freezer and a  Vacuum Sealer By NutriChef. I have saved so much money this year on food it's insane. We catch awesome sales at Costco and the grocery store, separate food into small portions (usually 1-2 servings since we don't really do leftovers) and freeze it. I did a little research online to find the freezer shelf life for things so now we mark the expiration date and then defrost and cook what we need. Kitchen Gadgets Under 100 dollars
We love to bake and even though we had a kitchen scale it was not always correct. In the beginning, being off a little bit was not that big of a deal. When we started getting into more complicated recipes like macarons, we needed to make sure our measurements were perfect. The Wireless Perfect Bake Pro Smart Kitchen Scale was the one I loved the most and I loved the app with all the extra recipes. This one is a must for bakers and really useful for new bakers. If you end up buying this one and like it, also check out the other Perfect Scales: Perfect Drink PRO Smart Scale and Perfect Blend PRO Smart Scale. Kitchen Gadgets Under 100 dollars
Reese is the smoothy queen and since it's the only way I can still sneak in veggies she has one almost every day. I think I went through 3 blenders in one year because they all kept breaking. This time I upgraded from my normal $20 blender to one that was way better made. The Oster Reverse Crush Counterforms Blender has held up to almost daily use and keeps on ticking. I love the reverse crush feature because it breaks through frozen fruit like a champ. Kitchen Gadgets Under 100 dollars
We don't have air conditioning so in the summer I don't dare turn on my stove. If I'm not grilling, I'm using our Hamilton Beach Toaster Oven. I've pretty much mastered cooking almost anything in the toaster oven. We've baked cookies, made pork chops and everything in between. I've even taught Reese how to use it so even she can heat up mini pizzas, chicken nuggets or a batch of brownies. Looking for a fun recipe to make in the toaster oven? Check this out. 
I'm a sucker for fried food and since I know frying in oil is unhealthy (not to mention messy) I had to buy an air fryer. I freaking LOVE my GoWISE USA 3.7-Quart Programmable 8-in-1 Air Fryer. I use it weekly to fry up everything from bacon to chicken to catfish nuggets and chicken nuggets for Reese. I was blown away by how the food really comes out fried as if it were deep fried. Clean up is super easy, you just rinse and dry and it's so easy to use even Reese can handle cooking up chicken nuggets and corn dogs.
Of course, we have our KitchenAid Stand Mixer which we use often. But, sometimes we don't feel like going through the hassle of lugging it out and then cleaning it so it's easier to use our KitchenAid 9-Speed Digital Hand Mixer with Turbo Beater. It's super lights weight, great for small batches, easy to clean, and is super powerful. I love that it comes with a few additional attachments. Plus, since it's KitchenAid, I can trust that it's well-made and will last. Mix up this cupcake recipe with your new KitchenAid Hand Mixer. Kitchen Gadgets Under 100 dollars