This post is a sponsored collaboration between WorldinFourDays.com and Chalkboard Communications. All options express are my own. For more information on our sponsored content and/or affiliate link policy, please click here. 
Recently, I had the chance to steal away for the weekend without Reese. I headed up to the Little River Inn Mendocino, a 10-hour drive from Orange County to Little River, which is just outside Mendocino. This gorgeous and peaceful coastal retreat overlooks the Pacific Ocean with views that will truly sweep you away. There are several Fun Things To Do In Little River so, be sure to explore this little town.
For over 75 years, this stunning Victorian-style inn that exudes tradition and warmth. From the moment I arrived, I felt so welcome and comfortable here. How could I not? There was a fireplace in my room! There is nothing cozier than that! I also loved the large Jacuzzi tub in my bathroom which I put to good use while enjoying a glass of wine. And after that, I walked through my oversized room to the big balcony to finish sipping my wine while taking in the immaculate view of the Pacific. Sorry, Reese, but I didn't miss you while I was doing that! Little River Inn Mendocino
There are 65 rooms at the Little River Inn that all offer splendid views with comfortable luxury at every turn. I really loved my room with floor to ceiling windows and free Wi-Fi. Take a look at my video to see it for yourself! The Little River Inn Salon & Spa is on-site with a variety of spa treatments. I chose an hour-long massage. My masseuse, Michael, was amazing! He got all the tension out of my back and I felt like a new woman. Little River Inn Mendocino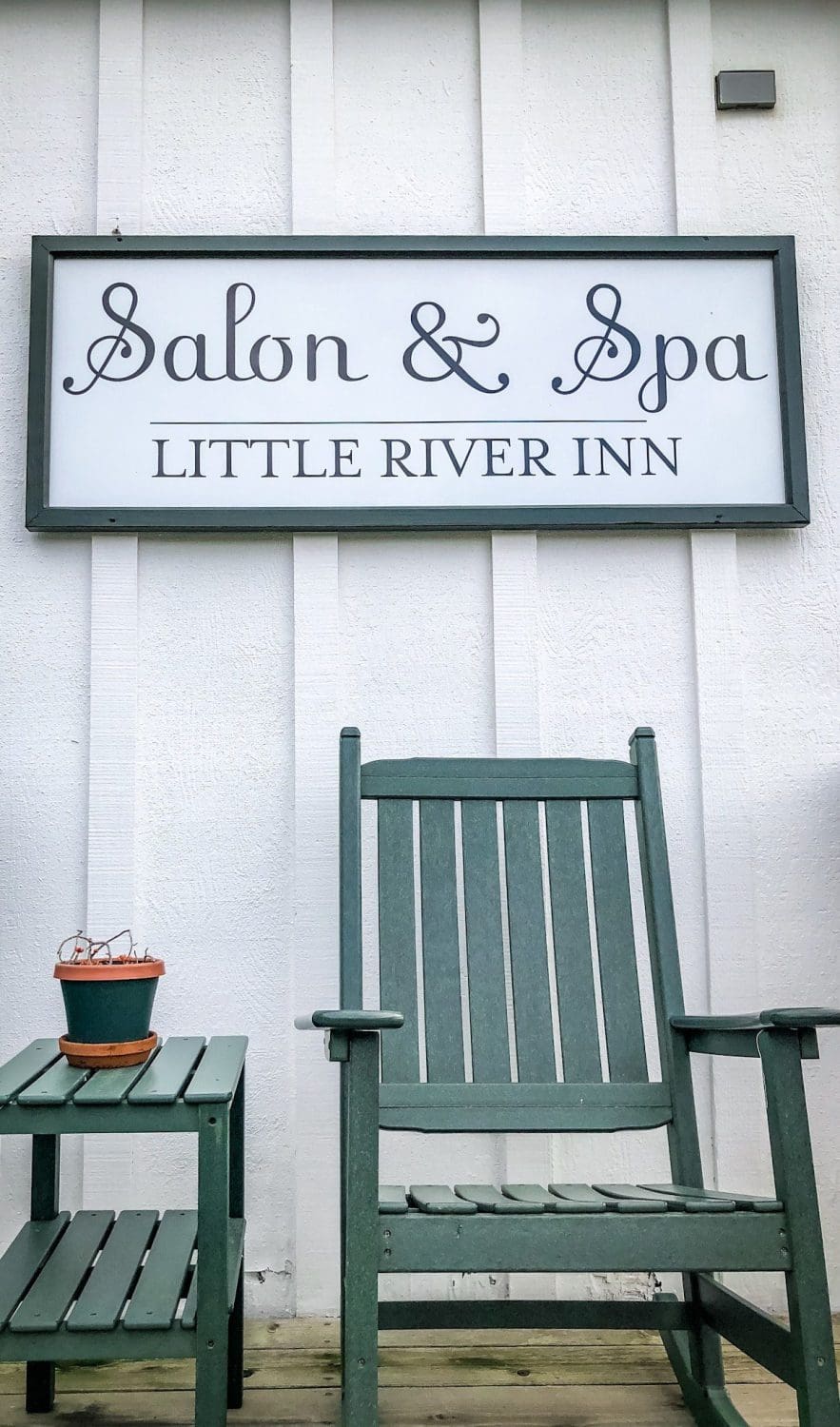 While my trip was a solo endeavor and an incredible stress-reliever, couples will love it here too. You can enjoy your day at the spa while he takes in some golf. Or spend the day on the beach or hiking around. There are some really interesting things to do while you stay at the Little River Inn.
On-site, the food is absolutely incredible thanks to Chef Marc Dym. At Ole's Whale Watch Bar, there's a great selection of wine, beer, and cocktails that you can have while taking in the view. Plus, the bar menu offers some interesting bites not found on the dinner menu at the restaurant, but at both, you can order the fresh seafood which I highly recommend. Don't miss the steamers or the abalone fritters.
This cottage-style inn is beautiful, peaceful and comfortably indulgent. I felt like I'd come home. It's a stunning backdrop for weddings too if you're getting hitched. And if you're coming here with kids, there are plenty of kid-friendly things to do here too. Next time I come, I'll bring Reese. The Little River Inn allows children under the age of 16 to stay with you for free. They also offer accommodations for four-legged family members, so maybe we'll bring Skeeter along too. Little River Inn Mendocino
A weekend at the Little River Inn really flew by for me. I found it relaxing, peaceful and incredibly energizing. I loved every minute I was there and I can't wait to go back again!
Follow Little River Inn on: