Sometimes exploring your own neighborhood can make the best staycations. I lived in Long Beach for almost 7 years but I had never explored the city like a tourist. This past weekend I decided to spend a little time in the city I used to call home.
If Southern California is on your bucket list, no visit to Cali is complete without a stop in Long Beach. A diverse beachside community situated 25 miles from both Downtown Los Angeles and Disneyland. Best known for being home to the iconic Queen Mary and it's welcoming LGBT community, Long Beach also hosts several annual must-see events that draw people out in record numbers.
You can spend months exploring Long Beach, but if you only have a few days, here are the places you don't want to miss.
Long Beach Visitors Guide: How To Get Here
Long Beach Airport | 4100 Donald Douglas Dr. Long Beach, CA 90808
If you're staying and playing in Long Beach, avoid LAX and fly directly into Long Beach airport. Although it's grown a lot over the years, it's still much easier to navigate than LAX. JetBlue, Southwest, American and Delta all call LGB home, so getting here from just about anywhere is easy.
Long Beach Visitors Guide: Getting Around
From The Airport
Getting into the city is fairly painless. Several of the major hotels offer an airport shuttle. Check with each hotel for rates and pickup details. If your hotel doesn't offer a shuttle, Uber and Lyft are your quickest/cheapest options outside of the city bus. Both Uber and Lyft pickup at the airport and will take you to just about anywhere in the city for under $20.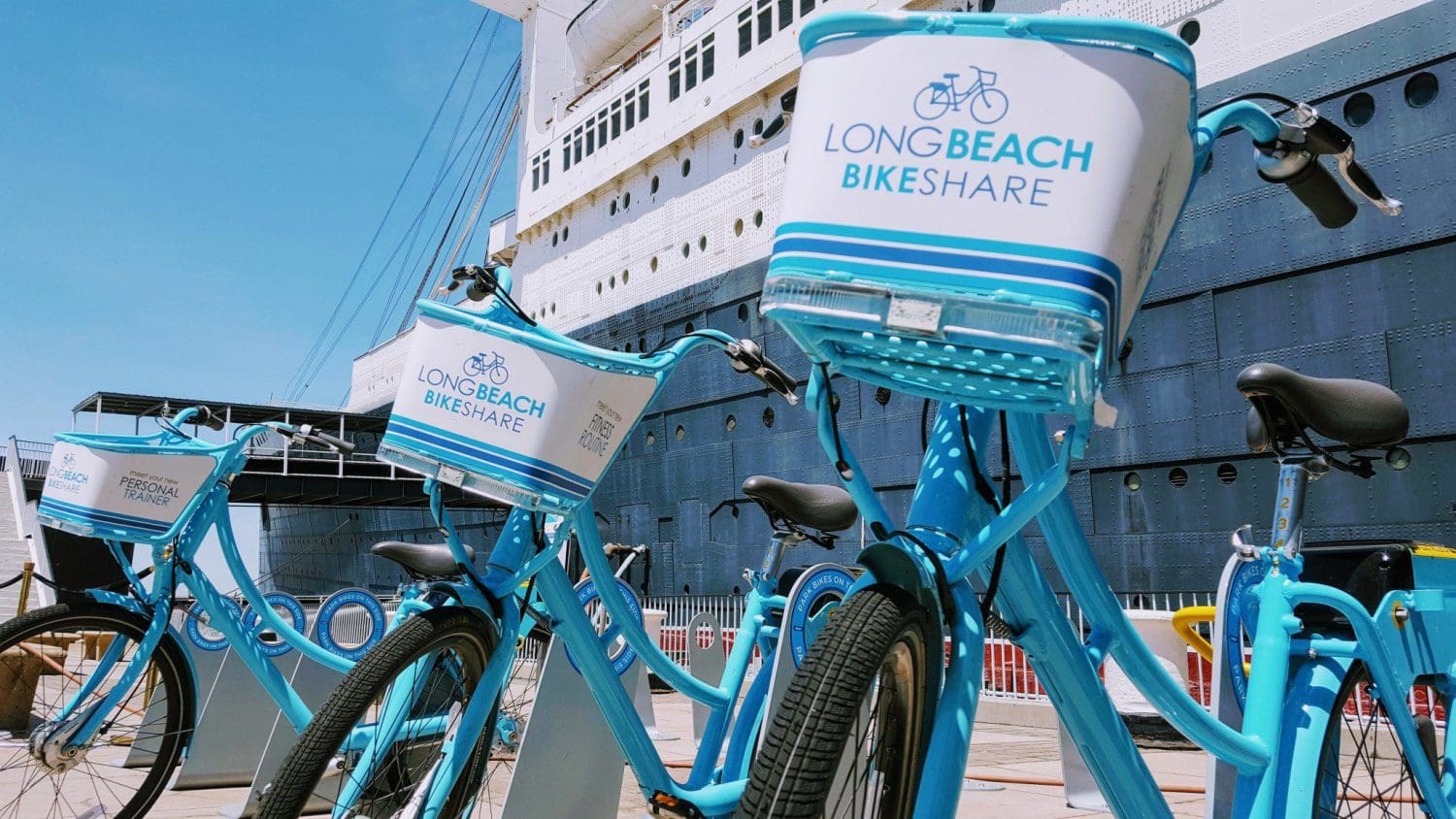 Around Downtown
If you're staying anywhere in downtown, The Passport is your best option for transportation. It's free, runs pretty late into the evening and will connect you to nearly all of Long Beach's hot spots such as the beach, The Aquarium of the Pacific, The Queen Mary, Second Street and Pine Avenue.  The downtown area of Long Beach is also very walkable and bike friendly. Don't have a bike, don't worry. You can rent a bike by the hour or by the day through the Long Beach bike share program. The one thing I don't advise if staying in Downtown is bringing a car. Parking can be expensive, free parking is hard to find and parking enforcement is on their A game.
Long Beach Visitors Guide: Where To Stay
Located in the heart of Downtown Long Beach at the Pike, the Hyatt Centric is one of Downtown Long Beach's newer hotels. With its rooftop pool, free wifi, modern rooms and upgraded amenities, this is a solid 4-star hotel and a good pick for anyone looking for above average accommodations and a need to be in the center of it all.
Best Western Plus Hotel | 517 E 1st St, Long Beach, CA 90802 (2.5 stars)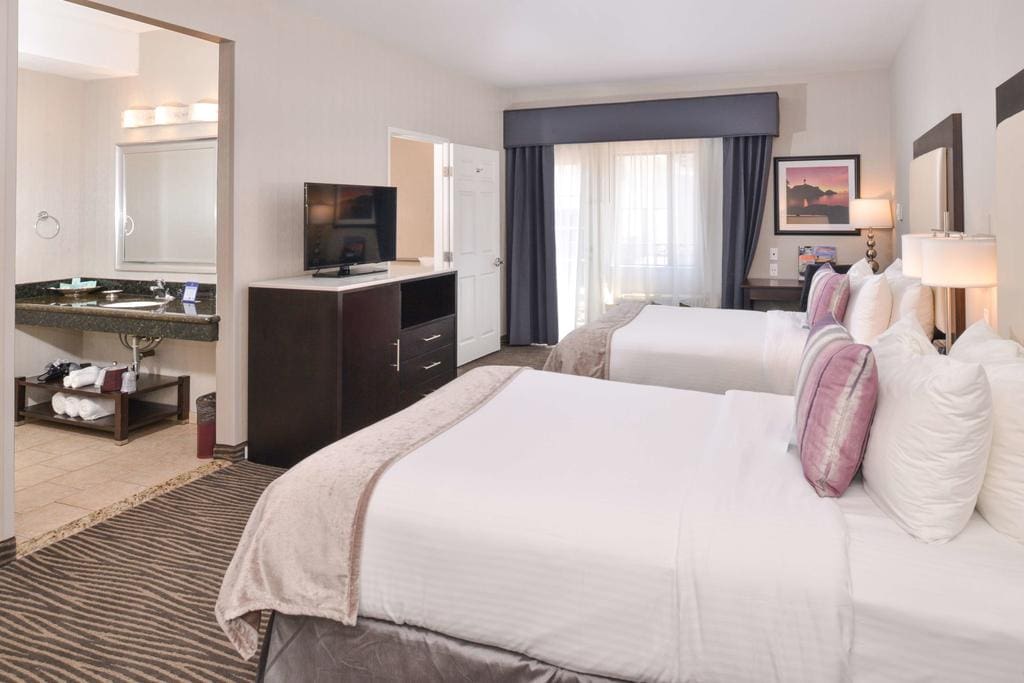 It's not too often I stay in a 2.5-star hotel, but when it comes to the Best Western Plus Hotel at the Convention Center, don't let its star rating fool you. For the price and location, this is a great budget hotel. It's located in a prime location, within walking distance to Pine Ave and The Pike and is very clean. Its amenities are basic but do include free breakfast (waffles, pastries, eggs, sausage or bacon, yogurt, cereals), free wifi, pool, fitness center and in-room refrigerator.
The Queen Mary | 1126 Queens Hwy, Long Beach, CA 90802 (3 stars)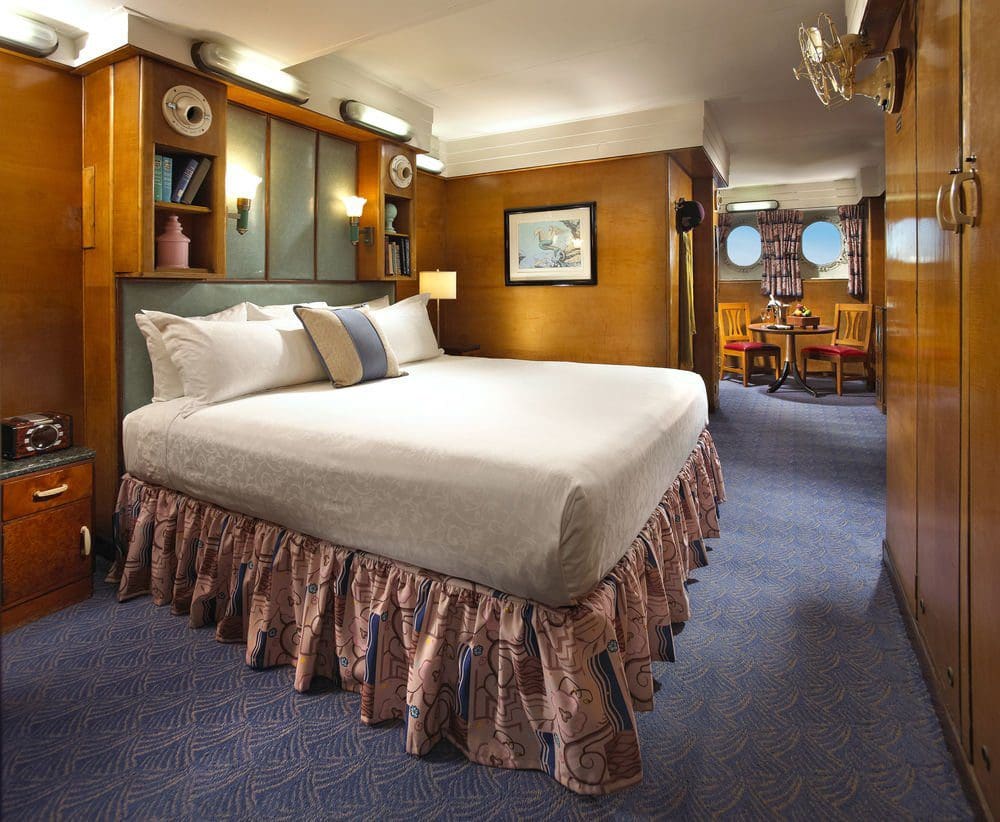 If you're a history buff you can't come to Long Beach without visiting the Queen Mary. Most people don't realize this, but the Queen Mary is not just a popular tourist attraction, it's also a floating hotel. If you plan on spending the night, here are two things to keep in mind.
First, don't come expecting modern accommodations. The ship has stayed pretty true to it's 1930's decor. Except for the addition of wifi (which can be a tad bit slow), it truly is like stepping back in time.
Second, the ship is haunted and does have a sense of 'creepy' from the moment you step on board. Kids love the Queen Mary so it's a great option for families, however, If you're visiting with small children (under 10), keep the ghost stories to a minimum because it can be a bit much for kids to handle.
Although modern amenities are few and far between, the ship has a lot to offer as far as on board entertainment. There are several tours available (opt for the Grand Voyage Passport), events that take place almost weekly, and for a limited time, catch the Princess Diana Exhibit which is in its final engagement. The ship also has a spa, gym, and several restaurants.
Long Beach Visitors Guide: Where To Eat
If you're like most people, the minute you heard chicken and waffle you probably thought…ewww, that does not go together. Trust me on this one, it does. Don't fight it, just go with it. Everyone who comes to visit me in California gets taken to Roscoe's and out of nearly 30 people, I have yet to have anyone say they didn't love it.
There is more to the menu than chicken and waffles, but if you're only visiting once, stick to the basics. My favorite combo is the Obama Special (3 wings and a waffle) with a side of mac and cheese, gravy and a large Lisa's Delight ( lemonade and ice tea). During the week (outside of the lunch rush) the wait is usually under 30 minutes. On weekends, especially Sundays, the wait can be an hour plus, on holidays like Mothers day…forget!
At Last Cafe | 204 Orange Avenue, Long Beach, CA 9080
You know how people always say "for the best food when traveling, eat where the locals eat"? Well, this is where the locals eat! At Last Cafe has been a staple for Long Beach residents since…well, forever. I've been eating here at least 10 years. Long before they moved from their tiny 8 table location, and even longer than before Diners, Drive-ins and Dives made them "cool". Their menu is full of good ol' fashion comfort food where you can find things like pot roast and pork chops, mac and cheese and my favorite item, Brick Chicken.
Starling Diner | 4114 E 3rd St Long Beach, CA 90814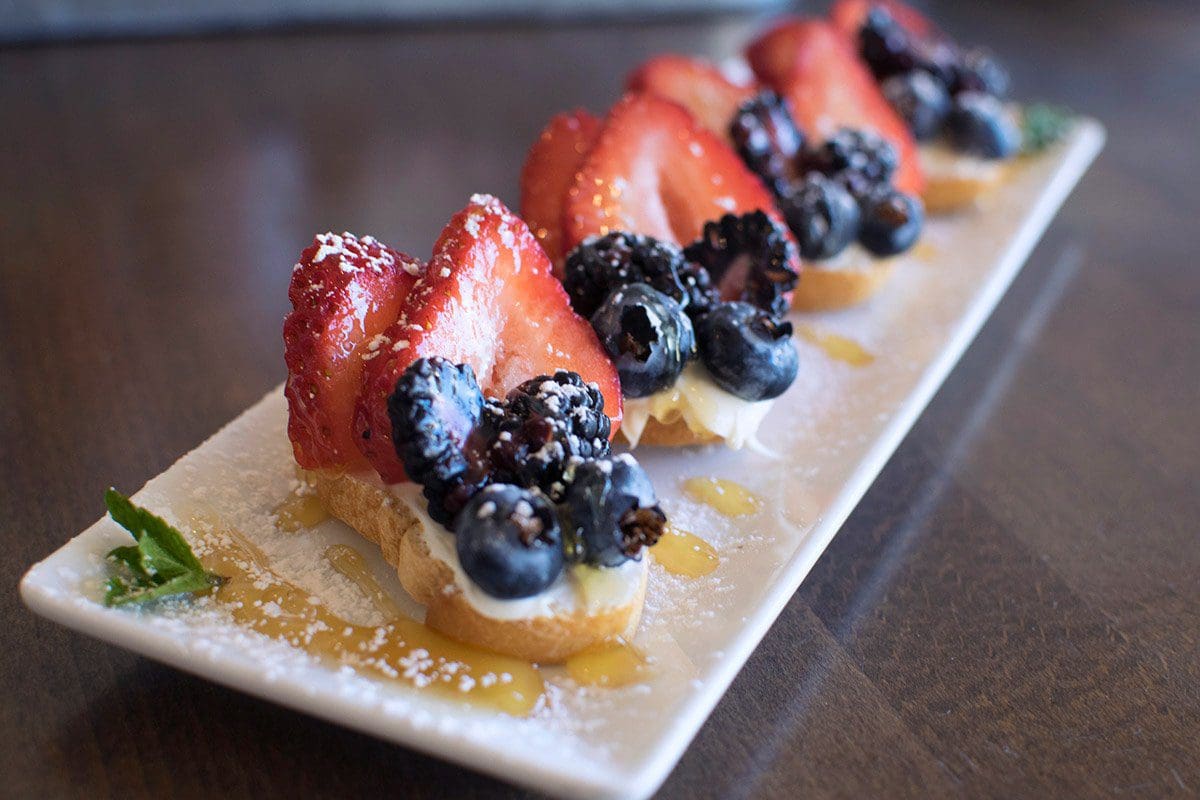 I have a thing for diners and when I'm traveling, I will always opt for a diner over a chain restaurant, especially for breakfast. When in Long Beach, Starling Diner is my go to. They have a great brunch, large portions great for sharing and the prices are not overly expensive. What stands out about Starling Diner is its service. The servers really go above and beyond to make sure you have everything you need.
Every time I've eaten here, I've never had to ask for a drink refill, I am greeted quickly when I sit down and they know just the right time to bring the check. My favorite items are their breakfast bruschetta (broiled baguette slices slathered with creamy mascarpone & topped with fresh seasonal berries) and their Broiled San Francisco Stuffed Toast (french toast stuffed with creamy Mascarpone and Crème Fraiche topped with fresh seasonal berries and whipped cream). 
Steel Craft |3768 Long Beach Blvd. Long Beach, CA 90807
Steel Craft is a foodies dream and is Long Beach's newest eatery. Steel Craft is an outdoor urban eatery bringing sustainable and high-quality craft food and drinks to Long Beach. In addition to amazing food, they also host events. If you are looking to grab a bite to eat, hang with the local and support the community, you will want to add Steel Craft to your list of places to visit. Currently, there are 8 vendors who call Steel Craft home, they are: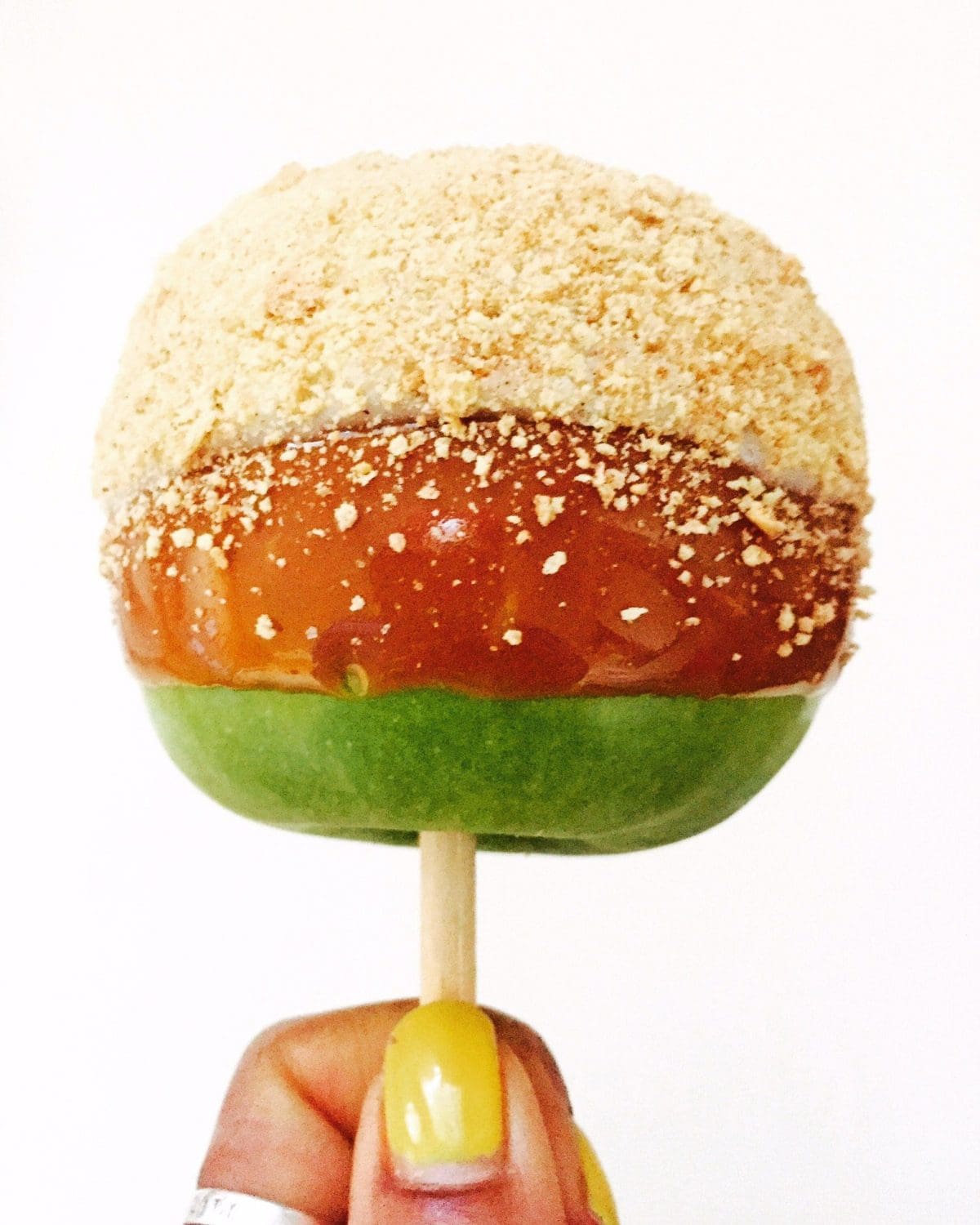 A graduate of Ecole Chocolat, the award-winning school for chocolate making, Nicole Moore is a certified Professional Chocolatier. She specializes in a range of hand-crafted chocolate confections, offered either a la carte or as part of one of her one-of-a-kind, sophisticatedly-styled dessert tables. Her dark chocolate portfolio includes a diverse palate of spicy, salty, savory, sweet and floral flavors. From blissful chocolate bark, hand-molded candy cups, and indulgent truffles to blissful bon-bons, Lovesome soothes the savage sweet tooth!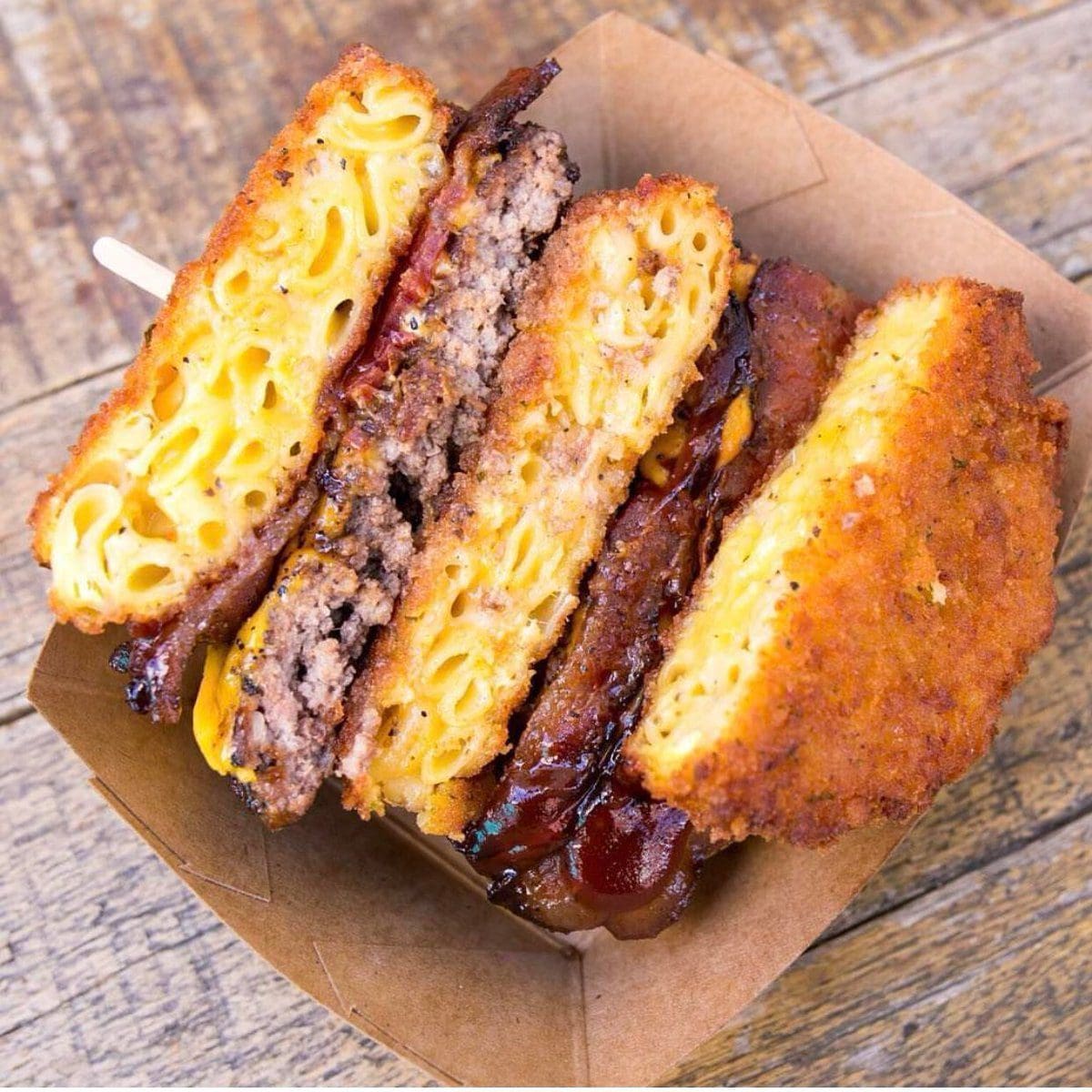 Famously known for their Mac n' Cheese bun, Pig Pen Delicacy's new take on American comfort food uses an array of sophisticated and modern interpretations of bacon and pork favorites. Another fan favorite, Pig Pen Delicacy's Maple Bacon Jam Burger is the answer to someone who enjoys a sweet and savory combo.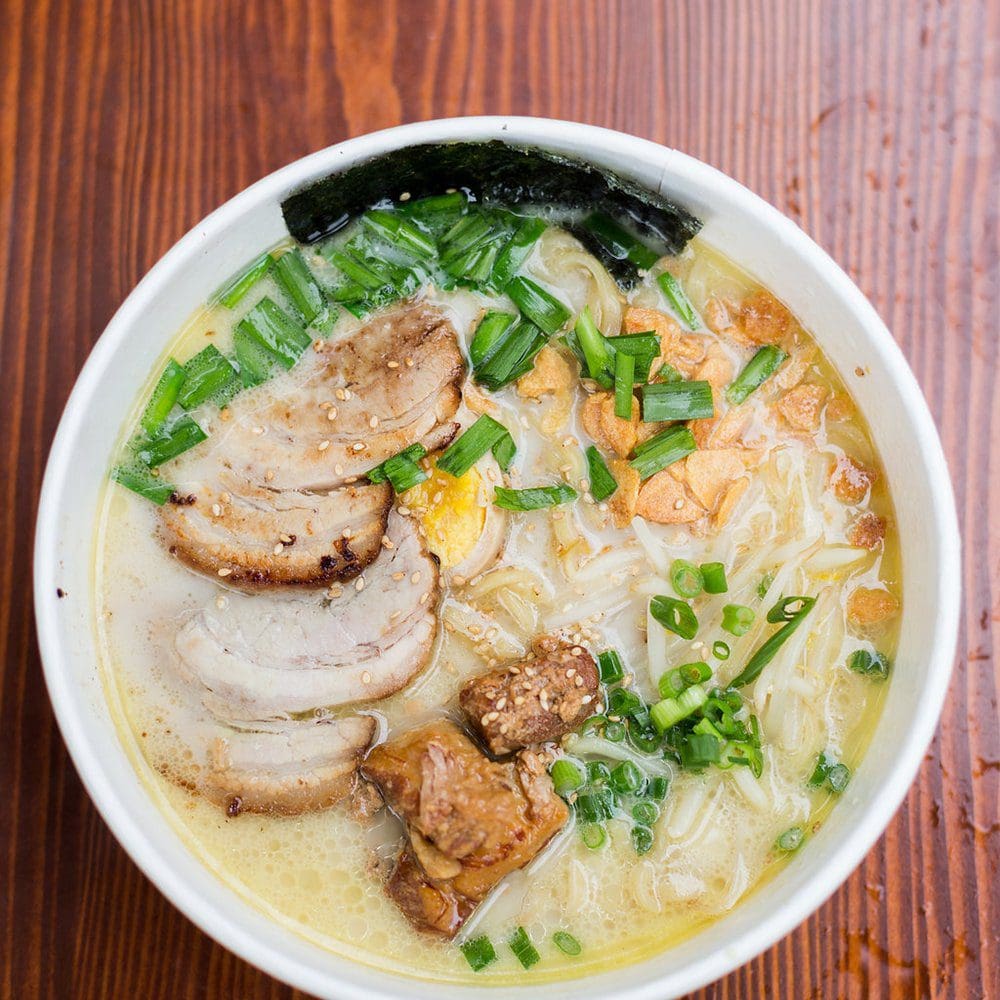 Founded in 2001 in San Diego, CA, Tajima has earned a reputation as one of the top Japanese restaurants in San Diego. Owner and entrepreneur, Sam Morikizono, takes pride in delivering an authentic taste of Japan at affordable prices. Tajima's ramen is firm, fresh and springy – the result of being made with several types of flour and water with the perfect pH level. Ramen-making is a science in itself from noodle size to texture. Tajima selects only the finest ingredients and pairs the different noodles to compliment certain broths including a vegan option.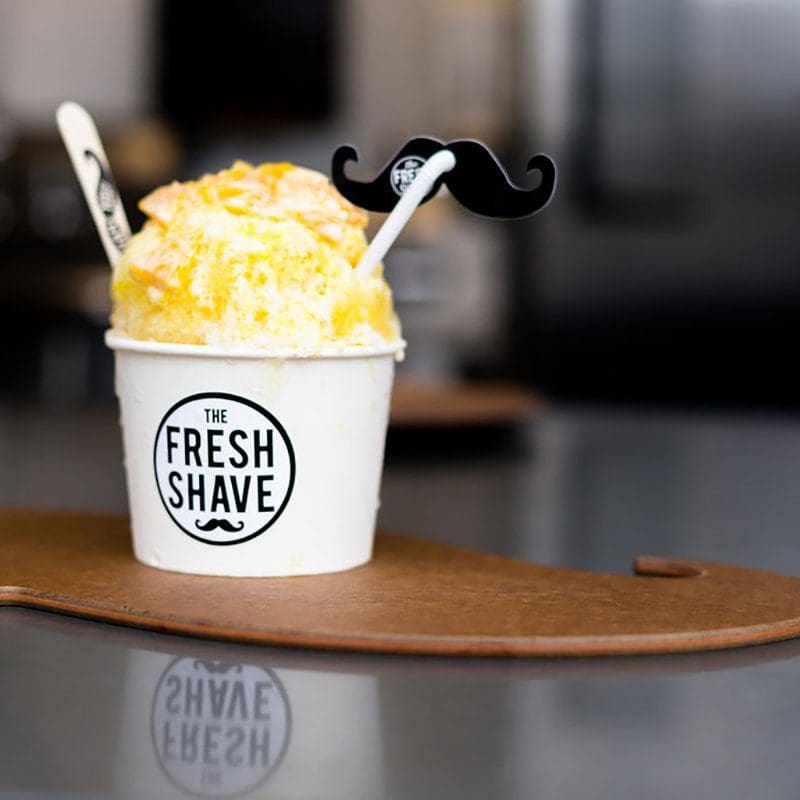 A healthier alternative to Hawaii's most famous treat, The Fresh Shave serves the best all-natural and delicious shave ice. Using organic and local farm fresh produce on all their products, you can say goodbye to high fructose corn syrup and artificial coloring and hello to simple and pure ingredients. Tying together the barbershop feel, each flavor is named after a popular mustache style and every straw is adorned with a playful mustache sticker.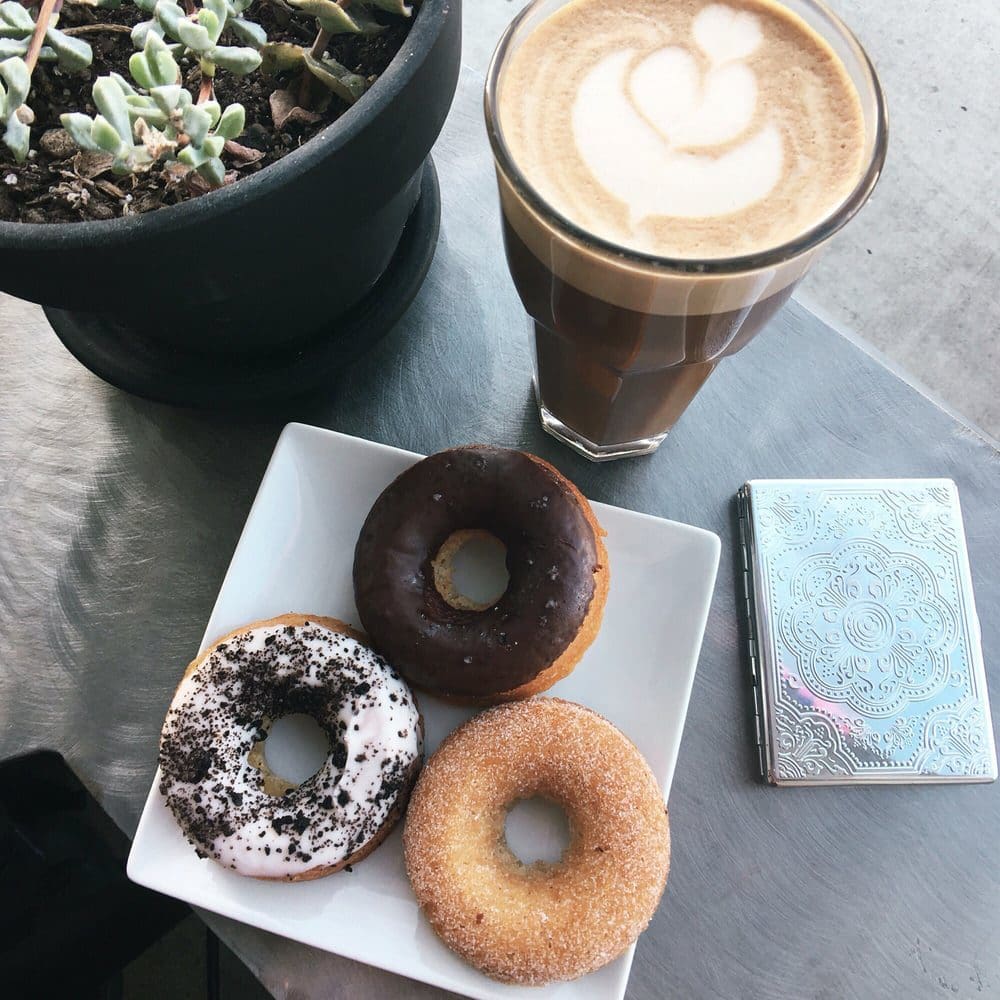 The second location for this Long Beach favorite offers freshly brewed artisan coffee, espresso and tea to wake patrons up in the morning and wind them down in the evening. Other offerings include tap-poured Kombucha, baked goods, and packaged coffee to enjoy at home.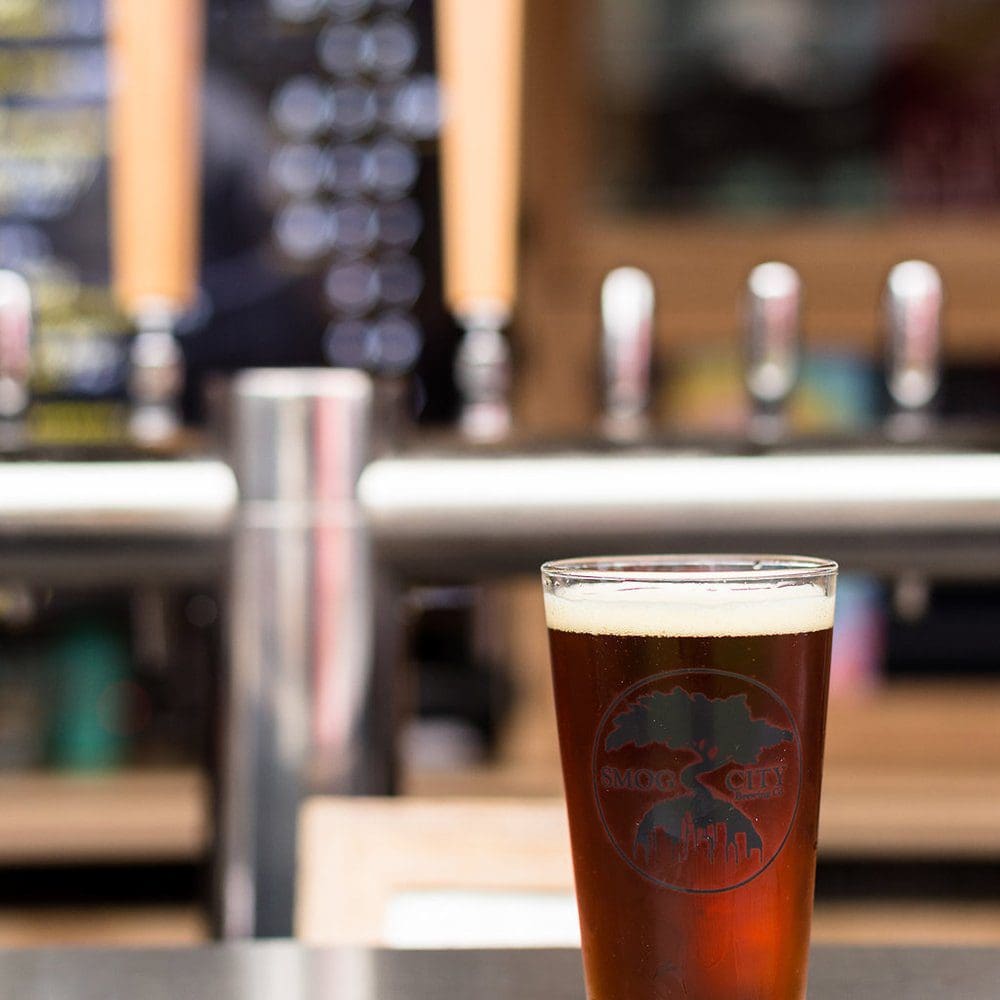 From Torrance, CA the family-run craft brewery is focused entirely on creating and distributing exceptional beers. Smog City Brewing's satellite tasting "room" at SteelCraft features 20 taps of draft beer that can be ordered by the glass or into a growler to take home. Can't decide between the Coffee Porter and Hoptonic IPA? Order the beer flight!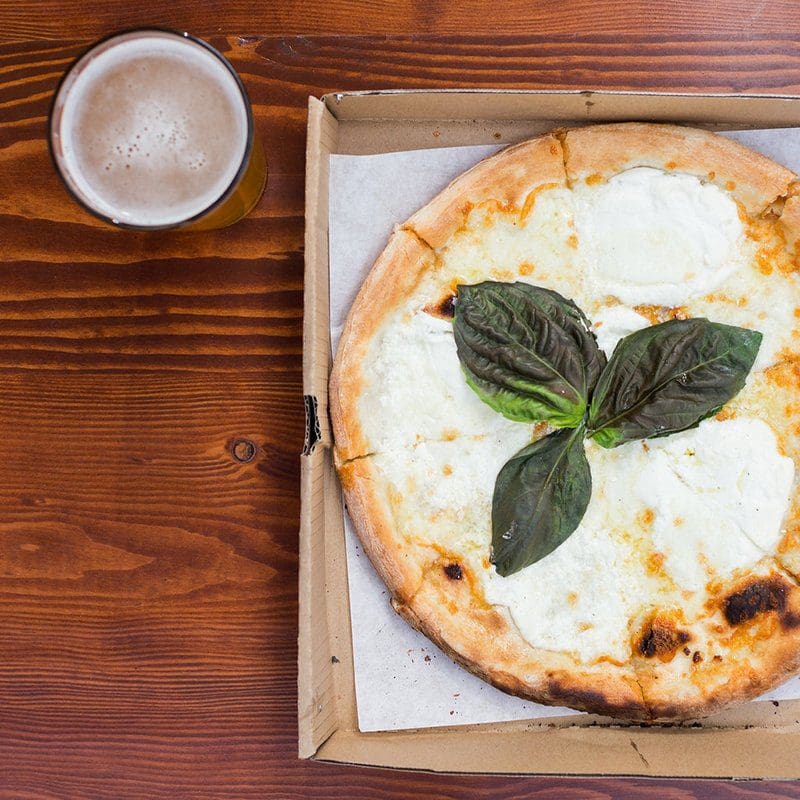 DeSano Pizza follows the strict guidelines of the Associazione Verace Pizza Napoletana (VPN), preserving the centuries old craft of making authentic Neapolitan pizza. From the imported Italian ingredients and hand-kneaded dough to DeSano's world-famous Acunto ovens and highly-skilled Pizzaiolas, pizza lovers can experience what true Neapolitan pizza tastes like! All of DeSano's delicious pizzas are expertly crafted to order and cooked in a wood-burning oven for a quick 90 seconds, slightly charring the crust without compromising the fresh toppings.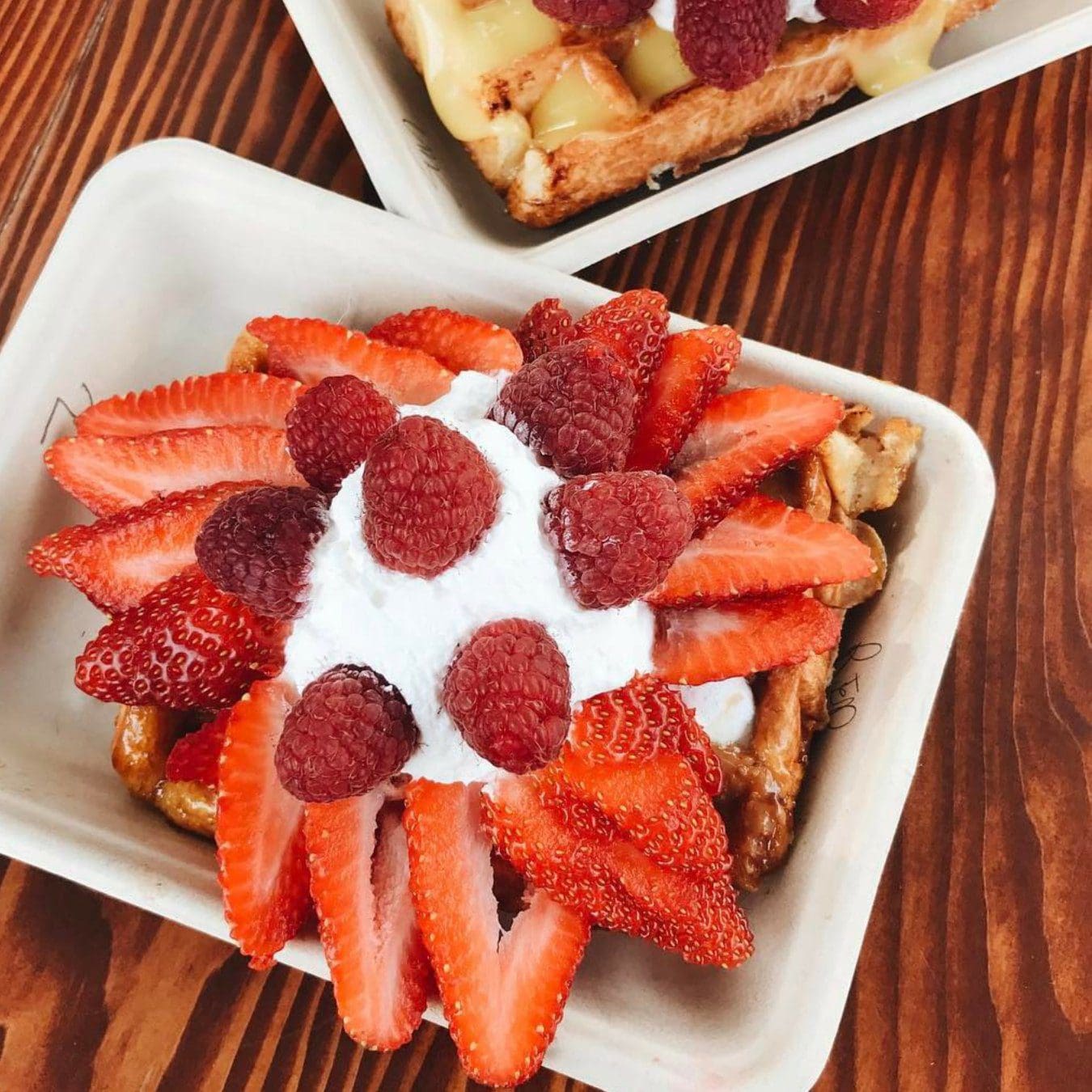 Most popularly known from Season 6 of Food Network's Great Food Truck Race, Waffle Love offers a twist on the traditional Belgian liege waffle with a variety of sweet and savory flavors and toppings. It's more than just a waffle. It's love at first bite!
Long Beach Visitors Guide: What To See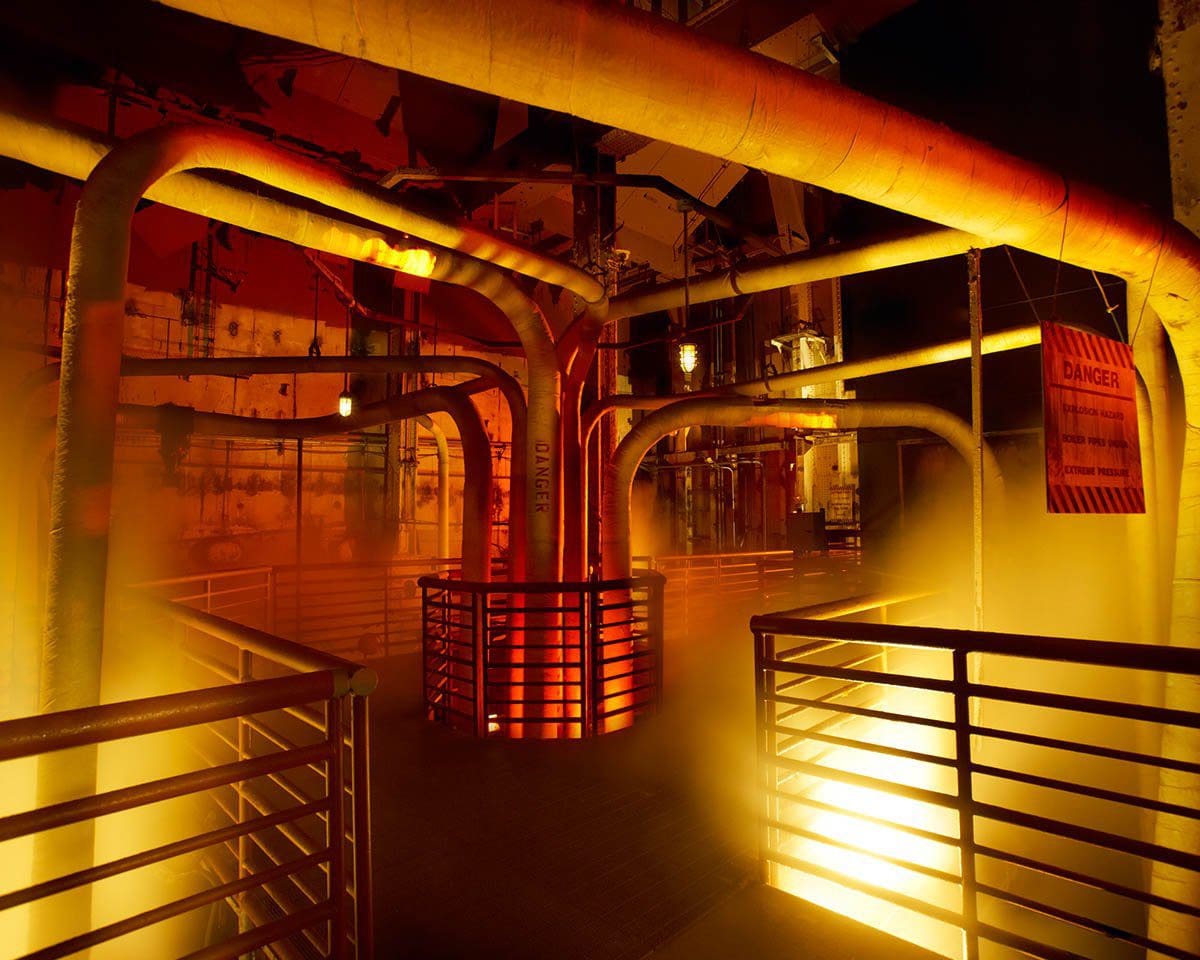 If you're not going to sleep on the ship, make it a point to at least stop by and do one of the many tours they offer. My favorite is the Haunted Encounters Tour. The Queen Mary has been named one of the Top 10 Most Haunted Places in America by Time Magazine. This tour gives you the history of the ship and the back story of the people who've passed on but continue to haunt the ship. The tour last for about an hour and runs at 12:30, 2:30, 4:30, & 6:30 pm.
When you purchase either the First-Class Passport, Queen Mary Passport, Aquarium Combo, or USS IOWA Combo, the Haunted Encounters tour is included. The tour is open to all ages, however, having personally taken the tour with my daughter who's 8, I don't recommend it for kids under 10 unless they are not easily spooked.
Museum Of Latin American Art | 628 Alamitos Avenue Long Beach, CA 90802
If you're an art fan, don't leave Long Beach without visiting MOLAA. Opened in 1996 MOLAA is the only museum in the United States dedicated to modern and contemporary Latin American art. Past exhibits I have loved were the Día de los Muertos exhibit, Somewhere Over El Arco Iris and Transformations.
MOLAA also hosts several kid-friendly events including a summer camp. If you get hungry while visiting, have lunch at the museum's cafe (Cafe Viva). Their chicken mole is delicious and the prices are reasonable. The museum offers free admission every Sunday and the fourth Friday of every month between 5:00-9:00 p.m. They are closed on Saturdays.
Aquarium of The Pacific | 100 Aquarium Way, Long Beach, CA 90802

We've had annual passes to the Aquarium of the Pacific since Reese was about three, and she still enjoys going. While it's not the largest aquarium in the United States, they have a lot to see and it's easy to spend half a day here. My favorite exhibit is the penguin habitat (they are so super cute) and kids love the Shark Lagoon which has over 150 sharks, some of which you can touch . . . and some you can't! This huge outdoor exhibit is home to large sharks and rays, shark touch pools and interactive displays.
One thing to note, since many tourists are confused by this. The aquarium is not the large circular building with the sea life mural. That building is actually the Long Beach Convention and Entertainment Center. The mural is called the Wyland Whaling Wall and was designed by Robert Wyland, and while it is super cool to look at, you won't find any sharks there.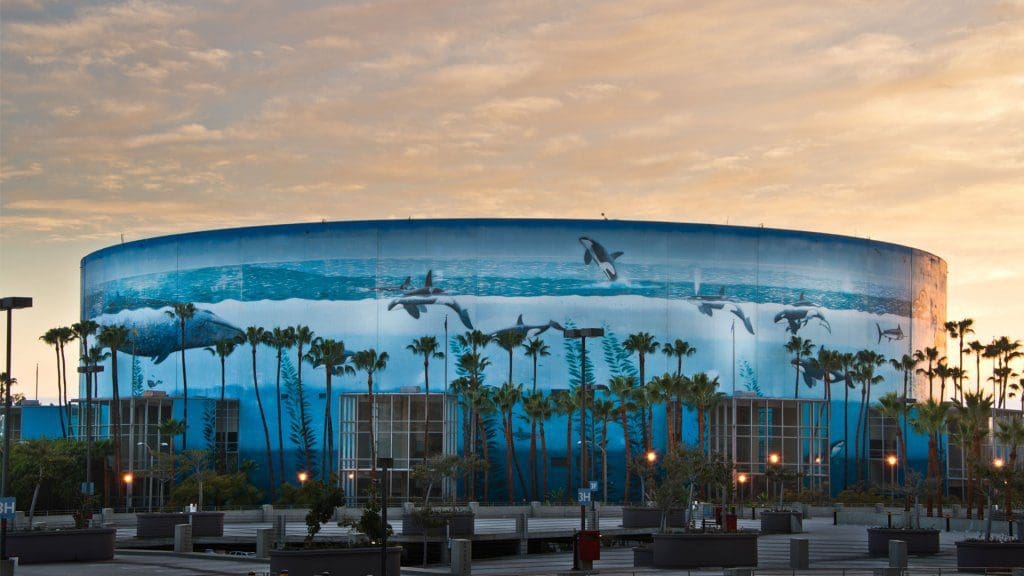 Belmont Shores / Second Street|
If you're looking for a place to grab a bite to eat, people watch and even get in a little shopping, head to Second Street in Belmont Shore. Belmont Shores/Second Street is a charming business district and home to more than 250 businesses. Full of boutique type stores and several eateries, it's a great place to spend the afternoon. In the summer months, you can also catch the "Stroll and Savor" where you can walk the streets and try samples from several local restaurants. If you plan on grabbing a bite to eat, check out a few of my favorite spots: Frosted Cupcakery,  Creamistry, Nicks on Second and Naples Rib Company.
Celebrating an anniversary or looking for a romantic date idea? Check out The Gondola Getaway, and ride in an authentic Venetian gondola as you gently cruise the enchanting canals and waterways of Naples Island.
Whale Watching | 1100 Aquarium Way, Dock # 2, Long Beach, Long Beach 90802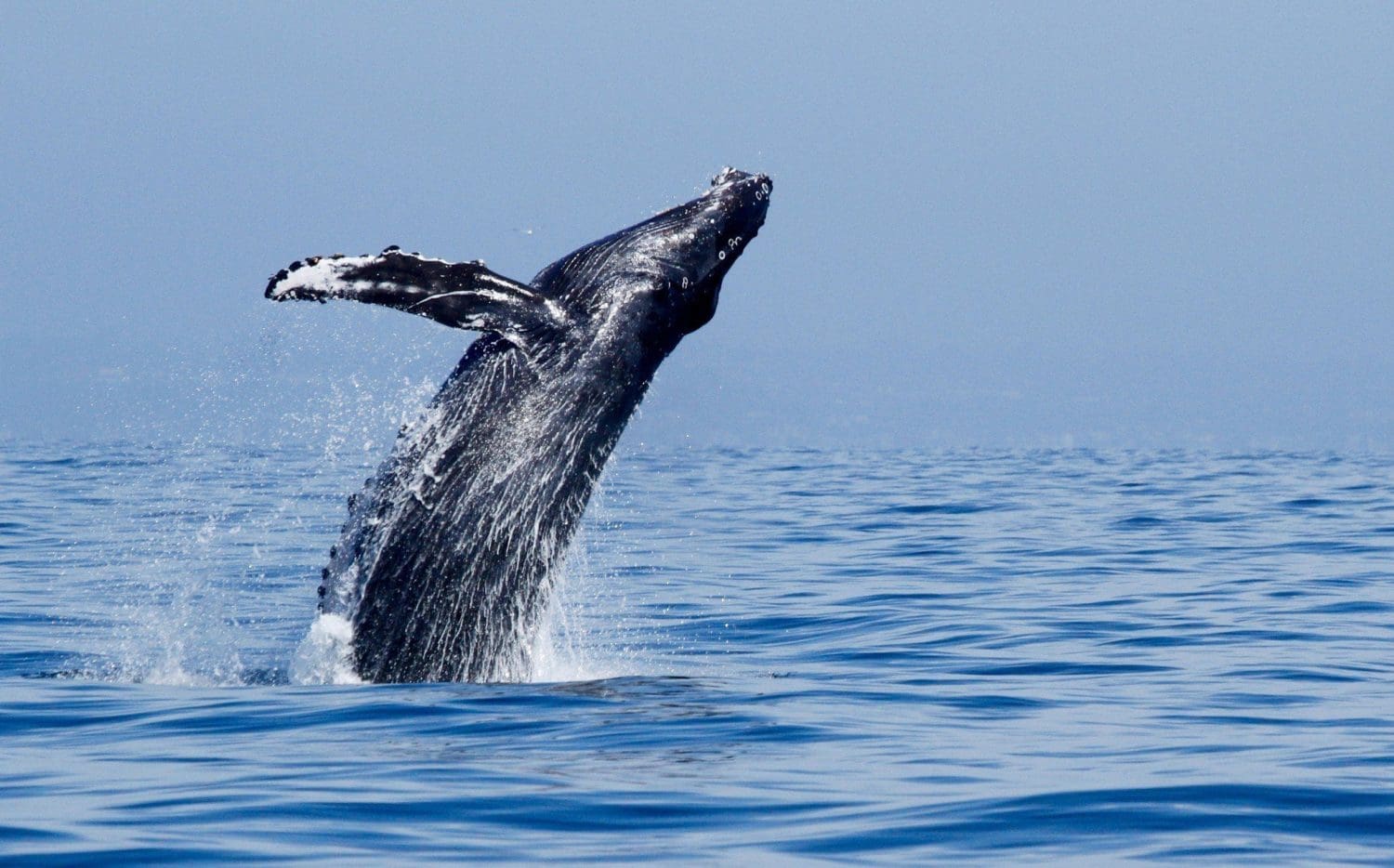 If your visit to the Aquarium of the Pacific left you craving more sea life, spend the day at sea on a whale watching adventure. This is a huge hit with kids who will love seeing whales, sea lions, and dolphins up close. Harbor Breeze Cruises offers two different cruise options, the Gray Whale and Dolphin Cruise and a 45 Minute Harbor Tour. If you're in Long Beach for Fourth of July, you don't want to miss their July 4th Fireworks Cruise.
Long Beach Visitors Guide: Annual Events
Long Beach Pride Parade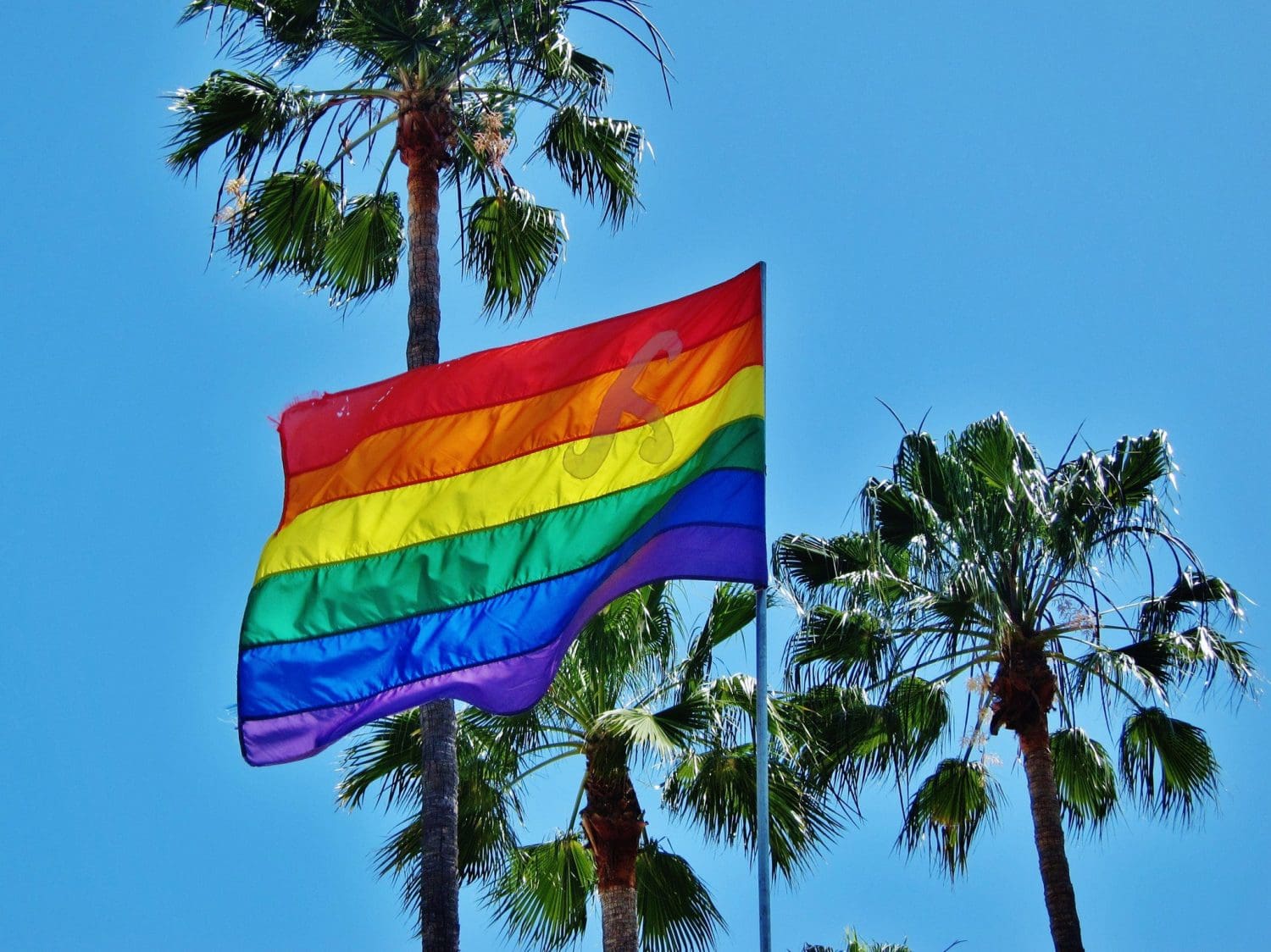 Come out and celebrate as Long Beach hosts the largest party of the year. The Long Beach Pride Festival is a two-day event that celebrates love, acceptance, and members of the LGBT community. Long Beach Pride has become the third largest Pride in the nation, attracting over 80,000 people to downtown LB for two days in late May. The festival also offers a "Teen Pride" festival for kids ages 13-19.
Vendor booths are set up throughout the event selling everything from food to merchandise. The festival concludes with a massive parade down Ocean Blvd. Long Beach Pride is a family event so bring the kids. Kids ages 12 and under are free (with an adult).
Toyota Grand Prix of Long Beach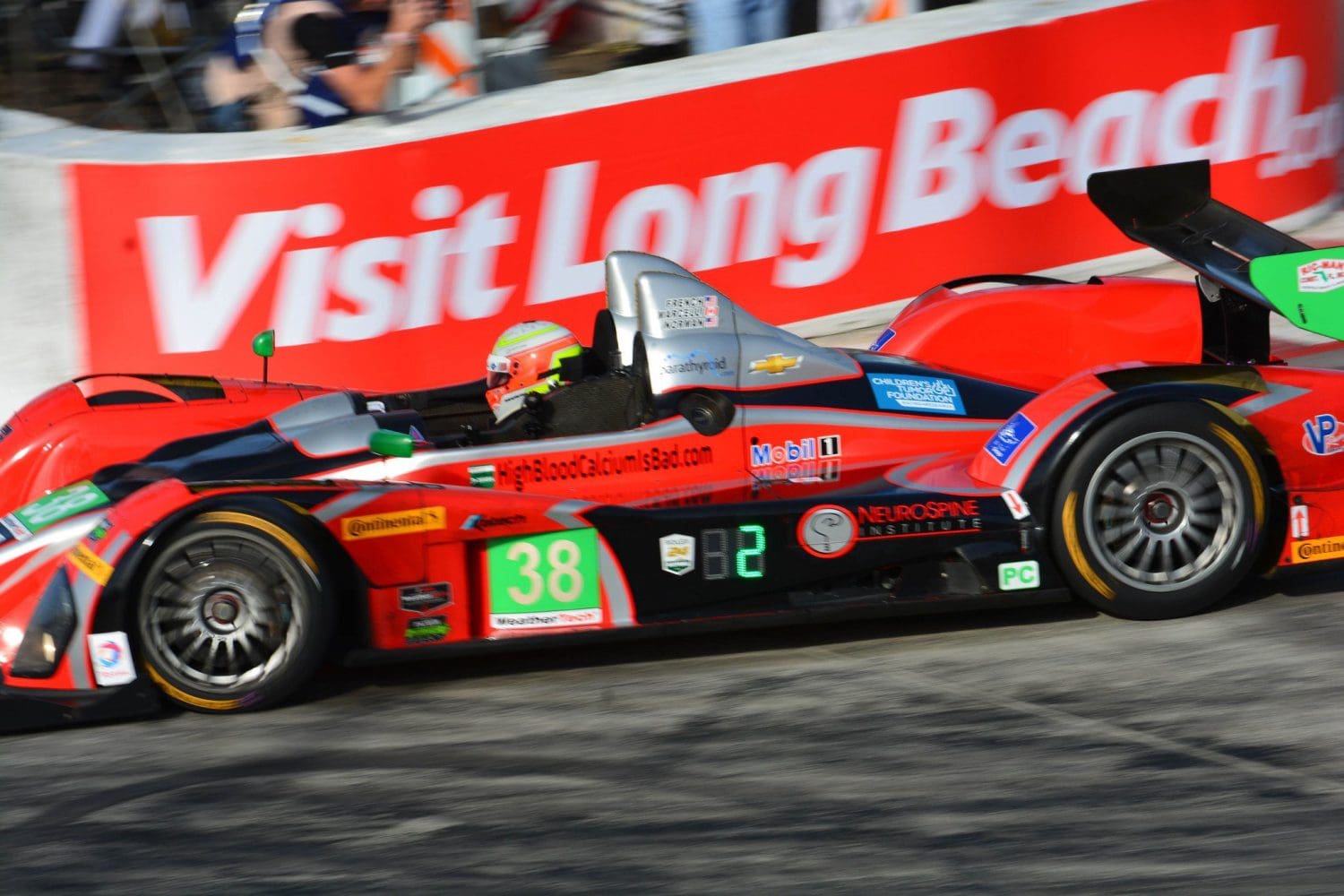 Race fans, are you ready for Long Beach's biggest event? I am in no way shape or form a race fan but even I have to admit, this is one of Long Beach's best events and shouldn't be missed. There is so much more to this event than auto racing and that's what makes it so popular.
For hardcore race fans, get there early. Gates open around 7:30 am and races go until about 6 pm and are followed late into the evening by parties all over the city. If you're not big on racing but still want to check it out, GO! There is plenty to do such as daily concerts, celebrity appearances, exotic car shows and food trucks. There is even a kids zone that features rock climbing walls, games, racing simulators and much more.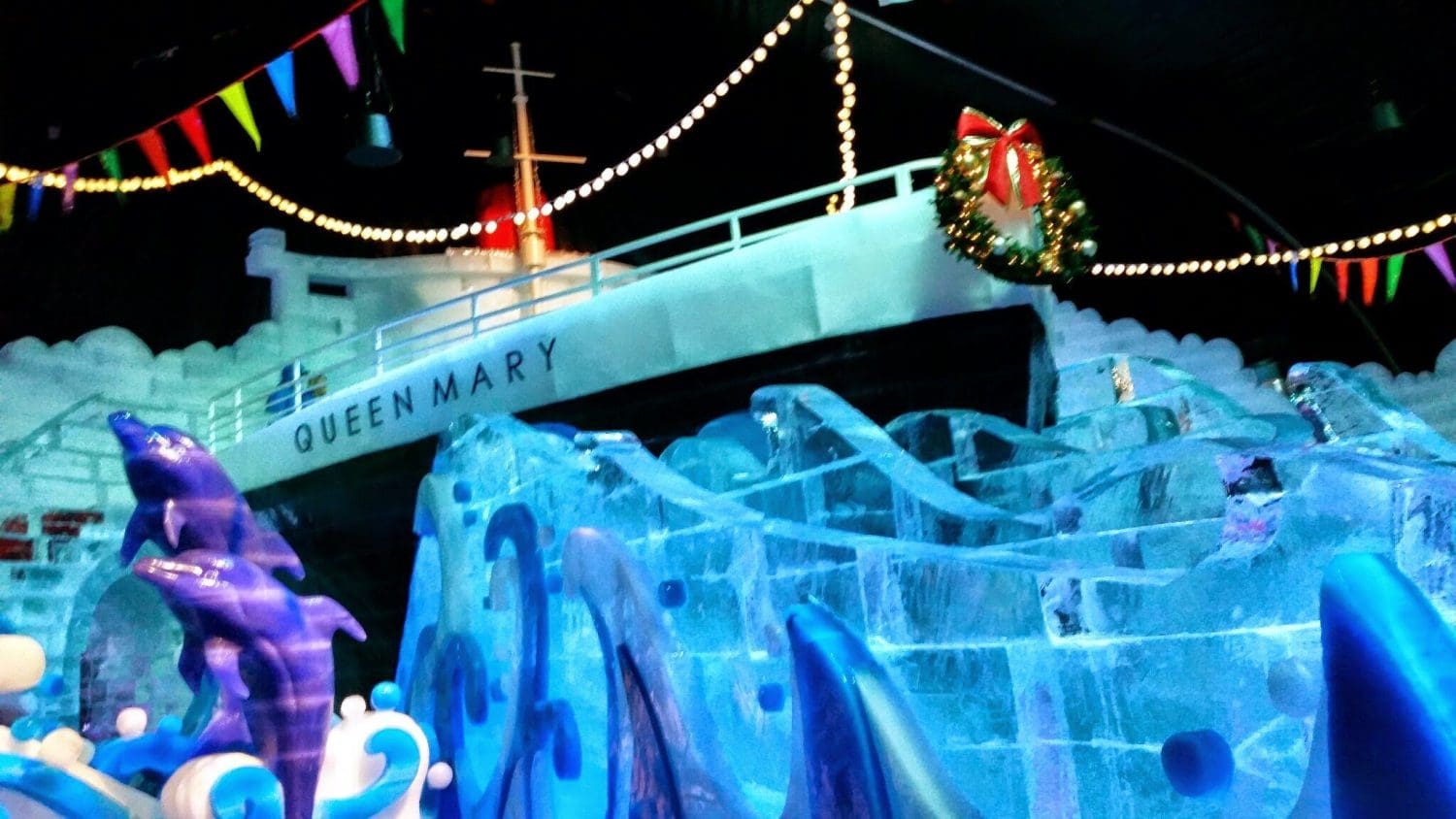 Chill is an annual tradition in my house and we've been going since they first started hosting this event. It's not too often us Californian's get to experience cold, so Chill is a big deal for kids, and adult too.
Each year at Christmas time, the village at the Queen Mary turns into a winter wonderland. Kids and adults can spend the day ice tubing on a glacier slide and Ice Skating. There is live entertainment, a North Pole Village where kids can meet Santa and Mrs. Clause and so much more.
Tickets can be purchased directly from the Queen Mary in advanced, however, we have always been able to get discount tickets via Groupon, so check there first.
Long Beach Visitors Guide: Day Trips
Santa Catalina Island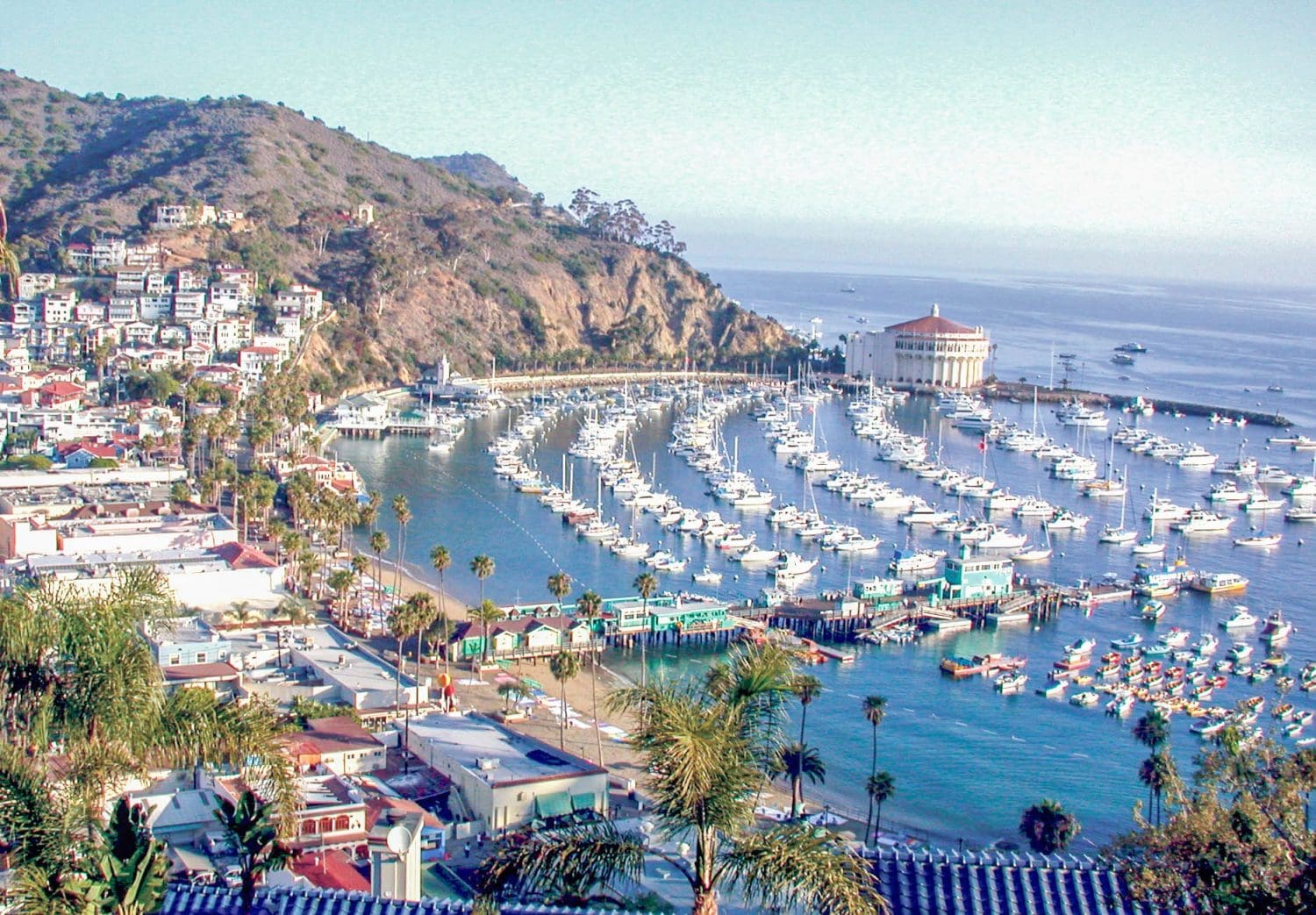 There is definitely enough in Long Beach to keep you busy no matter how long you're staying. If however, you're looking for a fun day trip, look no further than California's own private island. Santa Catalina Island is located 30 miles off the coast of Long Beach and is a short hour boat ride making it the perfect getaway. Spend the day parasailing, diving, hiking, zip lining, kayaking, or just relaxing on the beach away from the hustle and bustle of Los Angeles.