The Lazy Mom's Guide To Lunch On The Go
I'm lazy and I'm not ashamed to admit! Every day my only goal is to make the day go by as smoothly as possible. I get bonus points if I can do it without spending a fortune. Now that I'm homeschooling Reese, we spend a large part of the day exploring the city. That means we need to take lunch with us to avoid eating out and spending a ton of money every day.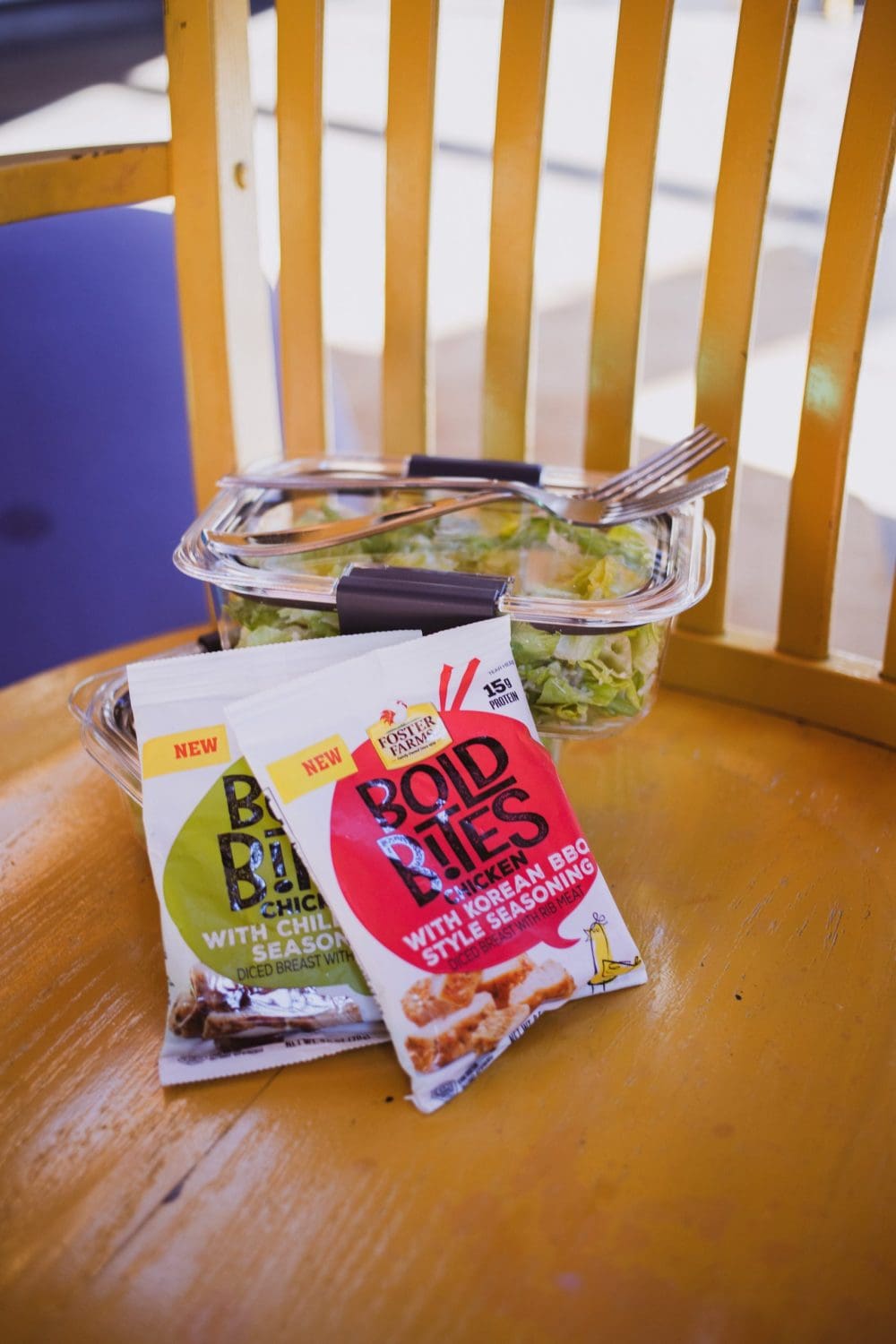 Not only would eating out every day get super expensive but getting healthy and nutritious meals on the go isn't that easy to find either! After a while, Reese was too tired of the same old peanut butter and jelly sandwich so it was time to switch it up. I needed a meal I could pack and bring on the road with us. But it also needed to be nutritious and something she'd like. She's got a special palate (aka picky AF)! Lunch On The Go
Easy Lunch On The Go With Foster Farms Bold Bites
After doing a little digging, I stumbled upon Foster Farms Bold Bites. And let's just say, they made my life so much easier. These on-the-go delicious chicken snacks contain 15 grams of protein per serving and no hormones, nitrates, artificial colors or flavors. Foster Farms Bold Bites also come in single servings with five mouth-watering seasoning varieties like Korean BBQ, Chile Verde, Parmesan Garlic, Caribbean Jerk, and Cajun. Now comes the hardest part: coming up with lunch ideas that would get me Reese's stamp of approval! Lunch On The Go
I'm in love with Foster Farms Bold Bites because there's literally no cooking required. Not only does that leave a lot of extra time to run errands and go about my day, but I was also hooked on how flavorful and well-seasoned they are. The whole chicken breast meat is chopped and individually packaged for wherever life takes us. But I personally like to whip up a few fun and quick meals that taste great and travel well, which is something Reese and I do often. Lunch On The
Easy Lunch Ideas With Foster Farms Bold Bites
So many lunch ideas cross my mind throughout the week. Since my daughter and I enjoy variety, I use these tasty add-ons to create flavorful, convenient, and healthy solutions. One of my favorites is the burrito bowl. I add some Foster Farms Bold Bites, rice, beans, avocado, and mild salsa, and voila!
We're ready to head out the door. And when we get hungry, we'll have a tasty meal that will have us shouting, "Ole!" But a chicken salad isn't out of the question either. All I do is toss some Foster Farms Bold Bites, some spinach leaves, cranberries, feta cheese, and almonds, and I'm done. But Reese's favorite is the chicken and cheese meal, and I definitely know why. I use Foster Farms Bold Bites and string cheese, add a few crackers and we're set for snacking in the car.
Bold Bites contain farm-fresh chicken and some delicious seasoning, but I'm most impressed by the way it's packaged, which is just perfect for parents who honestly don't have the time to cook four meals every day! And I have to admit, it's a lot better than filling Reese's tummy with unhealthy snacks like chips and candies. So, I'm making sure to keep my fridge stocked with all the Foster Farms Bold Bites flavors I could find at the market. They're going to be very helpful in making some fast lunch for myself and Reese. Plus, they're such a delicious time saver, and that's great because time is usually the one thing I never seem to have enough of. Lunch On The Go
Quick and Easy Meals with Walmart Online Grocery Pickup Service