This blog post "Splash Into Summer With This Mermaid Cupcake Recipe" is not sponsored however it does contain affiliate links. For more information on our sponsored post and/or affiliate link policy, please click here.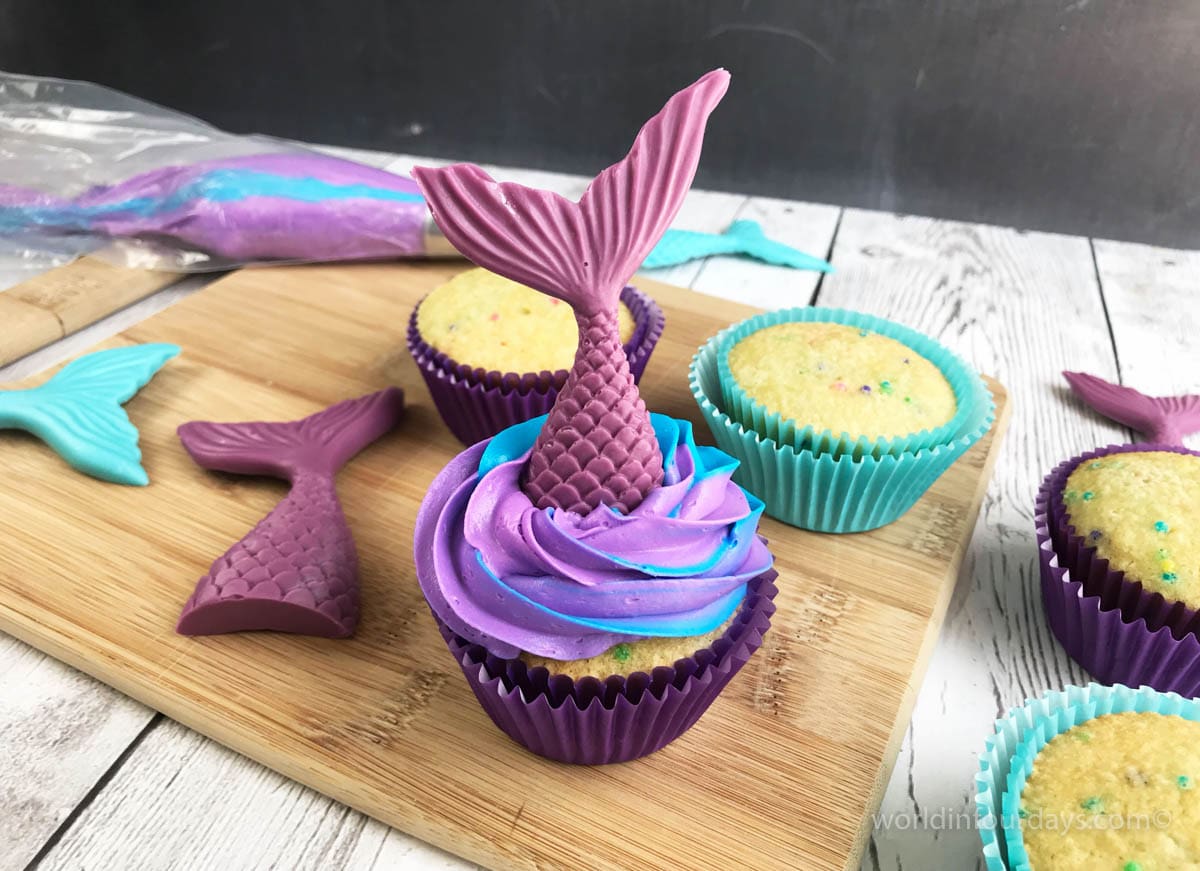 As a child, I loved mermaid-themed movies like "Splash" with Daryl Hannah or the adorable Disney film, "The Little Mermaid," which I still love to watch with Reese to this day. If you and your kids are as mermaid obsessed as we are, then you'll definitely want to try these delicious mermaid cupcakes.
Cupcakes inspired by mermaids and the ocean is such a totally whimsical treat! The best part is, not every cupcake has to look exactly the same! You can add chocolate details that are painted to look like sea shells or you can turn sugar into pearls, and toasted coconut which mimics the sand. Of course, you don't want to forget about the mermaid's tail, the star of this mermaid cupcake recipe.
This treat is perfect for those of us who are mermaids at heart and are the perfect party treat if you're hosting a get together at home. You can make them for a child's birthday party or any holiday celebration. I mean, c'mon, mermaids pretty much go with everything so this mermaid cupcake recipe will be a hit anywhere you take them!
Since mermaids remind me of the summertime and hot sunny days, I decided to make these adorable mermaid cupcakes just in time for summer. I mean, summer is right around the corner and these mermaid themed cupcakes definitely have me feeling the vibes.
The mixture of ingredients will provide a swirl of sugary bliss to the taste buds that'll hit you like a massive wave. Now I personally enjoy a recipe that's simple but doesn't look simple. So, I encourage you to try making these mermaid themed cupcakes which are tasty under the sea and above it!
Mermaid Cupcake Recipe Ingredients
Frosting Ingredients: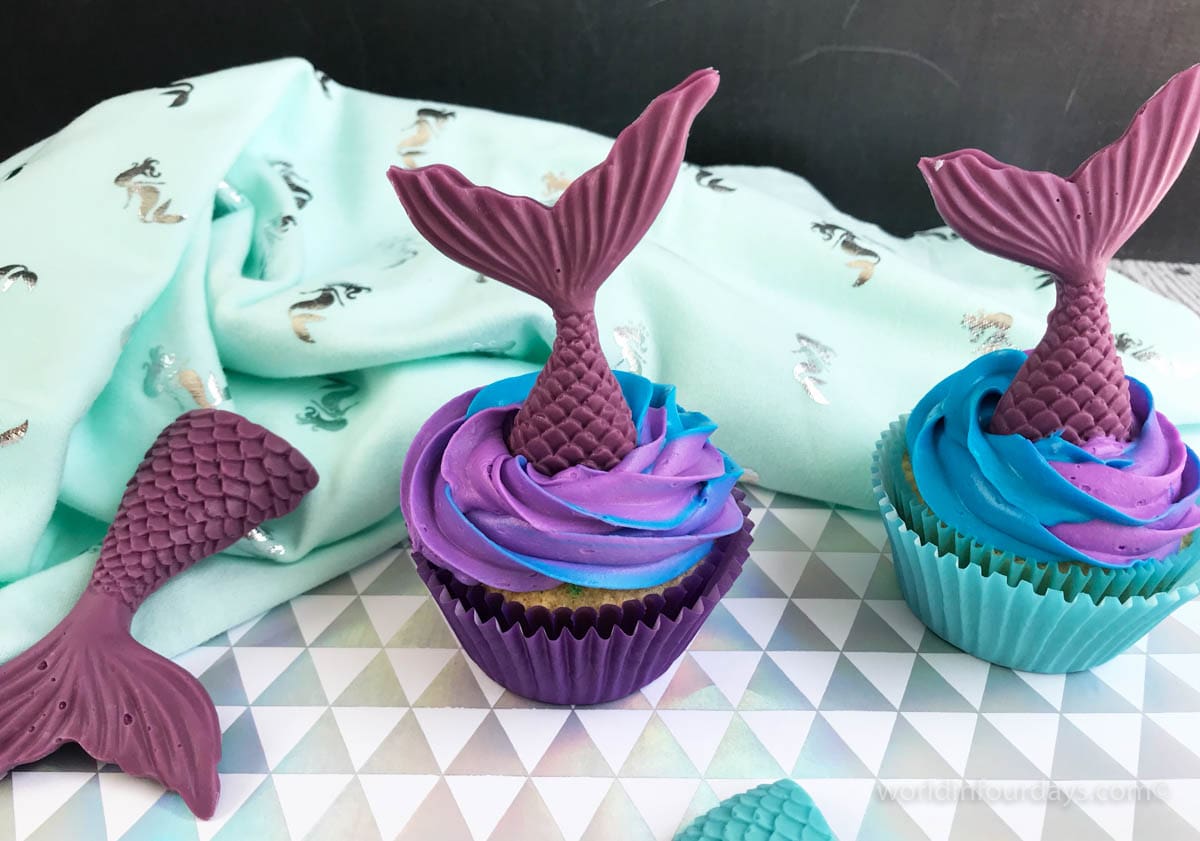 Mermaid Cupcake Recipe Instructions
Pour each of the Wilton candy melts into a microwave-safe dish. Heat each dish in the microwave in
30 secret increments, stirring until melted. Let cool a few minutes and fill the mermaid tail mold with
melted chocolate. Place in the fridge for 15-20 minutes to set and repeat this step. You may need to re-
heat the chocolate.
Preheat the oven to 350 degrees and line a 12 count muffin tin with cupcake liners.
Combine the 1/2 cup butter, 2 eggs, sugar, vanilla extract, baking powder and milk, mixing well.
Add in 1/8 cup of multi-colored sprinkles and stir lightly to combine.
Fill each cupcake about 3/4 full.
Bake 18-20 minutes. Insert a toothpick around 18 minutes. If it comes out 'clean' the cupcakes are
done.
Remove from the oven and let cool completely prior to decorating.
Once the cupcakes have cooled, combine the powdered sugar, 1/3 cup softened butter, vanilla extract, and milk. Once the frosting has reached your desired consistency divide into 2 small dishes.
Add a few drops of gel food coloring to each bowl of frosting and stir to combine.
Lay out a long piece of plastic wrap on the counter (you can always trim).
Fill one freezer bag with one color of frosting. Snip the corner using the kitchen scissors and gently squeeze the frosting out in a long line on the plastic wrap.
Repeat this step with the other frosting color.
Once the frosting is lined up, gently roll the plastic wrap as shown in the photo. Place in the fridge a few minutes to firm up.
Attach the star frosting tip to the disposable piping bag. Remove the frosting from the fridge. Cut in half if needed (mine was really long) and place the open end down into the frosting tip.
Gently squeeze the frosting out of the bag and onto the cupcake in a circular motion.
Repeat with all cupcakes.
Give each cupcake a chocolate mermaid tail. If needed, insert one toothpick behind the chocolate mermaid tail to support it.
*This Mermaid Cupcake Recipe Makes Approximately 16 Cupcakes