Mixed Chicks Co Wash…Did It Work?
I quite possibly might have the most tender headed kid on earth. For those that have no idea what that means let me break it down for you. Hair brushing in my house usually goes something like this. Mixed Chicks Products Reviews Mixed Chicks Co Wash
Step One: Consume a large amount of wine and brace myself for the task at hand
Step Two: Gather all my supplies. This usually means 2-3 combs, 2-3 brushes, and 2 different detangling sprays and a few different leave-in conditioners. Mixed Chicks Products Reviews
Step Three: Lie! In this step, I tell her how much it won't hurt (a lie, and she knows it) but we do this step anyway. This step usually requires repeating 4-5 times but eventually, I wear her down.
Step Four: Pleading, Bribing and Threatening! Now, this is where it gets real. This step involves lots of crying (from both of us), more drinking (I have no idea how I even still have a liver) and more threats (If you don't sit still I'm sending you to school like this!). This process can range anywhere from an hour (if I say screw it and give up) to 2 hours if we take several breaks to offset the meltdowns. There is sometimes a bribe involved, "I'll give you a cookie if you just let me get through this". Mixed Chicks Products Review
I was over it and seriously ready to break out the scissors. I had tried nearly every hair product known to man but nothing seemed to work. Add also to the fact that Reese's hair is long (we're talking to her waist long), curly and thick, so when we did find a product that came even remotely close to working, it usually came in a tiny bottle that only lasted us -2-3 washes and was super expensive. Mixed Chicks Products Review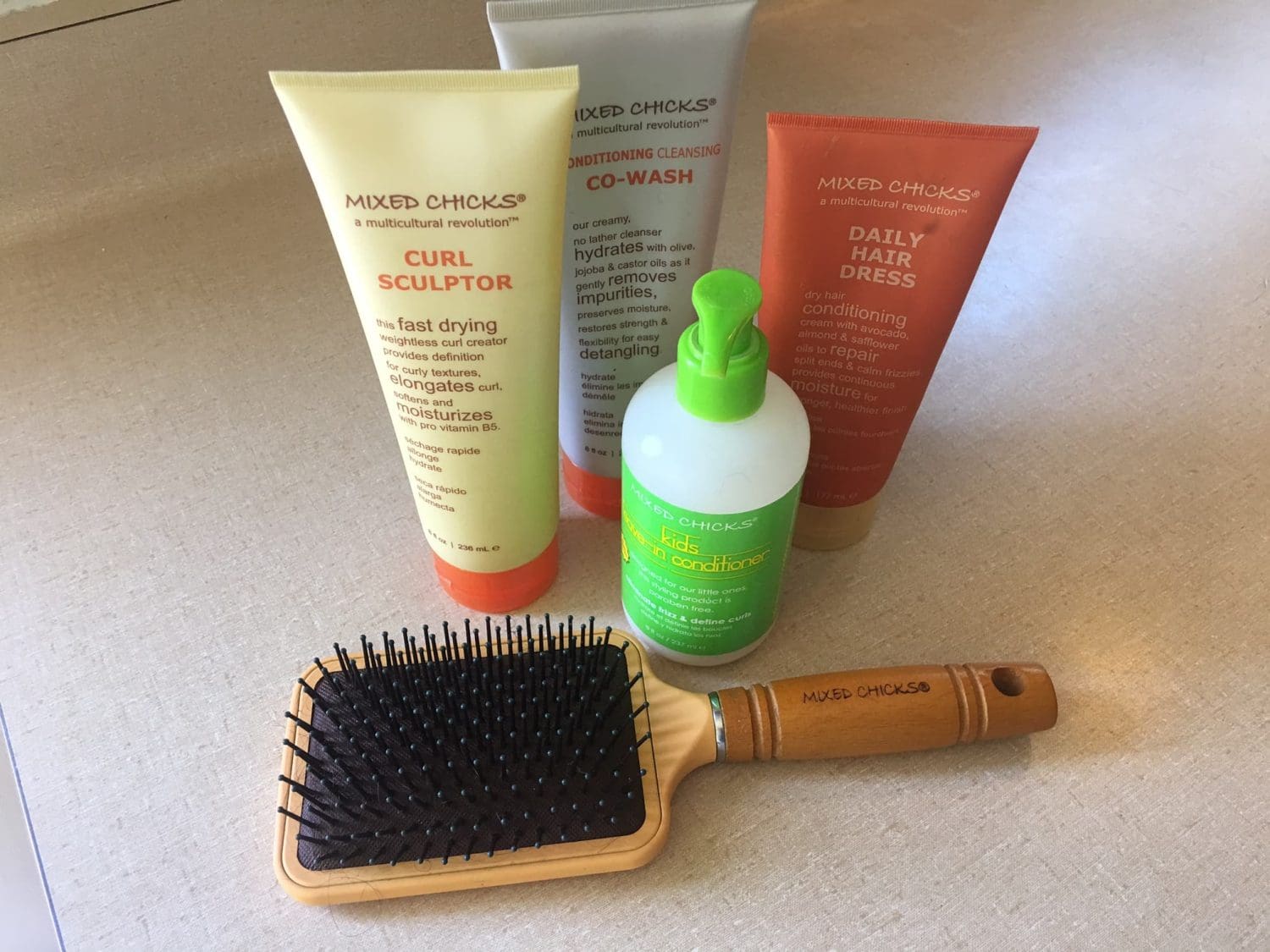 A few weeks ago someone suggested I check out Mixed Chicks. The suggestion came after an hour crying session so honestly, at that point, I was willing to try anything! I contacted Mixed Chicks and in less than a week, there was a box at my doorstep with a few of their hair care products. In my shipment, I received the Mixed Chicks Co Wash, The Daily Hair Dress, The Curl Sculpture, The Kids Leave-In Conditioner, and the Mixed Chicks Paddle Brush. They also threw in a super cute doll and a Mixed Chicks tee-shirt which Reese loved! Mixed Chicks Products Review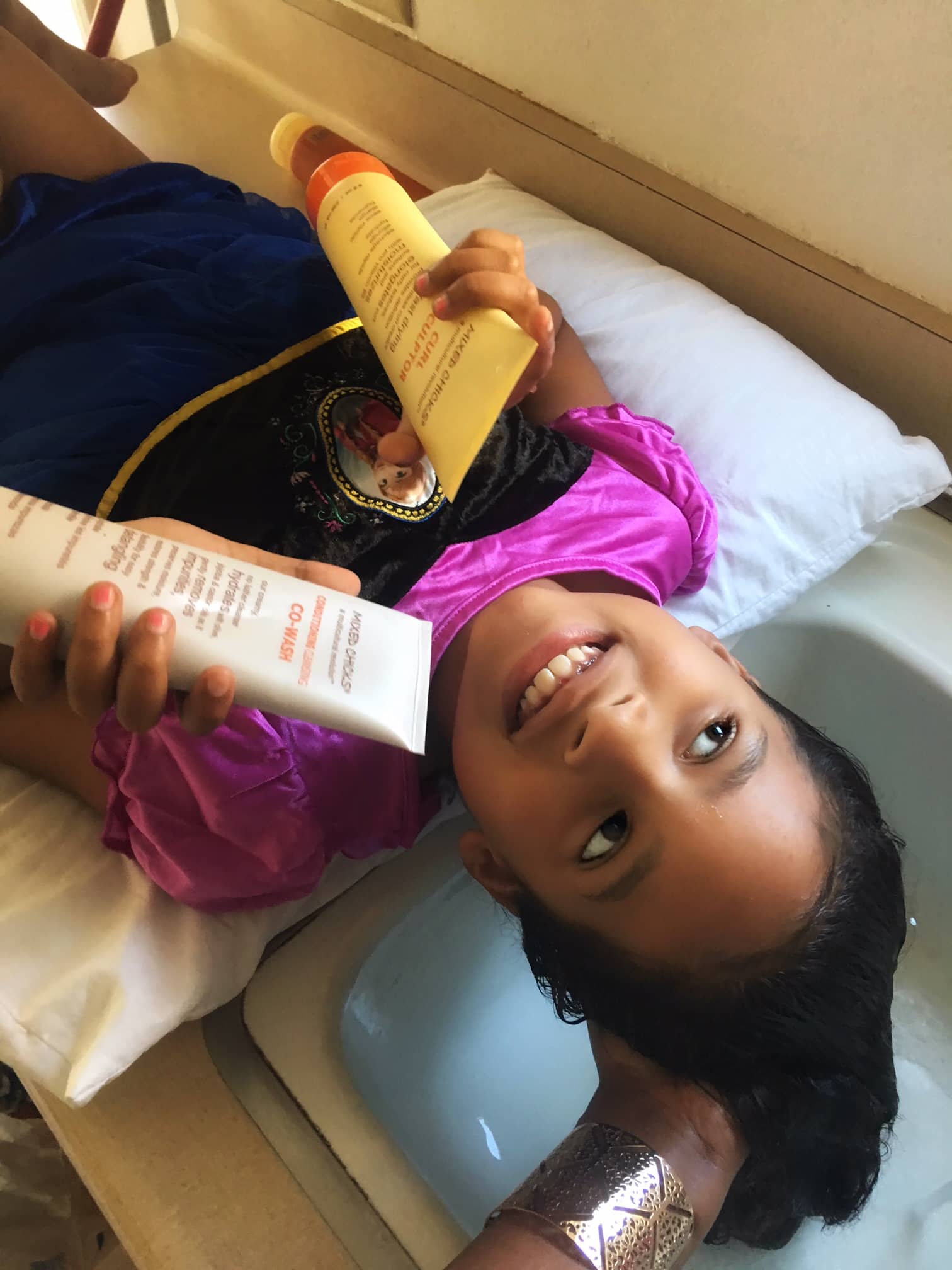 Mixed Chicks Co Wash Conditioner Mixed Chicks Products Review
Okay for starters, the co-wash conditioner is gold. When I tried it, I knew within the first 3 minutes this one was going to be a keeper. I used a quarter sized amount and worked it into Reese's hair and within 3 minutes it had made her hair soft and I could actually run my fingers through it. I used to laugh at people who would tell me to finger detangle her hair…yeah okay, you obviously have not seen my kids hair lol. Mixed Chicks Products Review


The Mixed Chicks Co Wash Conditioner made finger detangling totally possible. I wet her hair with warm water, worked in a quarter size amount of conditioner, then continued to work it in for 3 minutes finger detangling as I went. When I rinsed with warm water, I could already tell it was going to be much easier to work with. I squeezed most of the water out with my hands then wrapped her hair in an old tee-shirt and moved on to the next step. Mixed Chicks Products Review

Now that her hair was mostly detangled, we moved on to the kids leave in conditioner. I made the mistake of using way more than I needed to. I'm so used to other leave-in conditioners not working that I went a little overboard. If you're new to mixed chicks, know, a little goes a long way. For the amount of hair, Reese has I could have totally used a quarter-sized amount and been okay. Once I got the leave-in conditioner all worked in we moved to the next steep…the dreaded bruising.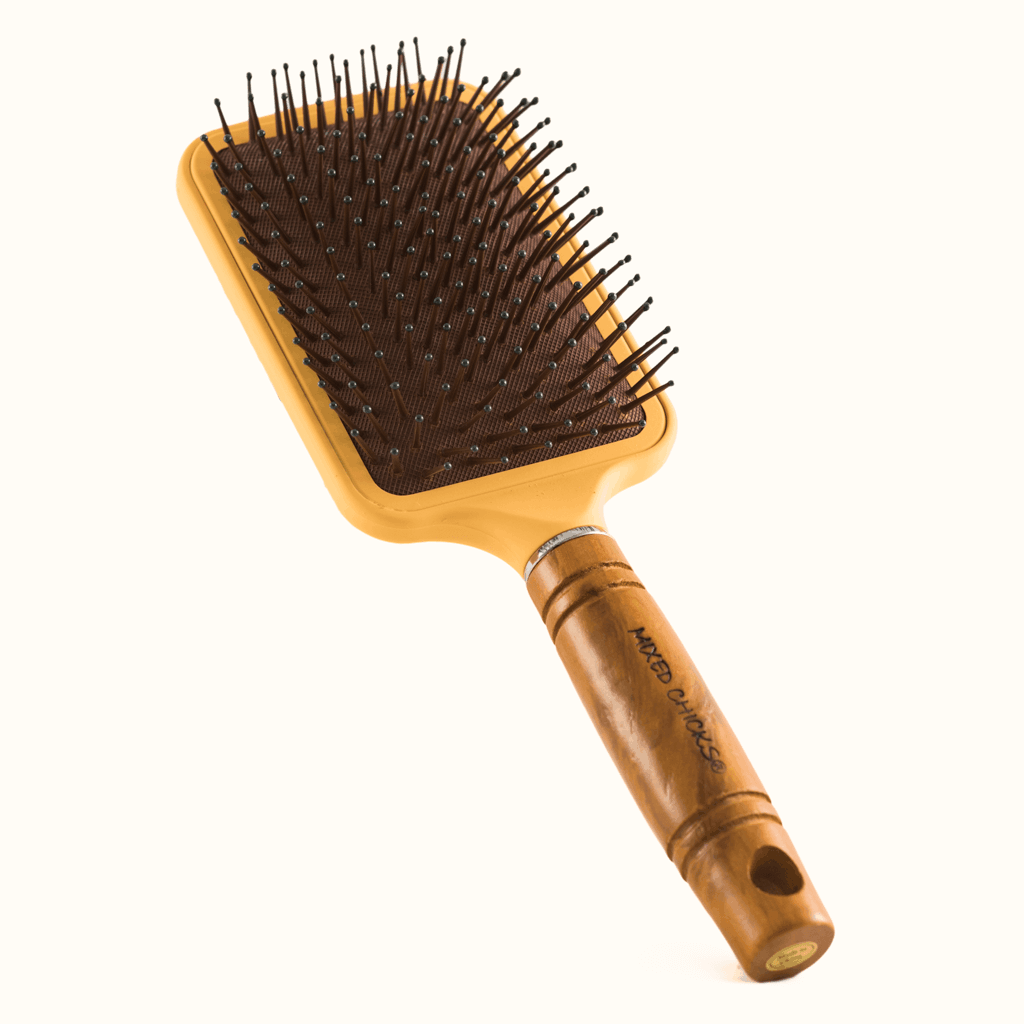 Using the mixed chicks paddle brush, we started from the bottom f her hair and work our way to the root of her hair. The difference was night and day, and after about 10 minutes into the brushing process, there was not a tear in sight. That in and of itself is amazing.
I will say I was not a huge fan of the brush and felt it was a little too big for her because she has a small head. I also didn't care for the grip. With her hair being wet and having the product in it, the brush kept slipping. We switched back to my old standby, the wet brush and I kid you not, the brush slid through her hair like butter. I literally jumped for joy (and knocked over my wine!)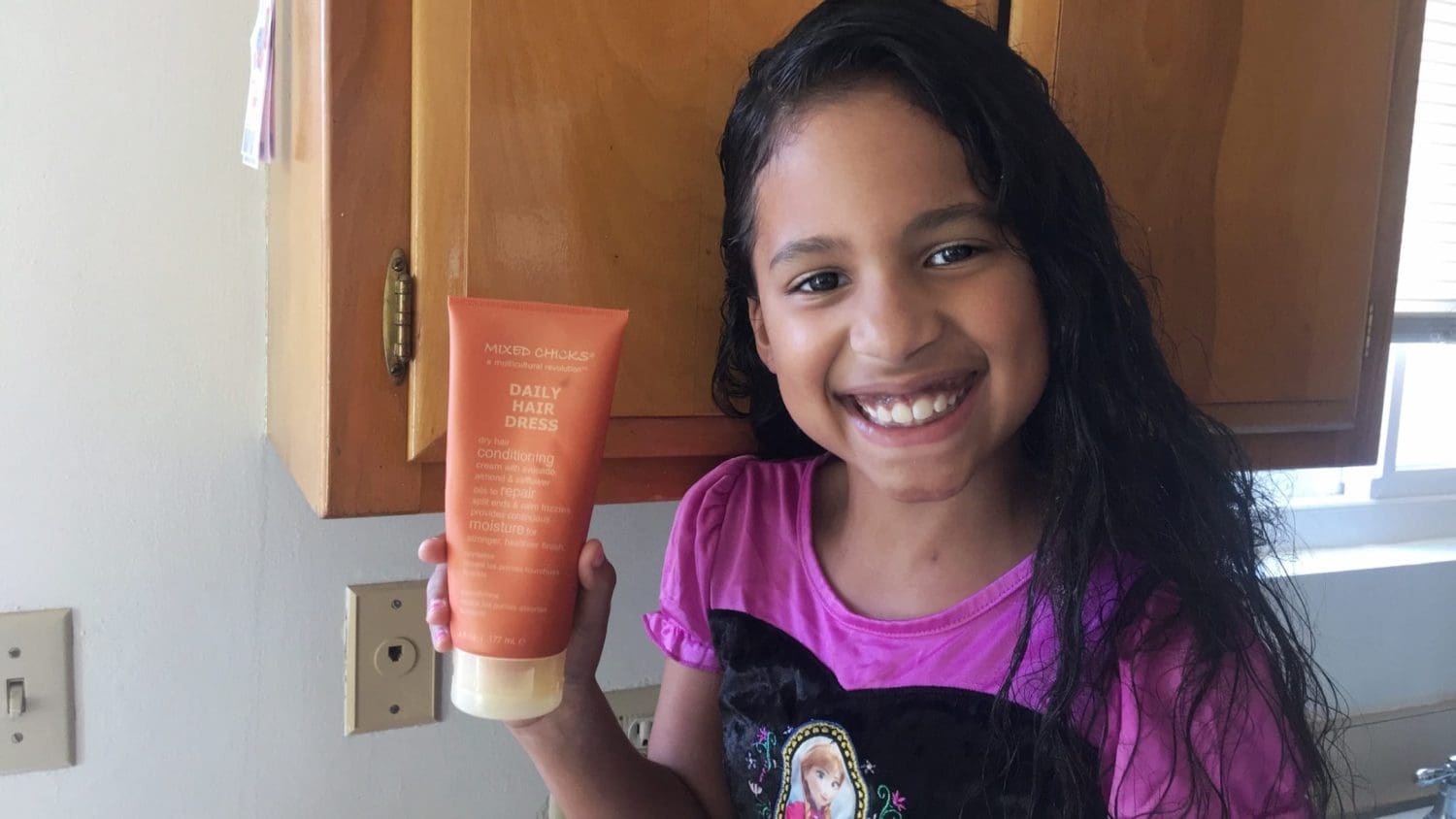 By the time we got through the co-wash and leave in conditioner, I could have stopped because her hair already looked healthy and amazing. Reese was so excited to get through the whole process without any tears that she actually asked me to try the Daily Hair Dress. She said, "Mom, just put a little on the ends, I want to see how it works".
The Daily Hair Dress was really lightweight and non-grease. Again, a little goes a long way so don't overdo it. I applied about a dime size amount and only to the ends and that was more than enough. I allowed her hair to dry naturally and while it was partially dry, I put in some curling rods and allowed her hair to completely air dry. Mixed Chicks Products Review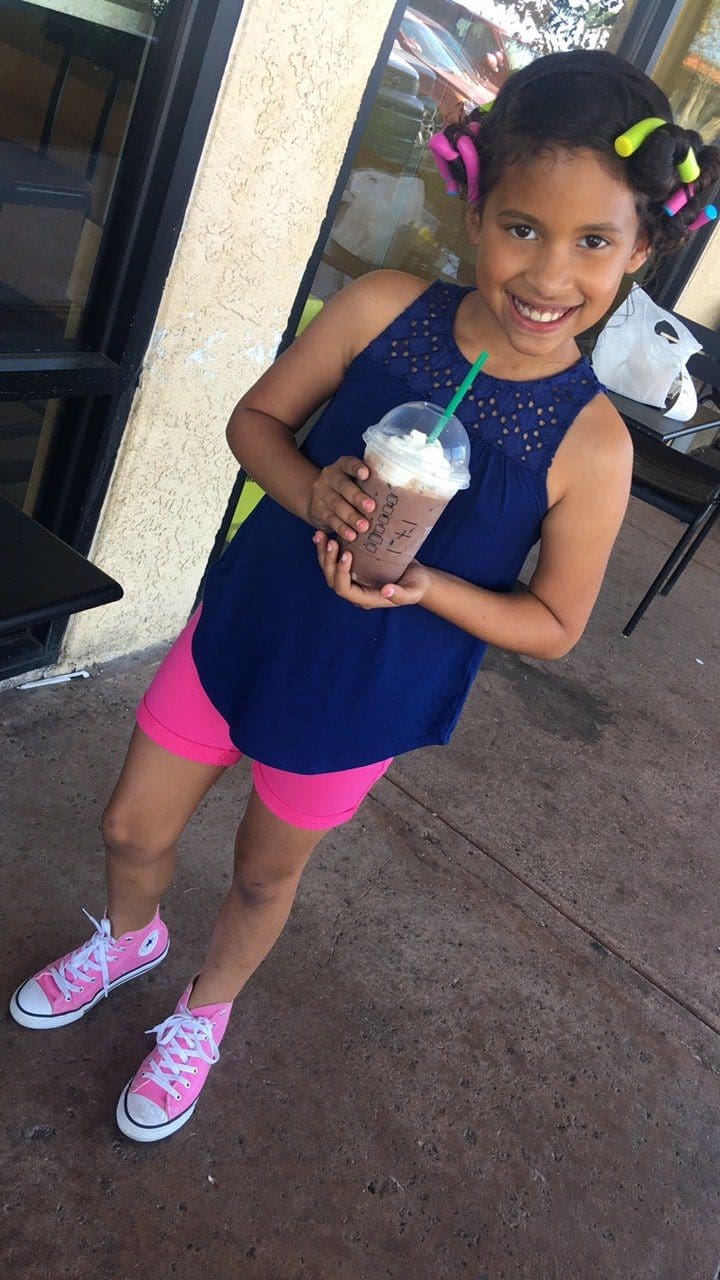 I'm going to continue to test the products out until they are gone. At that point, I will come back and give you guys an update. In the meantime, if you want to give Mixed Chicks a try, visit their website www.mixedchicks.net



Are You Ready for Summer? Check Out My Summer Hair Care Routine