Whether you're doing a staycation or traveling across the nation, solo or with your kids, hotel stays can get pricey. I love using Airbnb but sometimes, a nice hotel stay is in order because then I get that concierge service and all those other amenities. It sure feels nice to be looked after while you're on your vacation, and good hotels truly anticipate your needs. Money Saving Hotel Tips
But good hotels also cost more money. Thankfully, you know me and I'm going to tell you just how to save money during your next hotel stay anywhere!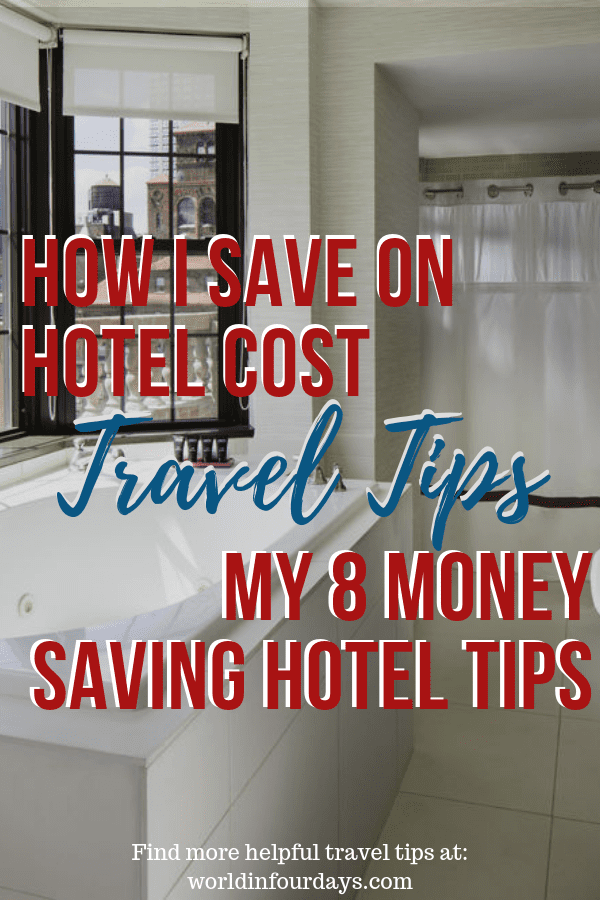 Money Saving Hotel Tips: Enroll in a loyalty program
Most of the big hotel brands have free loyalty programs. Join them and get free rooms after staying with them several times, or use it for future trips. There are other fun perks too like room upgrades, free Wi-Fi, and spa access for example, so it pays, quite literally, to sign up so you can get free nights during your travels. A few of my favorite hotel rewards programs are
Marriott Bonvoy (sign up here) 
The Marriott Bonvoy program accommodates both business and leisure travelers who visit major cities in the United States, Canada, Asia, and Europe. As a program member, you will earn rewards points when you stay with one of 29 affiliated brands, including The Ritz-Carlton Hotels & Resorts, St. Regis Hotels & Resorts, Courtyard by Marriott, Westin Hotels & Resorts, Renaissance Hotels and more. Continue Reading
Hilton Honors (sign up here)
The Hilton Honors program is most advantageous for business and luxury travelers who frequently fly to and stay in major cities in the United States, Europe, and Asia. Hilton Honors members can redeem points at more than 5,300 hotels and resorts across 14 different brands in more than 100 countries and territories. And because Hilton has a partnership with the United MileagePlus program (as well as more than 40 other airline and rail partners), you can cash in points for miles. Points can also be used to purchase tickets to concerts and sporting events, gift cards, cruise certificates and items sold on Amazon and Hilton Honors' shopping portal. Continue Reading
Money Saving Hotel Tips: Be social media-savvy and "like" your hotel
Follow your favorite hotel chains and "like" them. They often post special deals and discounts that are only provided to those that follow them on their social media platforms. That means even more savings for something so simple!
Money Saving Hotel Tips: Look for free kid stays and free kid food
Some hotels will allow you to let your kids stay in your room with you for free which keeps costs down. Others offer free meals on premises for the kids when they're accompanied by you. I love this option when I'm with Reese because it saves us oodles that we can use to explore with at other attractions wherever we are.
Money Saving Hotel Tips: Book a hotel with free breakfast
Food during your travels really adds up so when you can get a free meal, take advantage. Breakfast is the most important meal of the day and many hotels will give you a full breakfast buffet for free every morning of your stay.
Money Saving Hotel Tips: Make use of in-room kitchens, fridges, and microwaves
You can also save a lot when you stock your own in-room fridge with snacks and drinks. If you have a microwave, you can even enjoy those leftovers from dinner the night before. Some places also have full kitchens where you can cook your own meals if you'd prefer. That's a great option for bigger families!
Money Saving Hotel Tips: Order room service and pick it up
Don't feel like getting gussied up to go out to eat, even in the hotel? Order room service but go pick it up at the front desk. You'll save yourself the massive service charge and delivery fee, which is usually an extra 20 to 28%!
Money Saving Hotel Tips: Go Club Level
Club Level may cost a bit more but the extra amenities make it worth it. You'll get loads of freebies like free cocktails, free hors-d'oeuvres, and free internet, which ends up saving you more in the long run. Check out our club level experience at the Langham in Pasadena California 
Money Saving Hotel Tips: Go All Inclusive
All inclusive hotels can save you a fortune when you calculate all the money you can save. Look for hotels that include meals, wifi, parking. and activities All inclusive hotels are mostly found in the Caribbean and Mexico but I lucked up and found one in California so make sure you check your local area too.
Make your money count when you book your next hotel stay by using these tips to save and you'll have an even better time during your stay! 
*This post contains affiliate links. Please read our affiliate policy here.