Thank you Idahoan® Steakhouse® Soups for sponsoring this post. Grab yourself a bowl and celebrate National Soup Month with me!
National Soup Month Meal Ideas
When I'm cold, there is nothing more comforting to me than a hot bowl of delicious soup. Since January is one of the coldest months, it has been named as National Soup Month. It's not freezing cold here, not like on my recent Denver trip, but even just thinking about all the snow blanketing the rest of the country, it makes me want to heat up a nice bowl of soup right now. National Soup Month Meal Ideas
You all know how much I love to cook and bake with Reese, but sometimes my hectic schedule is draining and I don't have time to make a soup from start to finish. That's why I love Idahoan® Steakhouse® Soups because they taste like homemade and are warming, filling and completely soul-soothing. National Soup Month Meal Ideas
To celebrate National Soup Month, you can try out Idahoan Steakhouse Soups. They help bring that flavorful, slow-cooked taste of restaurant-quality soup right at home in just 5 minutes. Plus, Idahoan Steakhouse Soups come in 4 delicious varieties: Loaded Potato, Creamy Potato, Cheddar Broccoli, and Cheddar Potato. They are a potato soup-lovers dream come true. As a potato lover, I speak from experience here. Potatoes are one of the most comforting things I can think of in a soup. Oh, and cheese and cream. And Idahoan Steakhouse Soups have all of that with a rich taste that really feels like homemade. National Soup Month Meal Ideas
I don't feel bad about serving these to my family either. They're made from real, red Idaho® potatoes and are so rich and creamy. I love that I can make us all a soup that is so hearty and delicious in just minutes so we can eat well and feel warm inside and out. All you need to do is add water and that's it!
Want to make it even more satisfying? I love to serve Idahoan Steakhouse Soups in a bread bowl and garnish with cheese, sour cream chives and bacon. Serve it up with a side salad like my cranberry walnut salad and you have a hearty meal for these cold January nights. It's a winning and warming combination!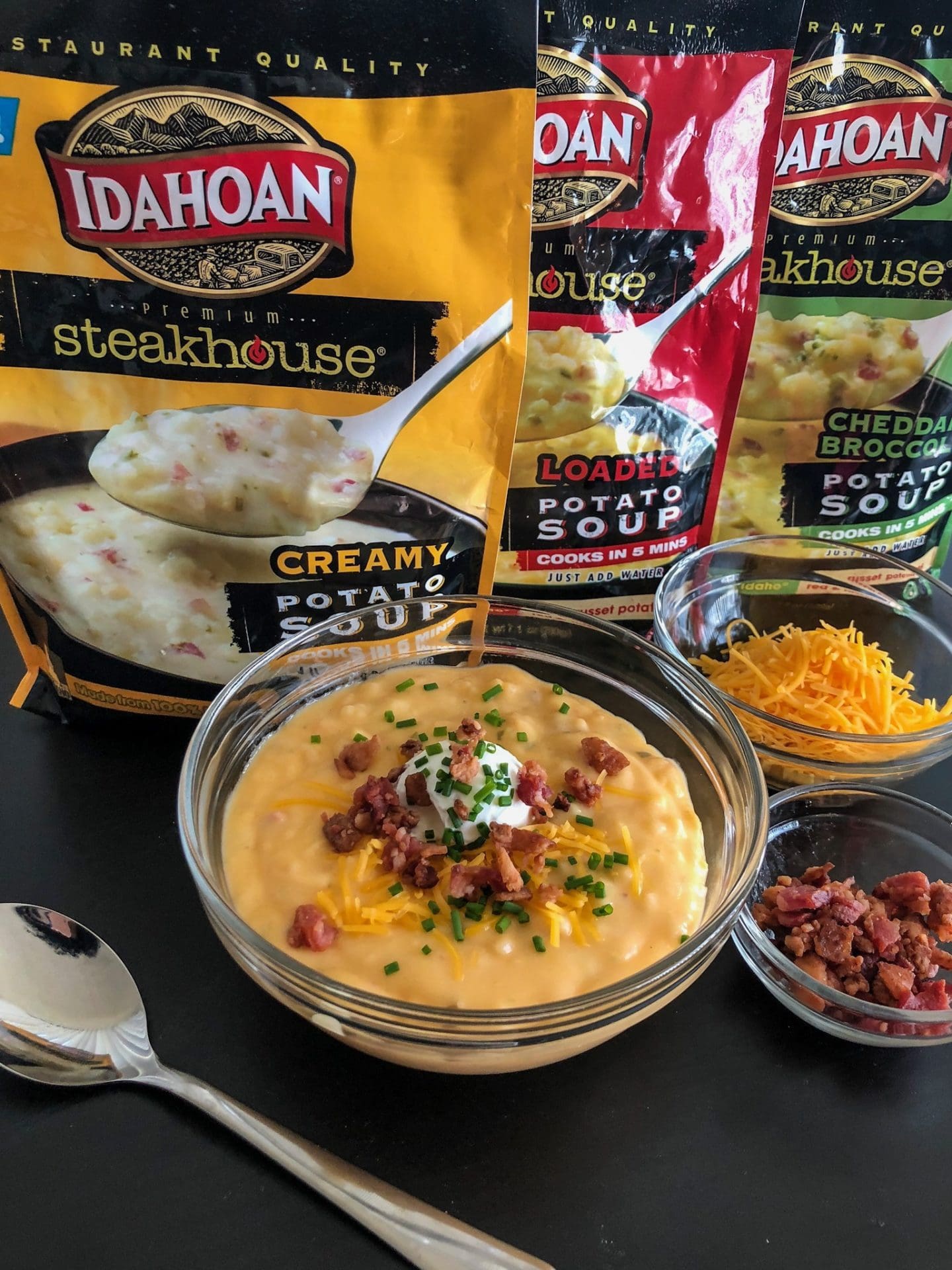 Even though I'm all warmed up being back home now though, I always turn to soup when I need comfort food. I always keep Idahoan® Steakhouse® Soups around so I can make something quick, filling and comforting fast when I need to. It's my secret weapon for getting dinner on the table fast. If you didn't prepare it yourself, you'd swear it's homemade. National Soup Month Meal Ideas
Stock up your kitchen with it today so when you don't have time to cook or don't feel like it, you can make Idahoan® Steakhouse® Soups in just minutes. And for just a few minutes more, you can make my cheesy garlic bread that tastes good with any of these 4 great flavors! Yum! Soup's on!
I was selected for this opportunity as a member of CLEVER and the content and opinions expressed here are all my own.