After you've traveled as much as I have, hotels can seem repetitive. If you've seen one, you've seen them all! After a stay with my family at the Hyatt Regency Indian Wells Resort & Spa in Palm Springs, however, I can easily report that is just not the case!
Between their incredible customer service, super fun kids' club, and seven (yes, SEVEN) pools, I know your family will love this hotel as much as we did. Palm Springs Staycation Ideas
Right off the bat, the front desk and valet staff were helpful and polite. Have you ever walked into a place and dealt with attitude or incompetence immediately? There was absolutely no sign of that here! They were able to get us into our room, despite the fact that we arrived early. (Bonus points to the employee that quickly flagged us down after check-in to return my mom's laptop, which she had accidentally left at the counter.)
The rooms are spacious, beautiful, and modern, with everything you need (including Starbucks coffee). They each have a private patio or balcony, too, adding to the oasis feel.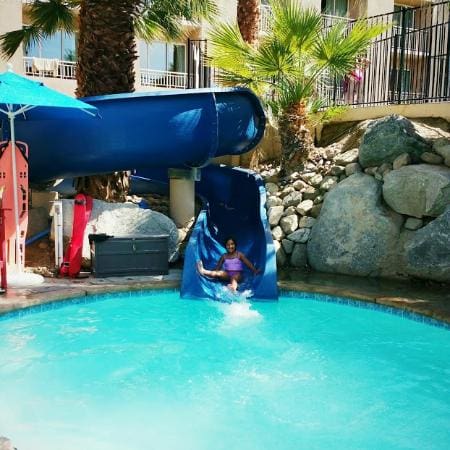 This hotel is very kid-friendly. My daughter honestly loved Club Hyatt and had fun slipping down the DesertPipe, a 60- foot spiral water slide over and over! (There's also a toddler wading pool for little ones.)
All the while, my mom and I were able to relax and surf the net (for free) over at the peaceful adults-only pool. There were plenty of umbrellas, lounge chairs, and oversized towels, too.
We were impressed with the pool attendants that constantly walked the property, picking up dirty towels and checking on the guests. Another way this property differentiates itself from the crowd: they offer pool essentials for purchase! Did you forget the sunscreen? Need a pool toy to entertain your kid? No problem!
Later, I asked for a wine bottle opener when ordering room service for dinner. When the attendant arrived, she offered to open the bottle for us, even though it was a bottle we had brought on our own. It's this repeated attention to detail that really set the Hyatt Regency apart.
Before calling it a night, we returned to the pool for s'mores and a family-friendly movie (Where the Wild Things Are). Reese had so much fun, and as most parents can attest, when a business does right by your kids, you take note!
The selection of food was phenomenal, and again, so was the service. They were prompt and attentive, and the dining room was kept clean. (They've got four different restaurants with dishes to please every palette!)
We had such a great time that we asked if the front desk could hold our bags at checkout while we spent a few more hours at the pool. Reese just couldn't part with that water slide! Palm Springs Staycation Ideas
Whether you're a spa aficionado or a golf enthusiast, Hyatt Regency Indian Wells Resort & Spa really is the perfect place for a staycation. Palm Springs Staycation Ideas
Looking for some fun in the sun? Read more about Hyatt Regency Indian Wells Resort & Spa.
Website | Instagram | Facebook | Twitter