Things are about to get a little morbid on our typically upbeat blog, but I promise the Paris catacombs tour is totally worth checking out! 
What if I told you that underneath the beautiful and romantic city of Paris lies the bones of more than six million people? That's right: this city, so alive with passion, sits on top of the largest burial site in the world. With Halloween coming up, this may be the perfect time to see it for yourself! Yes, you can actually walk among the dead, on a guided tour.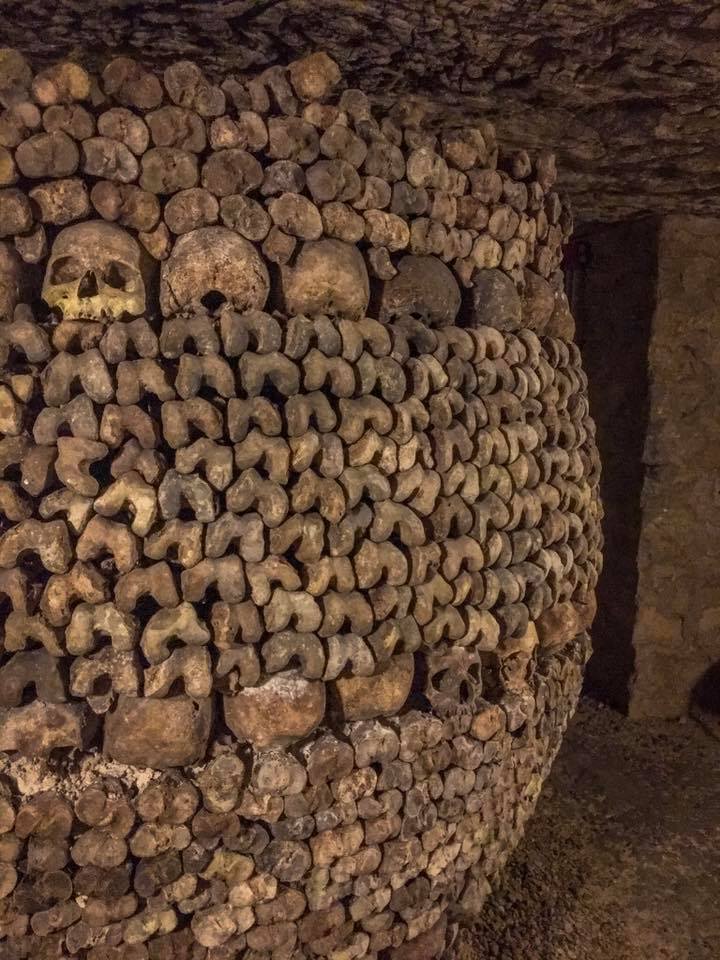 Paris Catacombs
How did the bodies get there and what's the story behind this? Well, around the time of the French Revolution, Paris was experiencing record numbers of deaths due to war and the plague. Cemeteries became overcrowded and it was decided that the bodies should be put underground. There was already plenty of room since limestone quarries of ancient times had left voids, so these became the perfect sites for ossuaries. paris catacombs tour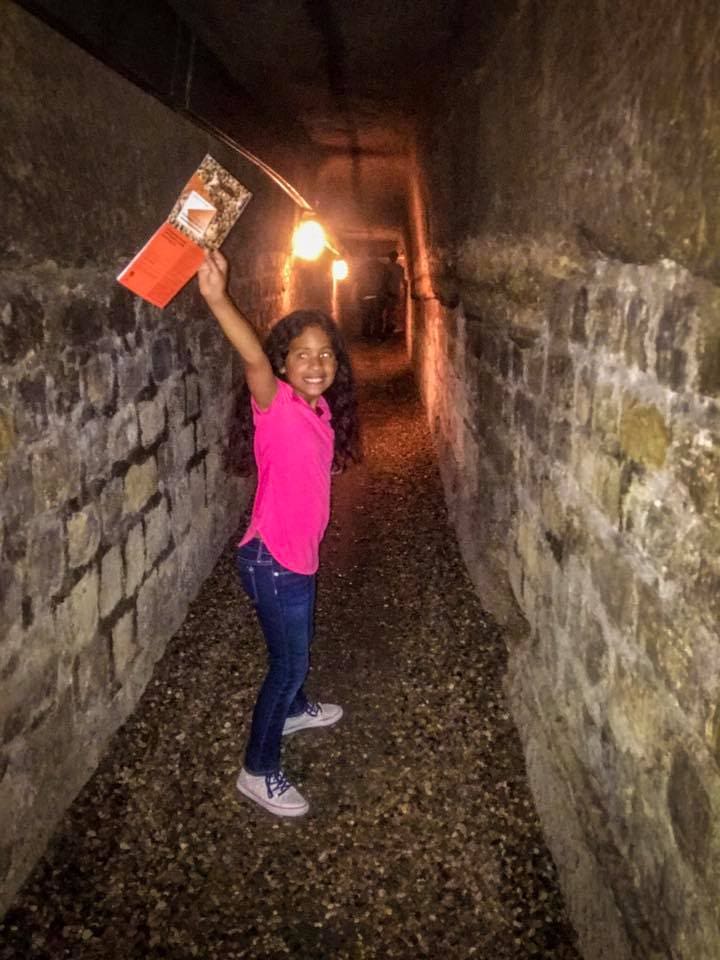 The Catacombs today span miles under the city and you can only tour a small portion. (People have actually been known to get lost in them by venturing off on their own.) While this establishment is very well organized, the city is still uncovering more burial sites to this day during construction. paris catacombs tour
Paris Catacombs Tour
When my daughter and I went on our tour, I was hesitant. We both had jet lag, I had a major allergy attack, and I also wasn't sure if this was the best activity for children. Was she going to be scarred for life?? It turns out, she loved it and so did I! I actually like it more than the Eiffel Tower. Sure, it's creepy when you think about it, but it's also really fascinating and a true architectural feat. paris catacombs tour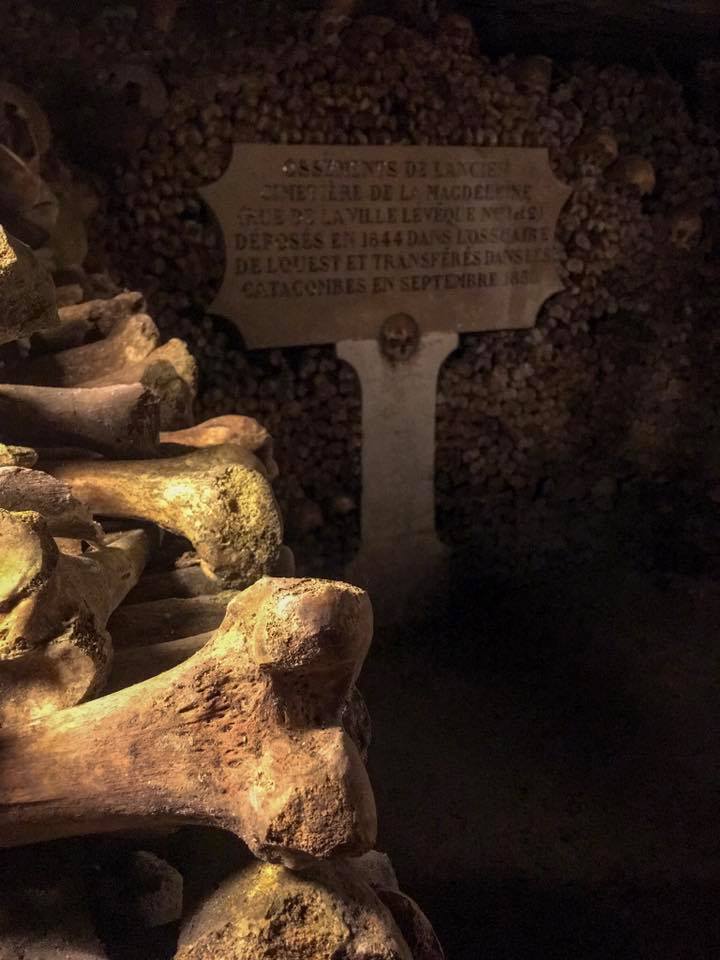 To venture inside, visitors have to walk down a massive flight of stairs. (The equivalent of about five stories.) Reese and I didn't really notice how far down we had gone until we had to climb back up. We were honestly walking for about 15 minutes, so if you don't think you can handle that level of exertion, the Catacombs aren't for you. And be warned: it's dark, damp, and cold down there! It's a steady 57 degrees at all times. We weren't prepared for this and froze our butts off during the three-hour tour! paris catacombs tour
Guests are given a set of headphones for the tour and guided through a tangle of narrow corridors. The museum even stages areas with bones and signs that say, "Stop, this is the empire of death," as wells as poems and prayers along the way. The macabre displays encourage a meditative experience and really transport visitors back in time.
Adult tickets are $36 US dollars and are totally worth the price. It's a cool experience and should be a don't-miss stop in your Parisian vacation. paris catacombs tour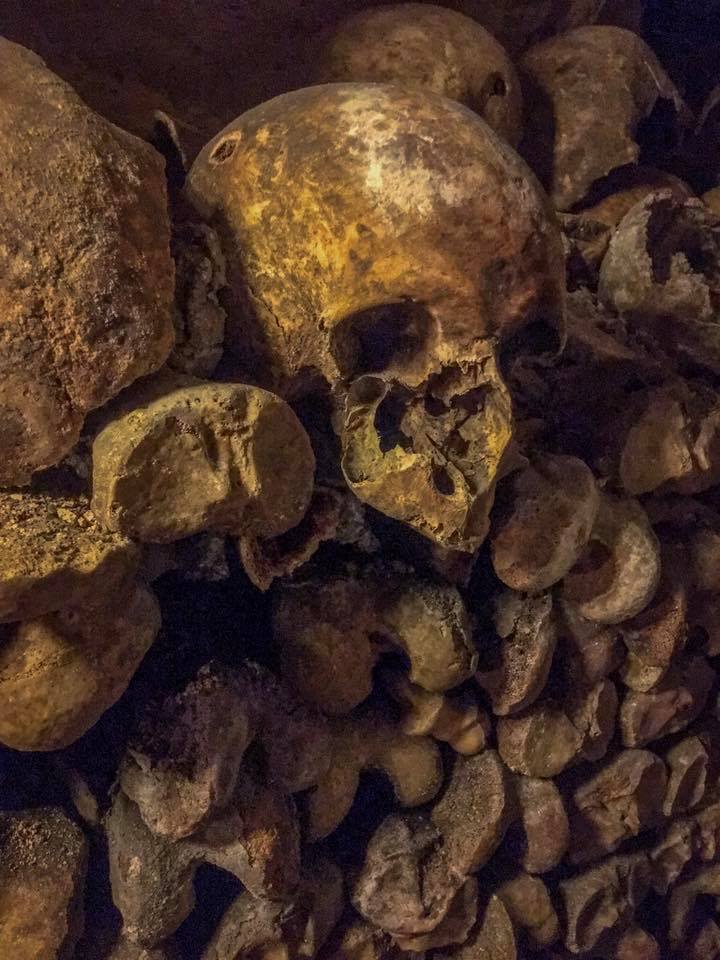 Other things to note when planning your visit: The Catacombs aren't wheelchair accessible. And in cases of high traffic, the entrances can be blocked momentarily. If you're prone to claustrophobia, you might want to reconsider this. Kids under 14 need to be accompanied by an adult, and make sure you take them to the restroom before you start the tour because there definitely aren't any facilities down below! paris catacombs tour
Looking for more posts on Paris? Check these out.
Parisian Macarons
National Human Trafficking Day & Safety Tips For Visiting Paris With Kids