The Langham Huntington Hotel is a palatial estate set at the base of the majestic San Gabriel Mountains in Pasadena. Believe me when I say that this iconic landmark is the epitome of luxury. It's also a totally tranquil escape from city life, while also managing to be kid-friendly. With lush grounds to wander, a serene spa to indulge in, and four eclectic restaurants to try, there's plenty to experience. For me, this trip was all about relaxing poolside and sampling decadent dishes! Pasadena Staycation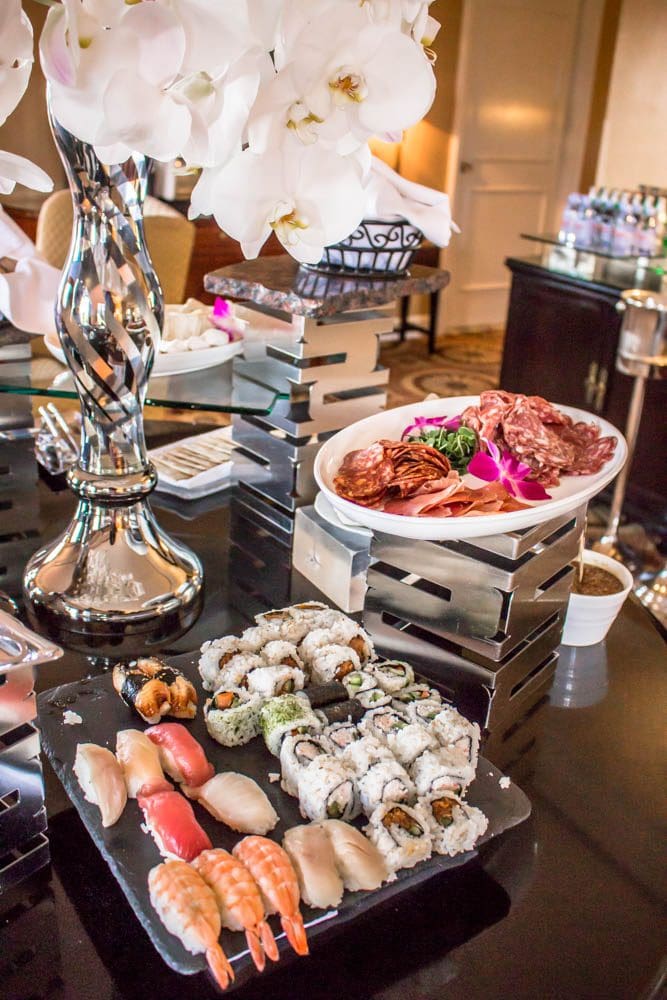 We stayed in a club level suite on the 8th floor, which gave us access to the ah-mazing club lounge! The lounge provides personalized service to a smaller population of hotel guests, which is great for families traveling with kids. Pasadena Staycation
Here, guests can take advantage of delicious food and drinks all day. It also gives you a calmer, quieter space to check email or read the paper because there are fewer people there. Guests on the club level also get three complimentary garment pressings throughout their stay.
While the cost of a room on the club level might be higher, take into consideration the price you would normally pay for meals.
Having the convenience to head to the lounge and dine whenever you want, instead of loading up the kids and taking them to a restaurant, is a godsend. (Not to mention these are gourmet meals we are talking about!) Pasadena Staycation
I don't think I've ever eaten so much in my life! It was a good thing the hotel had a gym on site.
My breakfast plate was a colorful and delicious array of mixed berries, a croissant, eggs, bacon, sausage, salmon, and capers. For lunch, we sampled different types of sushi. There were always plenty of fresh fruits and vegetables, cold cuts, salads, and juices, in addition to candies, chocolates, coffee, and tea. Pasadena Staycation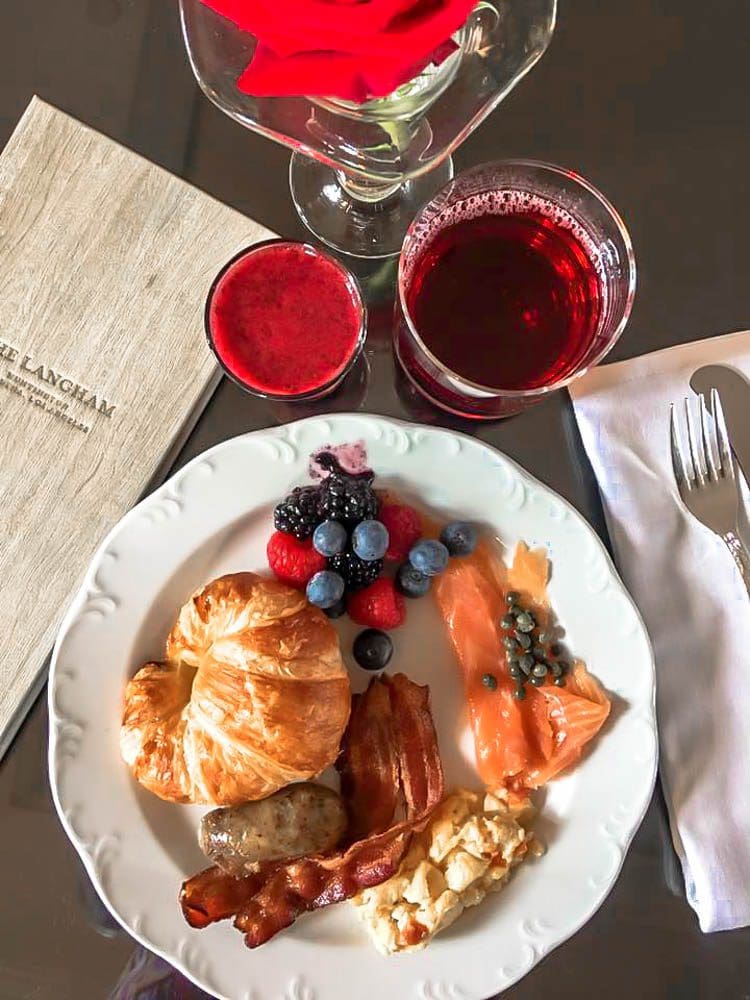 During our stay, we were assisted by a concierge in the club lounge, named Maria, who was very friendly and accommodating. She went above and beyond to make sure our stay was fabulous and we didn't have to think about a thing (another feature that comes in handy when traveling with kids). Pasadena Staycation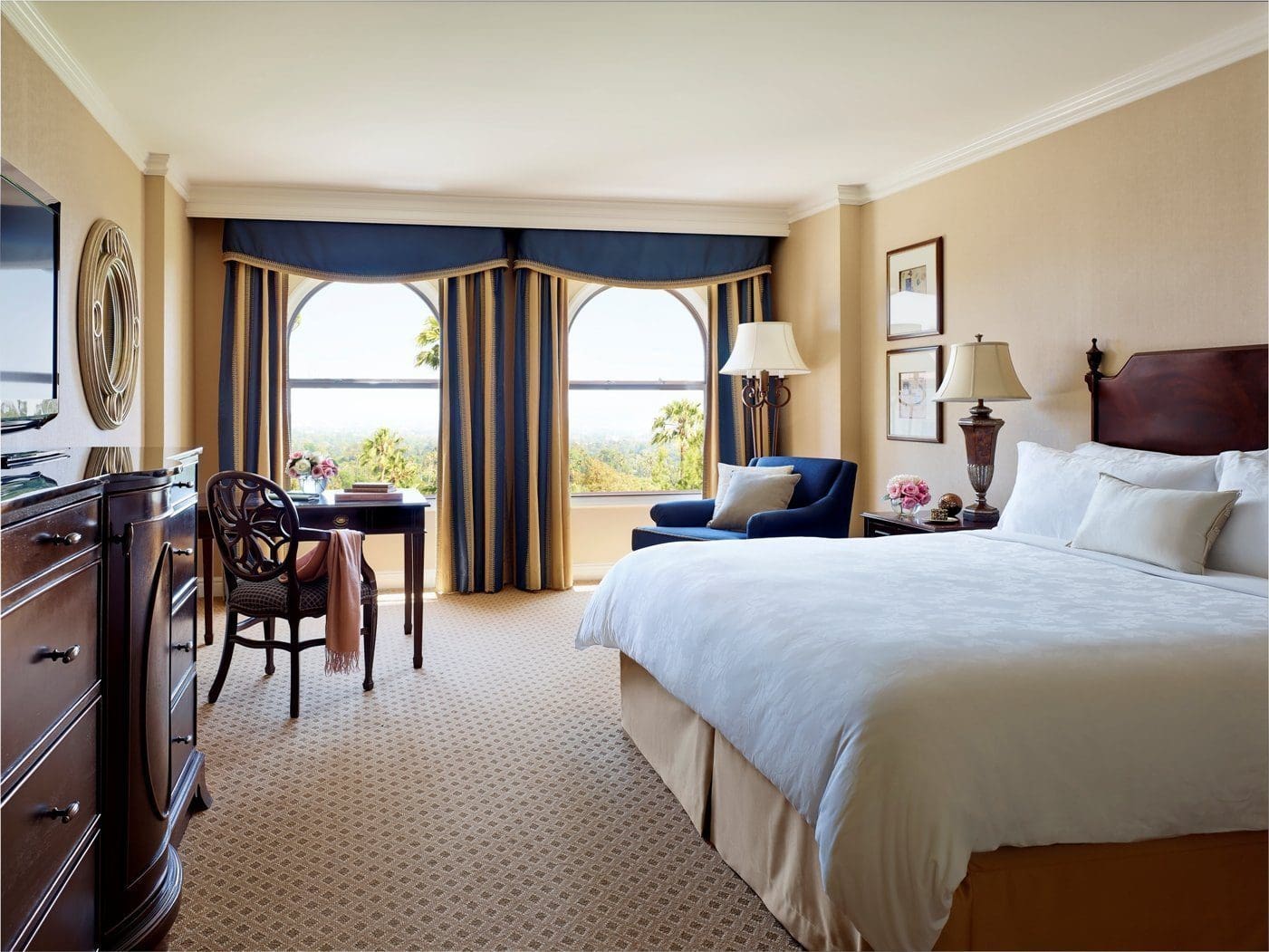 Our room was classically beautiful, with lots of natural light and a breathtaking view of Pasadena. The décor was sophisticated, with dark wood finishes in the bedroom and Italian marble in the bathroom. And speaking of the bathroom, each has a box of upscale Chuan spa bath amenities waiting for guests upon arrival.
The hotel also surprised us with a welcome gift of chocolates and wine waiting on the dresser upon arrival! These personal touches go a long way to make guests feel appreciated, in my book. Pasadena Staycation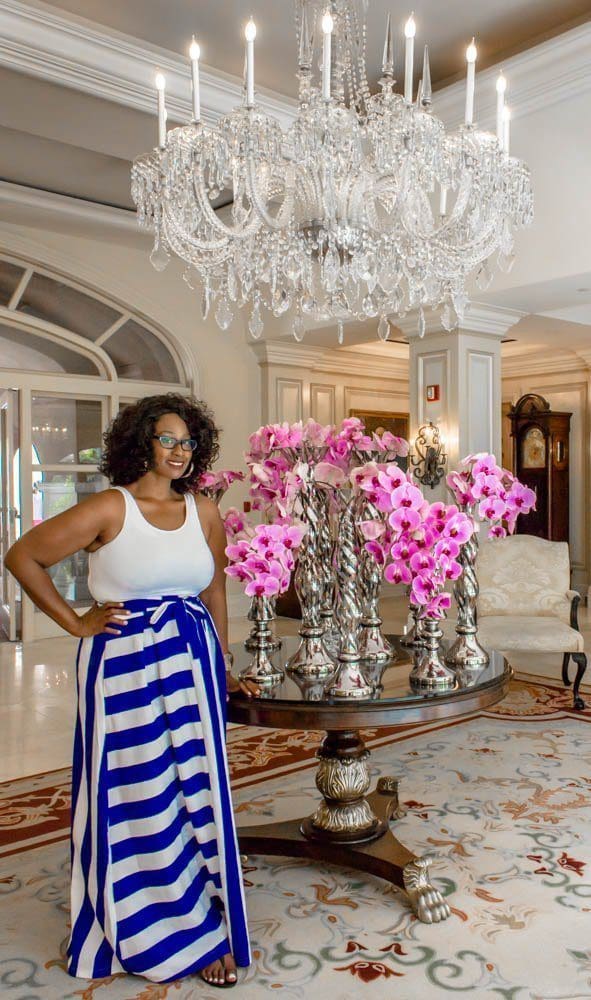 I can't say enough about the services provided at this hotel, mostly because I've stayed in a lot of resorts and found the Langham's perks to be pretty unique.
For one thing, they have in-room dining available 24 hours a day and they provide housekeeping twice daily!
Their list of free activities is pretty impressive, too. On Saturdays and Sundays, guests can participate in yoga classes in the Japanese Garden.
Guests can also take historic property tours to learn about the 100-year-old, 23-acre property. Pasadena Staycation
And, there are tons of lawn games to be played! Get outside with the kids (and away from screens) to introduce them to bocce ball, badminton, croquet, mini-golf, corn hole and Frisbee golf on the Horseshoe Garden lawn throughout the day. Other fun activities include a wine reception and children's etiquette tea.
In keeping with the family-friendly vibe, the hotel offers a kids' program: For $30, children 12 and under get a teddy bear backpack at check-in that includes a coloring book and crayons, a newsletter with all of the family-friendly dining options and activities in the area. Kids also get complimentary dinner in The Terrace and a chocolate bar from the Flavours of Langham Luxury Gift Boutique.
The hotel also keeps children engaged with their Kids Passport that can be picked up at the front desk. If they complete at least four of the activities listed (which earn then special stickers), they'll receive a special gift! How cute is that? And they don't stop there. Pasadena Staycation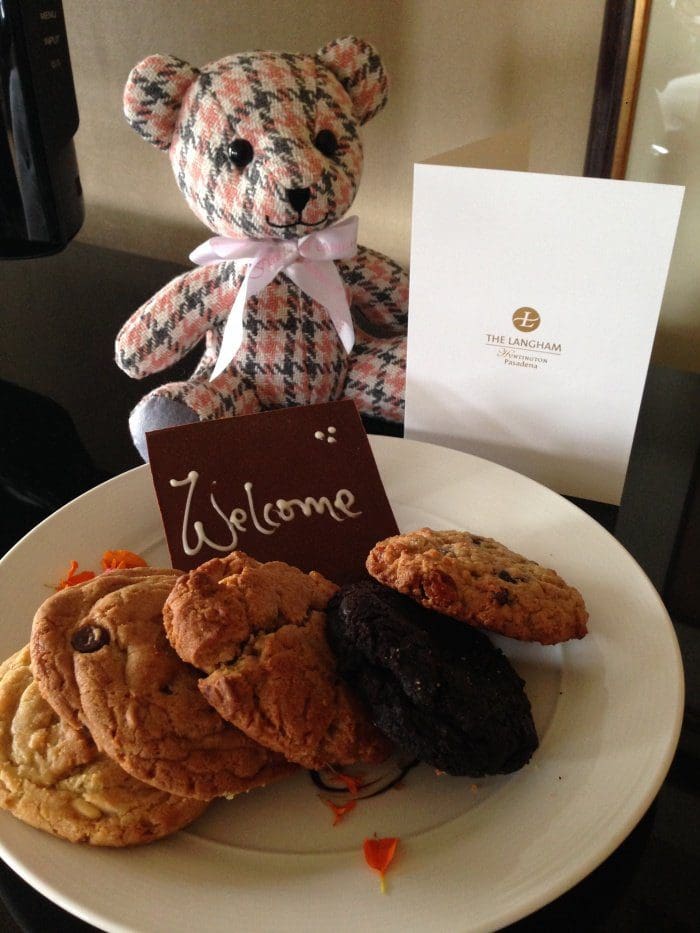 Kids can borrow books from the Langham Kids Library in the lobby, and participate in both the Chocolate Afternoon Tea and the Imagine Tea, which hosts magicians to entertain the kids as they snack on sandwiches, desserts, pink lemonade and caffeine-free teas.
(The Langham donates a portion of the proceeds from the teas to local children's non-profits. Now that's sweet!) Pasadena Staycation
While I was thrilled knowing the Langham Pasadena would take my daughter into consideration with fun activities for her, my personal favorite aspect of the Langham was the saline swimming pool (which is heated year-round, FYI).
There are plenty of chairs and umbrellas to go around, and I loved being able to sip cocktails while lounging poolside. Pasadena Punch or San Marino Sangria, anyone? Aaahhh!  Pasadena Staycation
From 5:00 p.m. to 6:00 p.m. daily, guests can even enjoy complimentary drinks! On the weekends, the hotel serves s'mores during that time, too!
The Langham also has three tennis courts, with trainers onsite, and a bicycle rental program. You clearly will not be bored while there!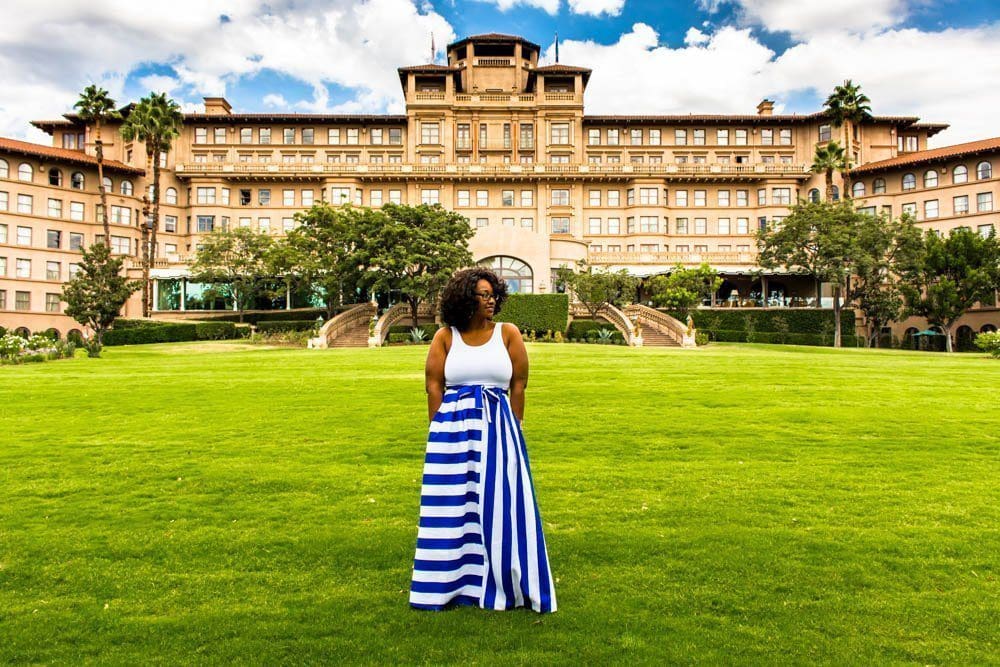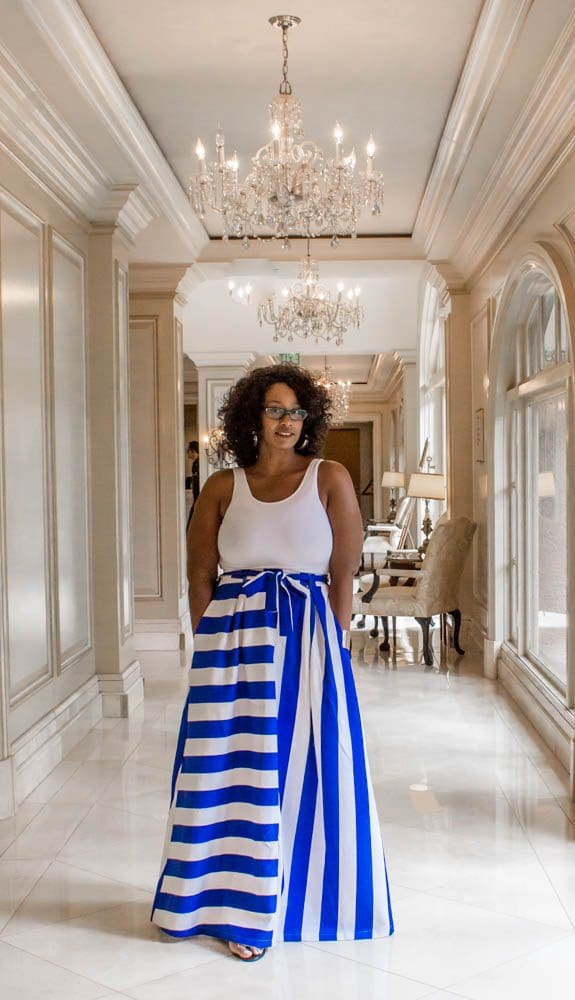 If you decide to venture out, the Botanical Gardens, the Huntington library, several renowned museums, Hollywood itself, and the Santa Monica Pier are all nearby.
Old Town Pasadena is known for world-class shopping, dining, and nightlife, too. Kidspace Children's Museum has more than 40 hands-on exhibits and interactive outdoor spaces for kids to explore. Pasadena Staycation
All in all, the pristine Langham had everything we wanted and so much more! Our stay was pure perfection. Pasadena Staycation
Plan your next staycation at the Langham Pasadena.
Website | Instagram | Facebook | Twitter
What makes a hotel fabulous to you?