"This post is sponsored by Everywhere Agency on behalf of OshKoshB'gosh; however, all thoughts and opinions expressed are my own." For more information on our sponsored posts and affiliate link policy please click here Pink Chino Shorts 
Spring break is in the air and for me and Reese that means spring cleaning. The first place we usually start is with clothes. We go through and purge clothes that are too small and worn out. The extra space we have after the purge allows us to stock up on super cute springtime fashions like these pink chino shorts, cherry print shirt, and cute accessories. An added bonus for us since we live in sunny California is our springtime clothes also become our summertime clothes.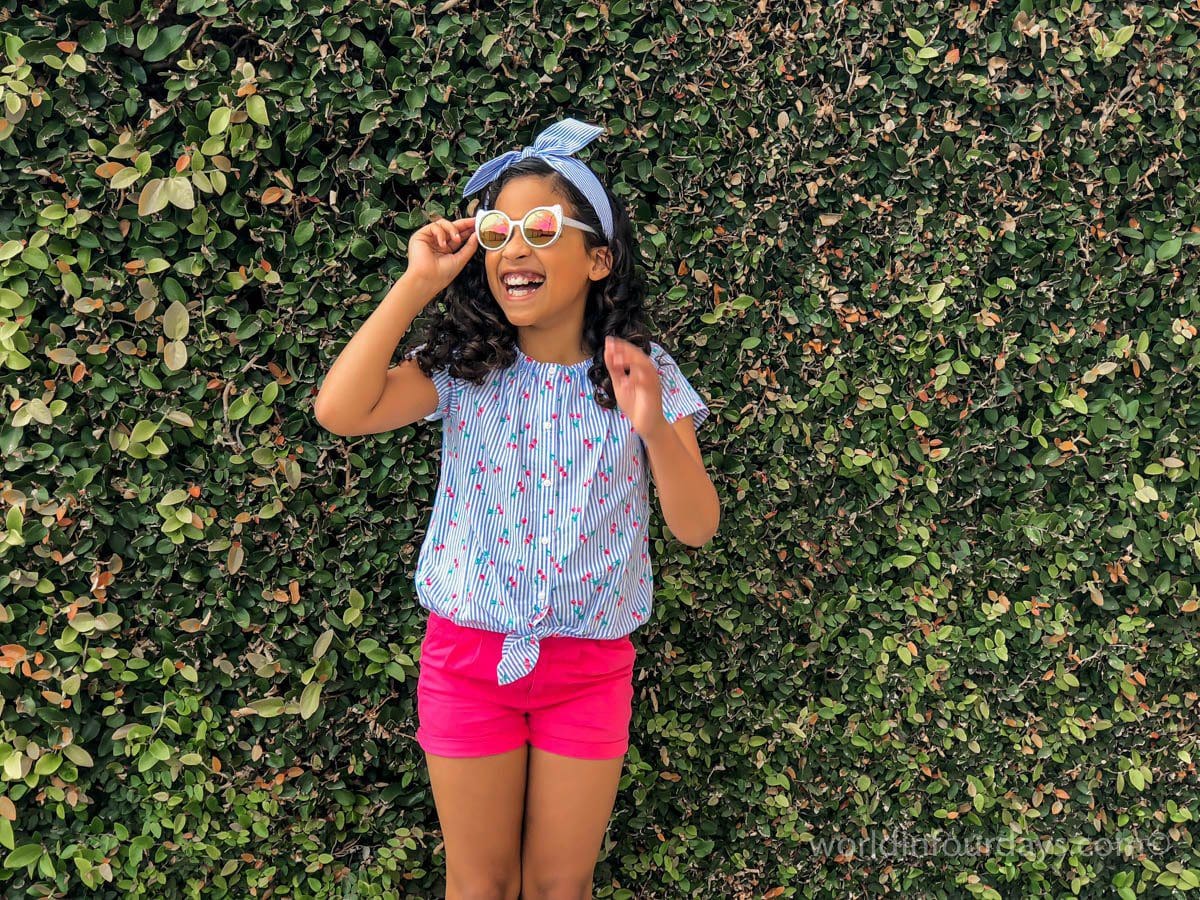 I have been shopping at Oshkosh for Reese's clothes since she was a toddler. I love the quality, selection and the affordable prices are a major plus since I'm holding it down as a single mom.
With spring break on our minds, we headed to Oshkosh to check out their new spring collection. I wanted to pick up a few things for our upcoming spring break trip to Costa Rica. I live close to several OshKosh stores, however, I love the Citadel location in Los Angeles. You can find an OshKosh nearly everywhere but if you want to search out the closest store near you, check out their store locator.
I fell in love with the selection they had and almost lost my mind shopping. Luckily for me (and you since I'm sharing), I had a 20% off coupon (Online: OKBG3434 | Instore: 037686) from OshKosh so I saved even more.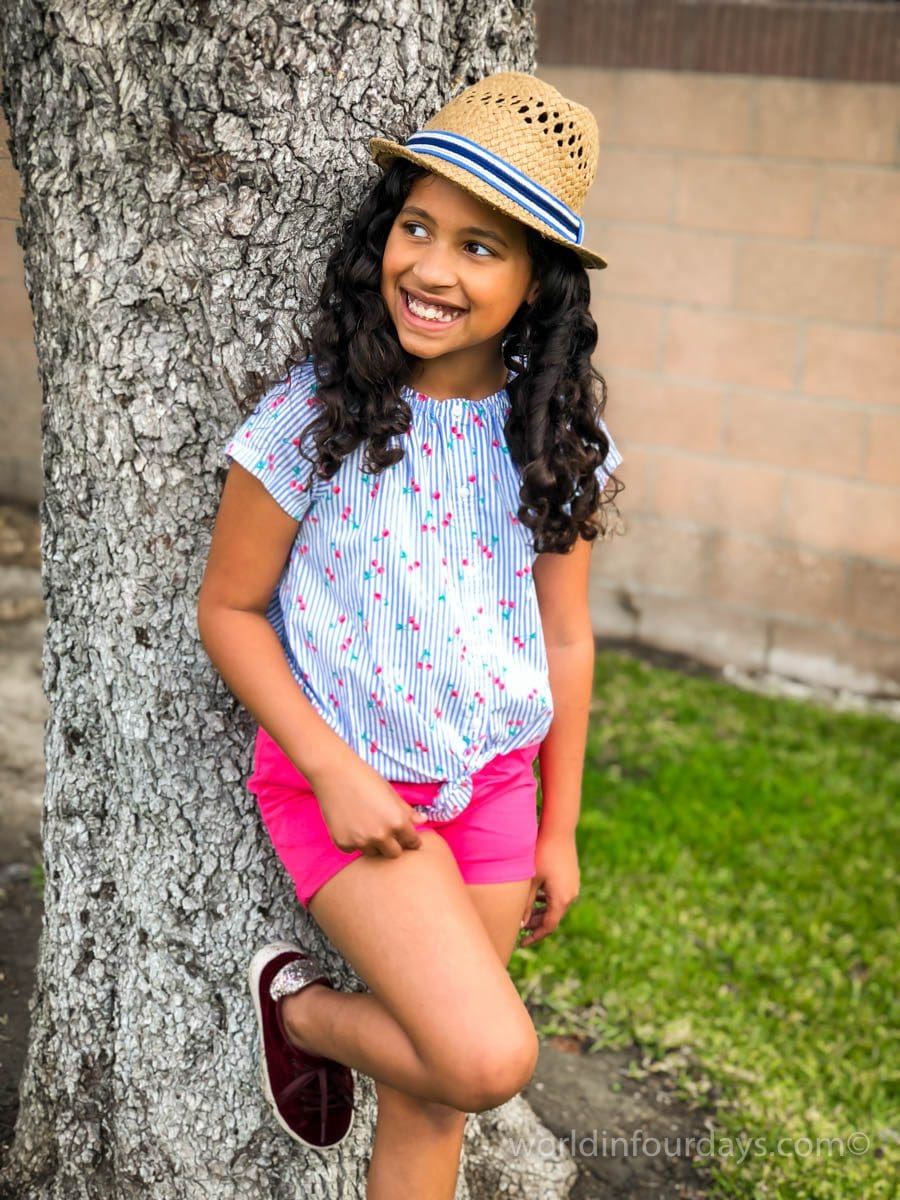 Hat: OshKosh | Cherry Print Shirt: OshKosh | Pink Chino Shorts: Oshkosh
I like Reese to be as involved as possible when picking out her clothes since she's the one that has to wear them. I want to make sure she feels comfortable in them and loves the style. With a few guidelines in place; keep it under $100, stick to shorts and some of the money had to go to a swimsuit. I turned her lose! I'm not sure where she gets her sense of style because it's definitely not from me. I struggle picking out clothes that match lol so I am no fashion diva.  I have to give it to the kid though, she made some great choices.
Pink Chino Shorts + Cherry Print Shirts
These pink chino shorts are life! We have a hard time with shorts since Reese is super tall. One of the things I love about Oshkosh is their shorts are cut a little longer. This allows her to be active and modist at the same time. I was surprised that Reese picked this shirt since she usually goes for graphic tees with fun sayings. Shes on this fruit print kick lately so anything with pineapples or cherries is a must. Since we had a coupon that brought the price down she was able to pick up the hat and sunglasses which will be great in Costa Rica over spring break.
Glitter Sun Glasses: OshKosh | Hat: OshKosh | Cherry Print Shirt: OshKosh | Pink Chino Shorts: Oshkosh
Sparkle Tee's + Belted Denim Skirts
Reese loves skirts. If she could wear one everyday she would but we have the same issues with skirts as we do shorts. They can sometimes be super short. It's almost like OshKosh designs with tall kiddos in mind and we love them for it. We both loved this shirt and I secretly wished they had it in my size. The iron-on patches were fun and very "tween" and since one was a donut you know Reese was not leaving the store without it. The hat from the first outfit goes well with this one too.
Hat: OshKosh | Sparkle Tee: OshKosh | Belted Denim Skirt Oshkosh
Polka Dotted Swimsuits + Flip Flops
Springtime in California can mean 80-degree weather and trips to the beach so for us a swimsuit was a must. OshKosh had a huge selection to choose from but this super cute navy and white polka dot one with hot pink flower accent stole our hearts. We headed to the cash wrap to check out and Reese found the matching flip flops so even though they took us over our $100 budget by $4 I gave in.
We are so excited about our upcoming Costa Rica trip and these outfits from OshKosh are going to be perfect. It's not too late to start your spring cleaning and wardrobe refresh. Head to your nearest Oshkosh and use the below coupon to save.
Rosette Swimsuit: OshKosh | Polka Dot Flip Flops: OshKosh