"This post is sponsored by Everywhere Agency on behalf of Collective Bias, Inc. and its advertiser, however, all thoughts and opinions expressed are my own." For more information on our sponsored posts and affiliate link policy please click here 
The holidays are here! That means lots of fun, and gifts and shopping and FOOD! Really rich, stick to your ribs kind of food. After days of stuffing your face with every delicacy imaginable, you may find that you're feeling a little full . . . of. . . well, poo. Ok, I'm just going to say it: when the holidays come, you have to spend a little extra time on prepping the bathroom, because it is going to see more traffic than LA rush hour. poo pourri scents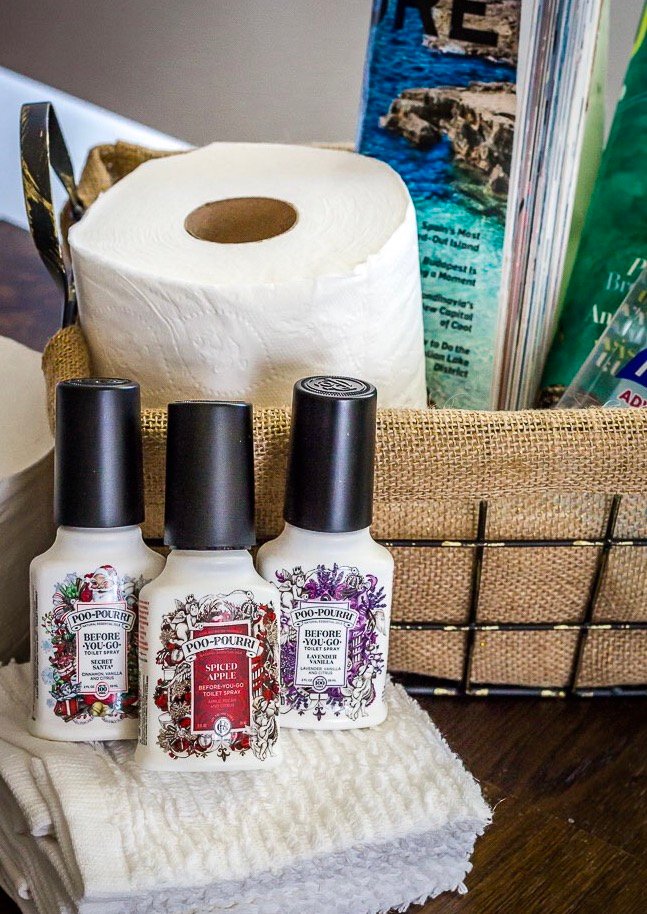 You have to make sure that you have all the good stuff in there for your friends and family to stay clean and comfortable.
Nobody wants to deal with someone who is feeling all uncomfortable in their downstairs area. Nor do you want to have to go on a toilet paper run, or WORSE, a toilet paper delivery to a downed comrade. You could get caught in the backdraft and not wake up until New Year's Eve.
You could say that I'm waging a war against uncomfortable bums and unpleasant odors. And trust me, I came with a strategy. poo pourri scents
Are you ready for this? I'm making a bathroom guest gift basket. Unorthodox I know, but fun! In the basket will be all of the things you could imagine would keep a guest loving the loo: hand sanitizer, flushable wipes, and an assorted care package of magazines for that essential potty educational time, and a little speaker to cover up the sounds of enemy fire.
All of that is amazing, but none of it compares to my secret weapon; Poo~Pourri, the Before-You-Go® Toilet Spray. I know you have been wondering if it works . . . well, it does!
What better gift to give then a bathroom that doesn't smell like the port-o-potty at the reindeer games? poo pourri scents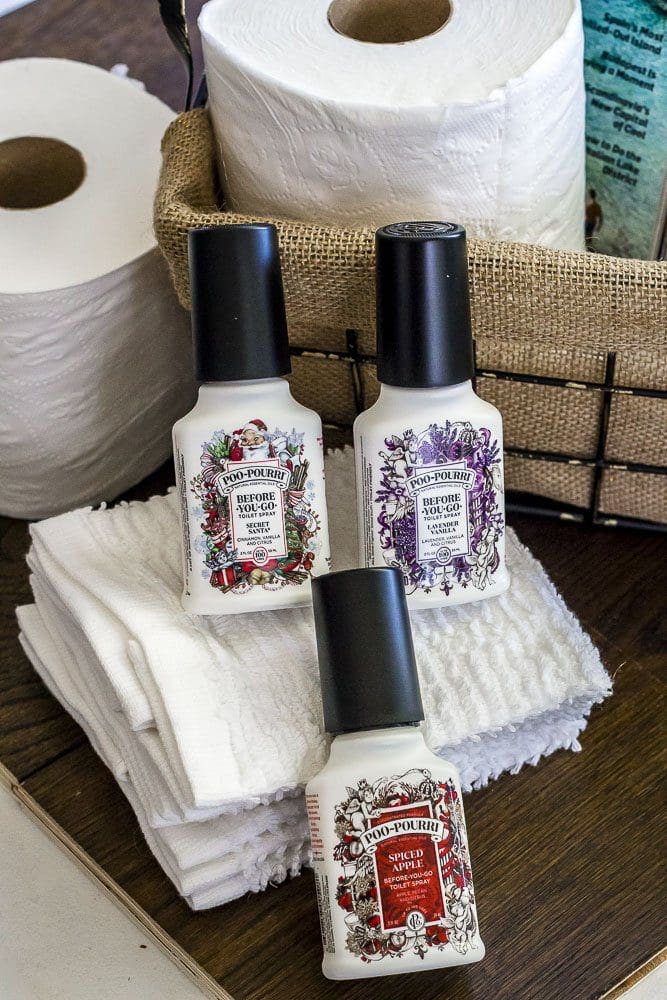 You might be wondering how this stuff works. It's pretty simple, really! When spritzed into the toilet bowl before-you-go, Poo~Pourri's pure blend of NATURAL ESSENTIAL OILS creates a film on the surface of the water. The protective barrier traps odor under the surface before it ever begins! All you'll smell is a refreshing bouquet of NATURAL ESSENTIAL OILS. Flush yeah! poo pourri scents
As you can see, my top secret bathroom basket plan is going to work pretty well. Not only will my guests be comfortable, my bathroom is going to stay clean and fresh. Now that I've shared with you, don't be afraid to try my strategy too! Poo~Pourri comes in a variety of scents, but if you have to sneak off to poo on a cold winter's night, I'm recommending you take Poo~Pourri Secret Santa along with you. Nobody will guess your identity after you spritz the bowl with this! With this scent, you get a mixture of cinnamon, vanilla and citrus oils, killing odor and ensuring you don't end up on anyone's naughty list. Poo~Pourri is the first natural, truly effective solution to a universal problem: poo happens, and it stinks! poo pourri scents