Pool Water Vs. Your Beauty: Don't Let the Chemicals Win!
Swimming is, quite possibly, the best type of exercise in terms of health benefits, reports Medical News Today. Therefore, as long as your health allows, you definitely should do your best to swim as often as possible. However, to swim often you will, most likely, need to go to the pool. And this is when some issues may arise. On one hand, swimming as exercise befits your health on multiple levels. On the other hand, chlorinated water in the pool can do a lot of damage to your hair and skin.
In this case, the good definitely outweighs the bad, but this doesn't mean that you should just resign yourself to having dry scaling skin and brittle dull hair. With a few simple tricks and some top-grade moisturizing products, you'll be able to look fantastic even if you become a pro swimmer and will be spending some time in the pool every day.
On a side note, this athletic path will give you an impressive muscle definition.
How to Beat Chlorine Damage to Your Skin and Hair
Switch to salon-grade hair care products & double up on conditioning
It's very important to use the right shampoo when you subject your hair to the damage from the chemicals in pool water. There isn't any specific "best" type of shampoo to choose for this situation, so you should focus on finding the product that meets your personal needs best, you can click here to see available options. Note that while the exact type of shampoo doesn't matter, its quality definitely does. You should use salon-grade products as they contain higher concentrations of active ingredients. This means that they will be able to protect and restore your locks much better.
The same goes for conditioner, which is the most important hair care product for any swimmer. Chlorinated water makes your hair dry, and conditioning helps prevent or at least reduce the damage. To get as much protection as possible, you need to use a leave-in conditioner before you go swimming and a salon-grade moisturizing conditioner when you shower after.
Note that instead of a leave-in conditioner, you can use a variety of silicone-based hair serums to protect your locks from the corrosive effect of chlorinated water. These products coat your hairs with a thin protective layer, thus keeping it as safe as possible. However, you shouldn't use hair oils before taking a dip in the pool as they won't offer much protection and might interact poorly with the chemicals in the water.
You also should know that in some cases blonde hair might turn green in pool water. This is when you'll need a specialized swimmer's shampoo, which should help erase the effects of the chemical reaction that causes the nasty change.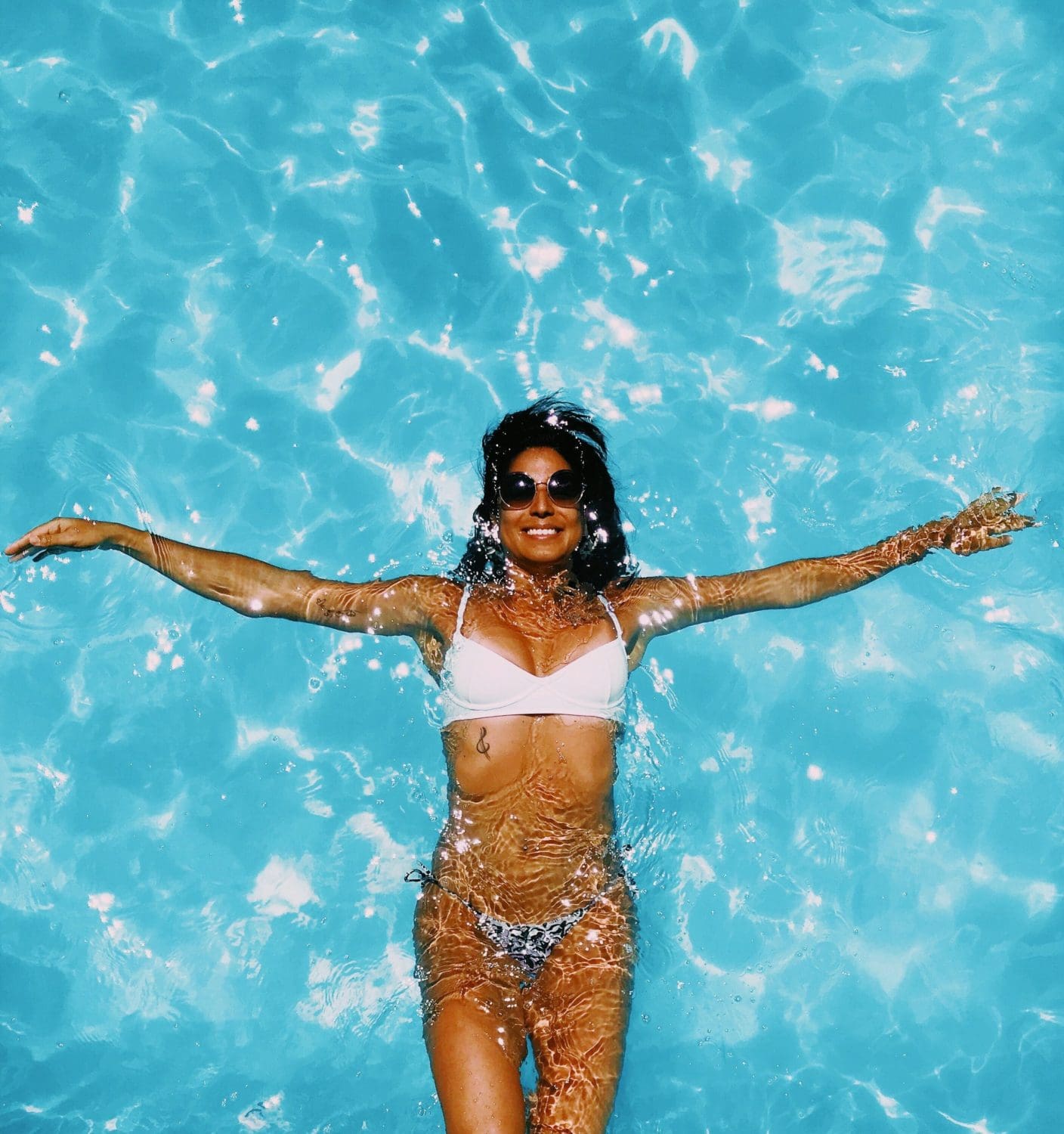 Get wet before the dip
Soaking your hair in a shower before you actually go into the pool will help protect it greatly. This will reduce the amount of chlorinated water that your locks will soak up, which is the most effective way of reducing damage.
Never skip this step as it will help protect your hair even in situations when you don't have a specialized product to boost that effect.
Remember that it's essential to wash your hair immediately after swimming. The sooner you remove the remnants of chlorine, the better.
Apply water-resistant SPF before taking a dip
Your skin needs protection as well and the best source of it is SPF cream. You'll need to use the water-resistant kind that has an additional moisturizing effect. Dr. Shereene Idriss, who works for Union Square Dermatology, says this product is all you need to keep your skin as safe as it can be.
However, she also highlights the need to take a shower after swimming in a pool to remove the chemicals off you. It's essential to choose a mild shower gel or other washing product as you don't want to get your skin even more irritated. And don't forget to apply copious amounts of your favorite moisturizer after the shower. Every inch of your body deserves some hydration and pampering.
Chlorine in pool water is less of an issue today as sanitation methods advance and become both safer and more efficient. However, using these simple protections is always wise, even if you go out swimming in the sea. Spending a lot of time in the water will wash away the natural oils, thus making your skin and hair dry. These tips will ensure this doesn't' happen.