This post "8 Reasons You're Not Getting Sleep and Ways To Change That" was sponsored by Purple Mattresses. All opinions expressed are my own. For more information on or sponsored posts and affiliate link policy please click here. 
8 Reasons You're Not Getting Sleep at Night and How To Fix It!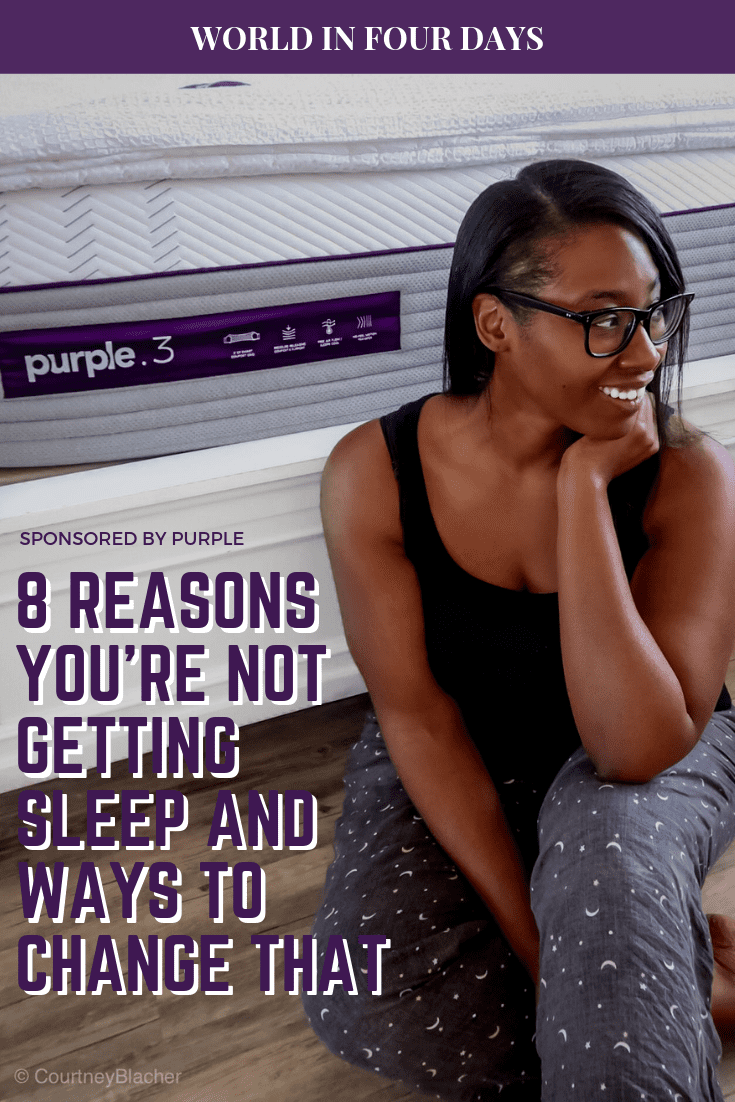 Too Much Caffeine During The Day
I'll admit, I was a Starbucks addict! Up until a few months ago, I was racking up over $500 a month in Starbucks spending. A venti mocha for me. A tall hot chocolate for Reese, a muffin, a beagle. Not only was I spending a crap ton of money, but I was also consuming an insane amount of caffeine. if you're a coffee addict, this could be one of the reasons you're not getting sleep at night. I decided to cut my caffeine consumption in half and started to incorporate non-espresso drinks throughout the day. I increased my water consumption and introduced non-caffeinated or low caffeinated drinks like green tea at night. As part of my bedtime routine, I drink a warm cup of sleepy time tea about an hour before bed.
Using Your Bed For Anything Other Than Sleep
Before I got my office, my bed was my workplace. After years of doing this, my body was conditioned that bed meant work not sleep. Now I've made it a point to only use my bed for sleeping or relaxing. When I'm in my room reading a book or watching tv, I use a comfortable chair instead of my bed. If working from your bed is one of the reasons you're not getting sleep consider setting up shop at the kitchen table. If you work from home, consider a co-working space. It gives you the chance to get out of the house every day and you get to meet new people.
Eating and Drinking Late At Night
Our schedules are busy so sometimes we weren't getting to dinner until 8-8:30. By the time we finished dinner and headed to bead our stomachs were full. I don't know about you, but for me, trying to sleep on a full stomach is impossible. Once we shifted our dinner schedule to 6 pm sleeping was easier. If we start dinner late I swap out heavy meals for things like salads, wraps and non-meat dishes. I also make it a point to not consume a ton of liquids right before bed. This eliminated the broken sleep that comes with using the bathroom in the middle of the night.
No Set Bedtime
I used to be proud of the fact I could pull an all-nighter. As a single mom who homeschools and works from home sometimes after putting Reese to bed that's the only time, I have to work. This was causing me to stay up until sometimes 2-3 am and then waking up at 7 or 8. I started aligning my work schedule to Reese's school schedule and made sure we both sat down to work at the same time.
If there was anything I couldn't get to during that time I found it easier to wake up around 6 or 7 (before her) and tackle any extra work or make sure she had a few things to occupy her time for 1-2 hours while I caught up. Either way, I now make it a point to be in bed with lights out no late than 11. I also set up my phone to auto block social media, emails, etc after 10 pm so I'm not tempted to keep checking.
Keeping Phones, Tablets, and Laptops In Your Bedroom
We made a hard rule about 6 months ago. No cell phones, iPads or laptops in the rooms at bedtime. We set up a charging station in the living room and made it a point to unplug our brains and plug in our phones downstairs. By doing this I was no longer distracted by social media notifications, phone calls or just the light from my phone. By sleeping with my phone outside of my room it also encouraged me to actually get up and out of bed in the morning instead of rolling over as soon as my eyes popped open and reaching for my phone.
A Crappy Mattress
I travel a lot and we tend to spring for higher-end hotels and Airbnb's. I always wondered why I felt so much more relaxed and slept better at a hotel or vacation rental then when I was at home. Turns out my ability to catch betters z's was a result of sleeping on a better mattress. My old mattress was a hand me down and after having it for 5+ years it started to develop a dip in the middle.
After five years, I could feel the coils in the mattress and the entire mattress was just uncomfortable. I looked at over 10 different mattresses and based on my sleep style, budget and reviews, I discovered Purple Mattress was the best mattress for me. I reached out to them and ordered a mattress for me and Reese. It took only one night in our home before we instantly saw the difference between sleep on a good mattress and no sleep on a bad mattress. Reasons you're not getting sleep
No Bedtime Routine
Our bodies crave routine so when your body is conditioned to recognize that certain things mean sleep your body starts to prepare itself. That routine could include 15 minutes of light yoga or stretching to relax the body and mind. Soothing music has an amazing calming effect and does essential oils. Consider a relaxing bath with candles and bath salts. A lightly scented linen spray in lavender for your sheets and pillows makes your bed more inviting. Once you find what works for you, start doing it every night at the same time. Pretty soon, your body will know exactly when it's time for bed.
Stress and Anxiety
If your sleep issues have gone on for more than a few months it might be time to seek professional help. You want to rule out anything medical like severe stress and anxiety. Today's world is fast paced and hectic and the average adult (and even child) carries a lot of weight on their shoulders. If you are unable to separate from that stress it can carry over into your sleep. Seek help from a professional who might be able to prescribe a sleep aid or suggest therapy for deeper issues. Either way, your body needs sleep to function so don't just brush it under the rug. Reasons you're not getting sleep