Traveling solo can sometimes get lonely especially when it comes to Solo Restaurant Dining. If you're traveling solo and worried about dining alone, check out these Solo Dining Restaurant Tips.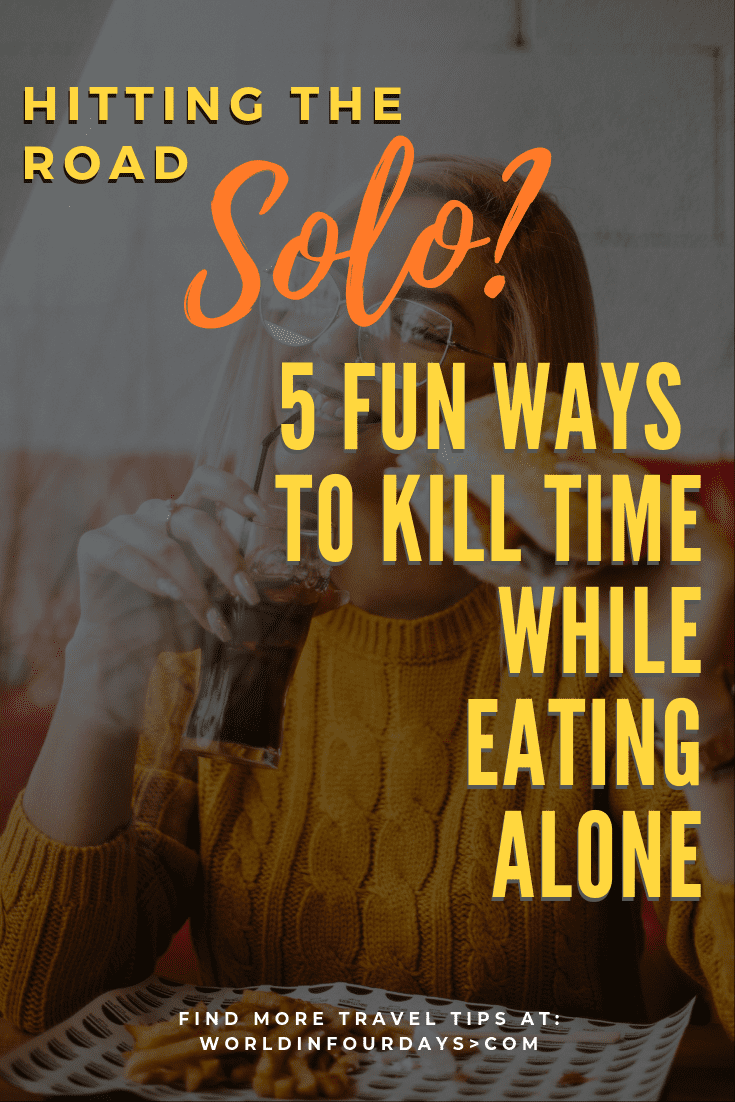 5 Things That Will Make You Love Eating Alone
When a reader asked me "How do you handle eating alone while traveling"? I was actually shocked that I had never thought to talk about this. Eating alone has never been an issue for me but I realize for others, it can be very intimidating.
I have eaten alone, gone to the movies alone, I've even gone to a concert alone but for some, solo travel is the first time they have ever done ANYTHING alone. Hopefully, these tips will address your fears and give you one less thing to worry about.
Solo Restaurant Dining | 5 Tips For Eating Alone While Traveling
Sit At The Bar
I'm not much of a drinker, but when I'm traveling alone and want some company during dinner I always sit at the bar. For one, bartenders are used to entertaining people. If you are sober and able to actually hold a decent conversation, most bartenders will welcome the distraction from those that aren't. Keep the conversation fun and upbeat. People like talking about themselves so, break the ice by asking them a few questions about themselves like, what do they like to do for fun, how do they like the city, what are a few of their favorite places they suggest you visit.
Bring A Book
When I travel I always make a point to pack a good book and a few magazines. I look at eating alone while traveling as the perfect time to get in some reading. I have been known to sit outside of a café for hours enjoying a meal with a good book.  I used to think that reading in public made you less approachable but I've found that to not be the case. Several times I have had people strike up conversations about the book I'm reading. Or, if it's a travel book they usually ask where I'm from and the conversation goes from there.
Eat at a Restaurant That Offers Family Style Seating
I love family-style seating. This is often found in family-type restaurants. It involves seating guests at long tables so that no one eats alone. You might be paired with other single people dining alone, or a family. Introduce yourself, let them know you are dining alone and enjoy the conversation. People are usually very responsive to travelers and love conversations about what you plan on seeing in their city as well as offering advice.

Request A Window Seat and People Watch
When I'm eating alone and don't really want to talk to anyone one of the best ways to entertain yourself is by people watching. I can people watch for hours, it makes me stop and think about others for a moment. What's going on in their life, how is their day going, etc? You can learn a lot from people just but watching them.
Make a Friend
Eating alone while traveling makes you highly approachable and sometimes all it takes is making eye contact and offering a smile and most people will strike up a conversation. When people discover you are eating alone many will offer to have you join them. Another option for those that just can't stand the thought of eating alone, ask the wait staff if anyone else is dining solo and ask to be seated next to them. Offer a smile when seated and then ask if you can join them. Most people will say yes. If all else fails and you still end up alone, strike up a conversation with the wait staff. Make sure they are not super busy and be sure to offer a nice tip at the end of your meal.