Sparkling Ice is my go-to for easy Sparkling Ice Cocktails and mocktails when you're short on time and budget.  Last week a few friends and I decided to get together for a fun girl's afternoon. We kept it low key and had everyone bring a few mixers and she supplied alcohol she already had on hand. It was the perfect girl's afternoon.
As far as the drinks go, my partying days have long since passed so my cocktail skills are not anywhere near as good as they used to be. I kept things simple by picking up a few of my favorite Sparkling Ice Zero Calorie Drink flavors and fresh fruit.
I'm all for easy when it comes to party planning (okay let's be honest, I'm lazy) so instead of heading out to the grocery store, I ordered a case of Sparkling Ice on Amazon a few days before and had it delivered prime to my door (Sign Up For A Free Prime Trial). I went basic with the fruit I already had on hand (oranges, strawberries, limes, lemons, etc.) and whipped up 4 amazing basic Sparkling Ice cocktails.
Kiwi Strawberry & Coconut Sparkling Ice Cocktails
This drink is so good and I used to live off of these during the summer. I still remember one summer hanging out at an Airbnb with a pool and drinking nothing but this Kiwi Strawberry & Coconut Sparkling Ice Cocktail. Take this drink to the next level by adding more fruit flavor. Drop a spoon full of strawberry puree to the bottom of each glass and this drink becomes Ahhhhmazing!
Cherry Lime & Coconut Sparkling Ice Cocktails
Everyone always says this sounds like such an odd mix with the coconut. After two, however, they are usually saying it's one of their favorite. The cherry and lime Sparkling Ice by itself is amazing but adding the splash of coconut really changes the flavor.
You can add a little sweetness to this drink by sprucing up the rim. Add freshly squeezed lime juice to the top of the rim then roll your glass in sugar. This will give you a sweet and sour kick after ever sip.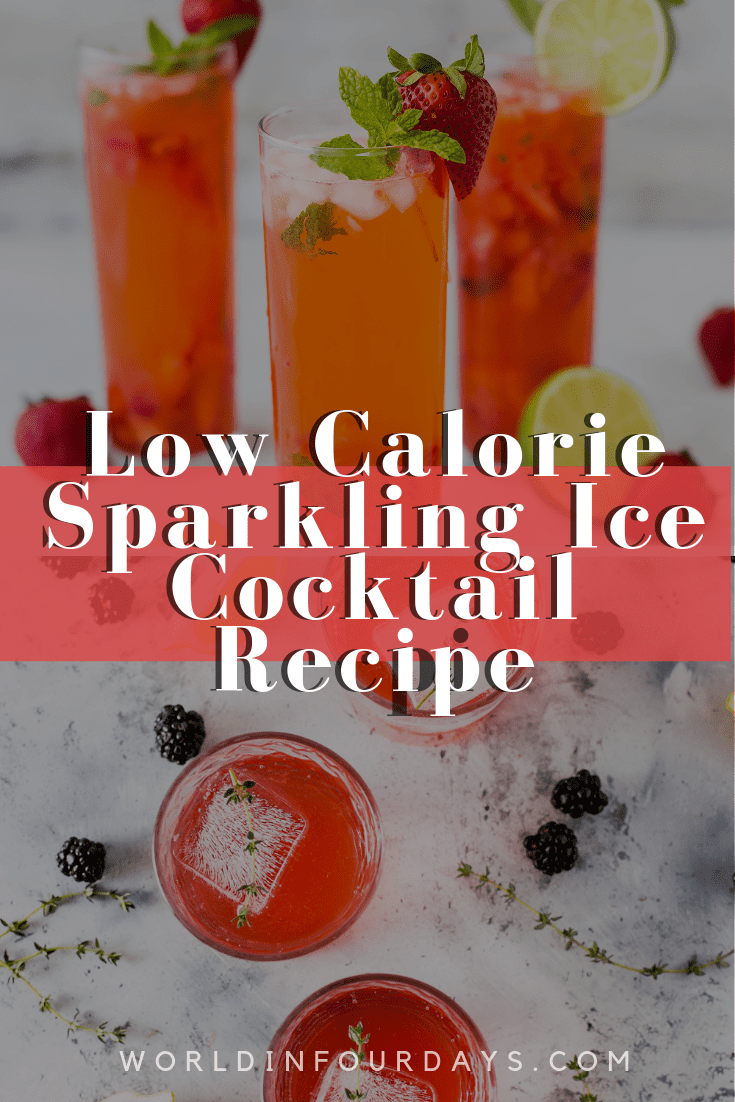 Orange Mango Coconut Sparkling Ice Cocktails
This drink reminds me of Hawaii. I had a drink similar to its orange, mango coconut flavor while I was at a Hilton Hawaiian Village Restaurant. I recreated this one a few months after our trip to Oahu because I was craving it. You can upgrade this drink to amazing with a splash of color using a blood orange for garnish when they are in season. You can even do an orange sugar rim for a kiss of sweetness after every sip.
Spiked Lemonade Sparkling Ice Cocktails


This one is my go-to home drink because I always have Grey Goose on hand and I love the Le Citron flavor. I love that this drink can be altered in so many ways. Try adding frozen blueberries and run it into a Strawberry Blueberry Lemonade. This is one drink you can't go wrong with since almost any fruit pairs well with lemonade.
Looking for easy to make all occasion cocktail recipes? Check out a few of these other Sparkling Ice Cocktails I love.