Summer is here, (thank you, universe!) and for months I've been looking forward to firing up the grill and hosting an incredible outdoor barbecue with my family, friends, and of course, wine! This season, I have decided to pair grilled chicken skewers and a summer salad with some delicious wine. Aside from making sure that everyone has something to fill their bellies with, I want to make sure to whet their appetites as well as their whistles, and my favorite way to do that is with some rich and flavorful Line 39 Cabernet Sauvignon wine. Summer Essentials
The thing I love most about grilling is that my taste buds go on the ultimate adventure when I mix grilled meats and veggies with the Line 39 Cabernet Sauvignon because it's got a vibrant aroma of currant, ripe plum, blackberry, and a hint of dark chocolate that enhances every single flavor. Summer Essentials
Whenever I have family and friends over, their mouths practically water when they see that mixture of dark ruby red goodness slowly pouring into their glasses. Oh, and the aroma is absolutely divine! It smells like a cross between toasted vanilla, black pepper, ripe blackberry, and plum. And if you think the aroma is enticing, wait until you taste it. That mix of the rich currant fruit flavors and a touch of dark chocolate is definitely the star of my summer BBQs.
The Line 39 Sauvignon Blanc is also a great alternative because the scent of lemon and grapefruit tickles my nose seconds before the crisp and clean taste washes over my taste buds. Personally, I think the Line 39 Sauvignon Blanc and the Line 39 Cabernet would be a great complement to steaks, fish filet, chicken sliders, or even hamburgers. I absolutely love how versatile they are as they go with everything! Summer Essentials
I knew with summer around the corner I needed a new grill if BBQing was on the agenda. My last one needed a major upgrade so this go round I decided to go with a gas grill. I had read so many great reviews about the Weber® Q®1200 portable gas grill and they were all true. if you're looking for an incredible grill that does everything for you, then for sure check out the Weber® Q®1200 portable gas grill. It comes with cast-iron cooking grates, built-in lid thermometer, stainless steel burner tube, and even folding side tables. All of these features make outdoor grilling so much easier. I can take the Weber® Q®1200 portable gas grill to the beach and have a beach cookout or take it to a park and grill to my heart's content. Summer Essentials
Now, the weather was perfect this past weekend, and I didn't feel like wasting it cooking inside the kitchen. So, I just grabbed all the seasonings, the chicken skewers, my Weber® Q®1200 portable gas grill, and went out in the backyard and grilled 'til the sun was down. Okay, I'll admit, I also brought four bottles of Line 39 wine, because that's the way I roll on the weekends lol. But I made sure to share with everyone in my family. Needless to say, it was a total hit!
Line 39 and Weber® Grills rock the house. They're sponsoring a summer sweepstakes where you could win a Weber® Q®1200 portable gas grill for your very own outdoor grilling adventure. Visit line39bbq.com or text BBQ to 797979 for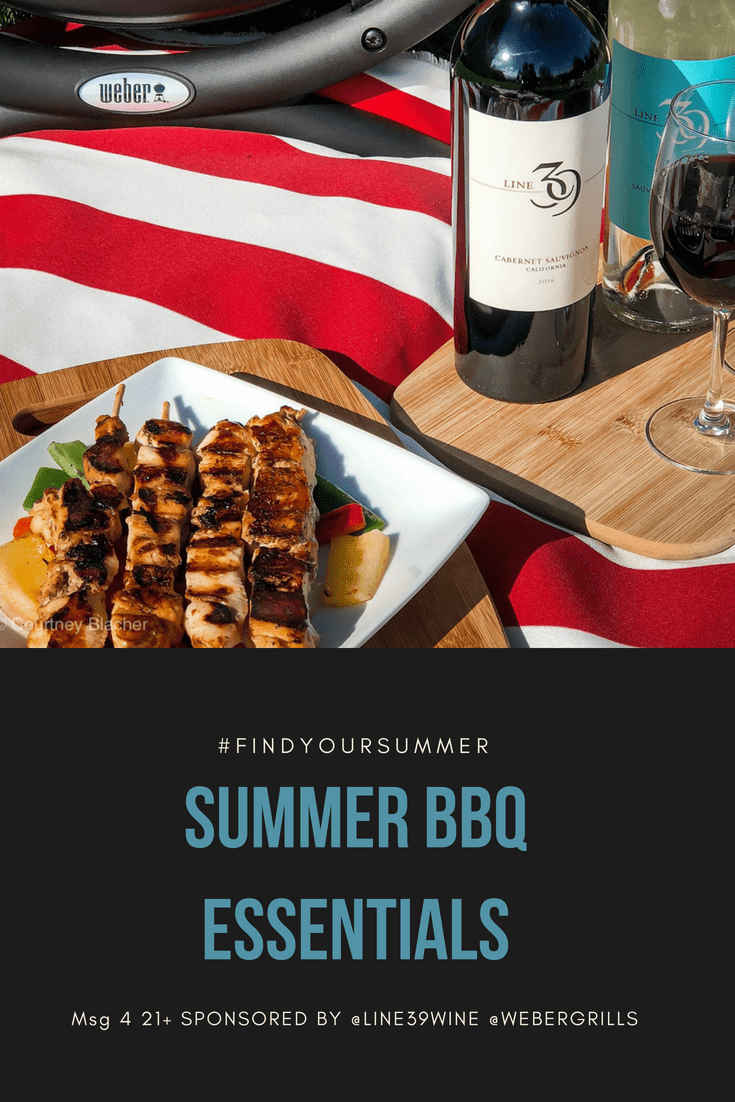 your chance to win a Weber® Q®1200 portable gas grill for all your outdoor adventures and backyard barbeques. See line39wines.com/sweeps for official rules and look for displays in store. Good luck! Summer Essentials
This is a sponsored post written by me on behalf of Line 39 Wine.