Tips for Dining Solo When Traveling Alone
Dining alone while traveling can be a daunting experience, especially if you're accustomed to sharing meals with others. But fear not, intrepid solo traveler! In this upbeat and engaging guide, we'll arm you with valuable tips and tricks to navigate the world of solo restaurant dining with confidence and a dash of humor. So grab your appetite and let's embark on a flavorful journey of solo dining success!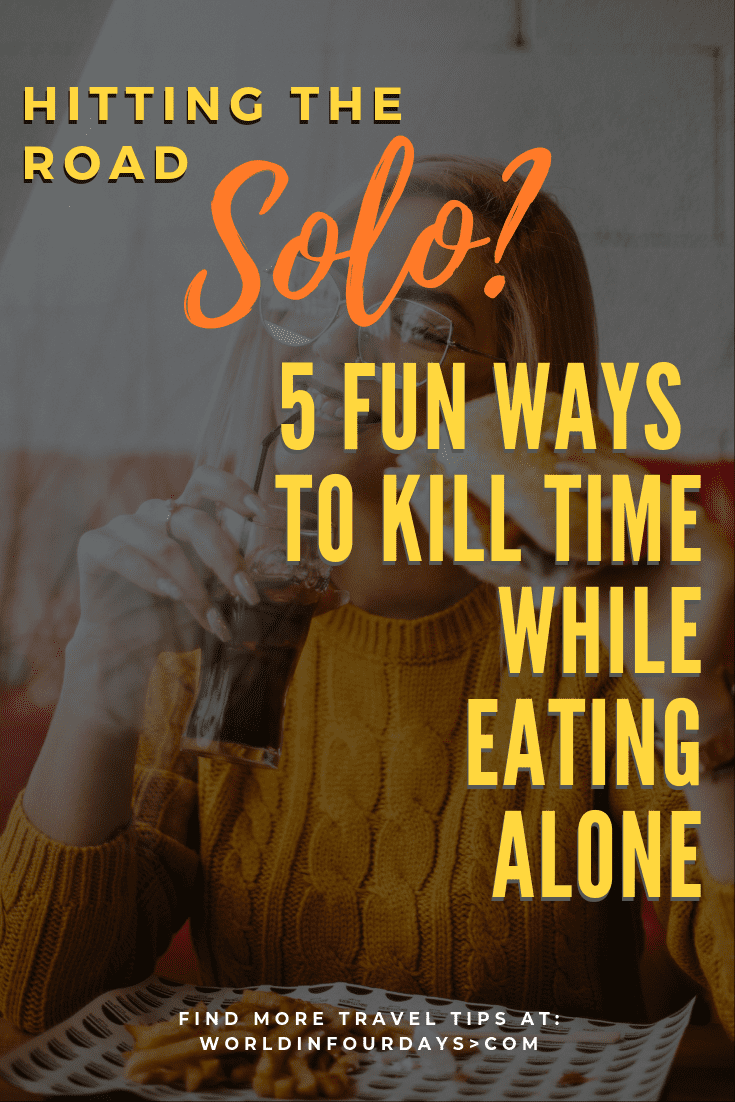 1. Embrace the Bar Scene
When you find yourself flying solo at a restaurant, consider taking a seat at the bar. Not only will this provide you with a front-row view of the action, but bartenders are often skilled conversationalists who can entertain and keep you company during your meal. Just remember, moderation is key—unless you're aiming for a wild night and a spontaneous karaoke session!
2. Be a Bookworm Gourmand
Turn your solo dining experience into a literary escapade by bringing along a captivating book or a stack of magazines. As you savor each bite, dive into the pages of a thrilling novel or immerse yourself in the vibrant world of travel literature. Not only will you enjoy a good read, but you might also attract curious fellow diners who are eager to discuss the latest plot twist or recommend their favorite books.
3. Embrace Family-Style Seating
If you're seeking a sense of camaraderie and a chance to mingle with others, opt for restaurants that offer family-style seating. Picture long tables where solo travelers like you can share a meal with fellow adventurous souls or even families. Introduce yourself, swap travel stories, and forge new connections that may last beyond the duration of your meal. Who knows? You might find a kindred spirit with whom you'll embark on future travel escapades!
4. Window Seats and People-Watching Delights
When you prefer solitude but still crave some entertainment, choose a window seat and indulge in the fine art of people-watching. Observe the passersby as they hustle and bustle through the streets, and let your imagination run wild as you create whimsical backstories for each person. It's like your very own personal drama unfolding outside the window—no Netflix subscription required!

5. Make Friends (or at Least Acquaintances)
Remember, dining alone makes you approachable and invites opportunities for spontaneous connections. Make eye contact, offer a warm smile, and be open to conversations with fellow diners or even the waitstaff. You never know who you might meet—an adventurous soul eager to share travel tips, a local ready to reveal hidden gems, or perhaps a fellow solo traveler seeking companionship. Embrace the magic of unexpected encounters and let the conversations flow like the rivers of fondue.
6. Engage the Waitstaff
If you find yourself dining solo and feeling a little lonely, fear not! Strike up a conversation with the waitstaff. They're there to ensure you have a delightful dining experience, and many of them are more than happy to chat during slower moments. Share a joke, ask for recommendations, or exchange amusing travel anecdotes. Not only will you brighten their day, but you might also learn fascinating insights about the local cuisine or receive insider tips on the best dessert in town.
Congratulations, fearless solo traveler! Armed with these tips and a pinch of humor, you're now ready to conquer the world of solo restaurant dining. Remember to embrace the bar scene, unleash your inner bookworm gourmand, savor the camaraderie of family-style seating, enjoy the spectacle of people-watching, make new friends (or at least acquaintances), and engage with the waitstaff for an extra dose of connection