This post "My Kid's A Picky Eater And It's My Fault – Tips For Kids Who Are Picky Eaters" was sponsored by One A Day® with Nature's Medley All opinions expressed are my own. I received product/compensation from OAD to write this post. For more information on our sponsored post and/or affiliate link policy, please click here.
Our Tips For Kids Who Are Picky Eaters
I like to think as parents we pass on the best traits to our kids and for the most part that's true but, a few years ago, I discovered I had passed along something I'm not too proud of. Unhealthy eating habits! Our lives are hectic and we are always on the go which means sitting down and eating a healthy meal every day is not always possible. Add on the fact that I've never been a fan of veggies, it's no surprise I'm now raising a picky eater.
I know I waited way too long to introduce and make veggies a part of her daily diet. I mean if I'm not eating them it's hard for me to force her to eat them. Well, that all changed a few years ago when I decided it was time to start eating better. I changed my eating habits and started incorporating more veggies and eliminating sugars and processed foods from my diet. For me, the change was easy because I understood the health benefits. But for Reese, the change was not easy and trying to get her on board with this new way of eating was a battle.
Kids pay attention to what we put in our bodies and if all they see us eating is junk and processed foods, it's hard for them to understand the "do as I say, not as I do" mindset. It's also hard for them to go from never eating veggies to loving veggies overnight. So, if you are trying to change your eating habits and are struggling to get your mini-me on board, here are a few tips that have worked well for us. Tips For Kids Who Are Picky Eaters
Pick Your Battles
I have come to accept the fact there are some things Reese just won't eat. For us, that's any kind of meat (she hates the texture and the taste) so while I do still add meat to her plate, I've learned to just let it go if she refuses to eat it. We have a "skip one" rule in our house. I don't make separate meals and add everything to her plate that I add to mine. She can choose to skip one item (no questions asked) as long as she eats everything else. This was my tricky way of getting her to eat her veggies. Since I know she will more than likely skip the meat, it meant there was no getting out of eating the veggies. I still make sure she's getting in her needed protein with things like nuts, peanut butter, eggs etc but I no longer force meat.
Meal Planning Can Be Your Best Friend
There was a lot of anxiety in our house surrounding meal time because Reese was always in fear that she wouldn't like what was being served. We eliminated those fears by doing weekly meal planning and grocery shopping. On Sundays we sit down and talk about what she would like to see on the menu for the following week, then we spend the morning at our local Walmart shopping for items to plan meals for the week. Tips For Kids Who Are Picky Eaters
Weekly meal planning eliminated mealtime anxiety because at any given time she could look at the menu (we keep it on the fridge) and see what was coming up. We started out meal planning only for dinner but Reese loved it so much, we now do it for Breakfast, Lunch, and Dinner. I love meal planning too because I don't have to worry about what to cook, grocery shopping was easier because I already knew what to get and it made budgeting easier.
Visit Your Local Farmers Market
Reese is not big on veggies but she loves fruit and outside of melons she will try almost any fruit you offer her. We started visiting farmers markets a few years ago to try new fruits and to my surprise, I discovered this was a great opportunity to also taste test a few veggies. Many farmers markets offer free samples and for many kids (Reese included) walking through the aisles sampling different fruits and veggies made the idea of trying something new less scary. The samples are usually bite-sized so sampling new veggies this way is a lot less intimidating than seeing a bunch of them piled up on a plate at home. Tips For Kids Who Are Picky Eaters
Take a Daily Multivitamin like from One A Day® with Nature's Medley
When you have a picky eater (and even if you don't) a daily multivitamin is a must since they may not be getting all of the key nutrients they need from food alone. It's the only way you can assure they are getting all the nutrients they need for growth and development so that's why we love One A Day with Nature's Medley. They come in fun gummy flavors which means there are no giant pills to swallow or chalky pill to chew, and they taste great like gummy bears.
One A Day® Kids with Nature's Medley has all the key ingredients (Vitamins A, C, D, E, Zinc, and Iodine) needed to support bone health, immune health and eye health, and I love that it contains no high fructose corn syrup, artificial flavors or sweeteners.  One A Day® Kids with Nature's Medley is a complete multivitamin with plant-based natural antioxidants from one total USDA serving size of fruits and vegetables.  
I'm a firm believer in leading by example so it was important to me that I added a multivitamin to my daily routine too. Another reason we chose One A Day® with Nature's Medley is that they offer a multivitamin for the entire family.
One A Day® Women's with Nature's Medley is a complete multivitamin in a gummy form that is uniquely formulated for women. to support heart health, immune health, bone health and skin health. It too has 's made with natural plant-based antioxidants from one total USDA serving size of fruit and veggies. Tips For Kids Who Are Picky Eaters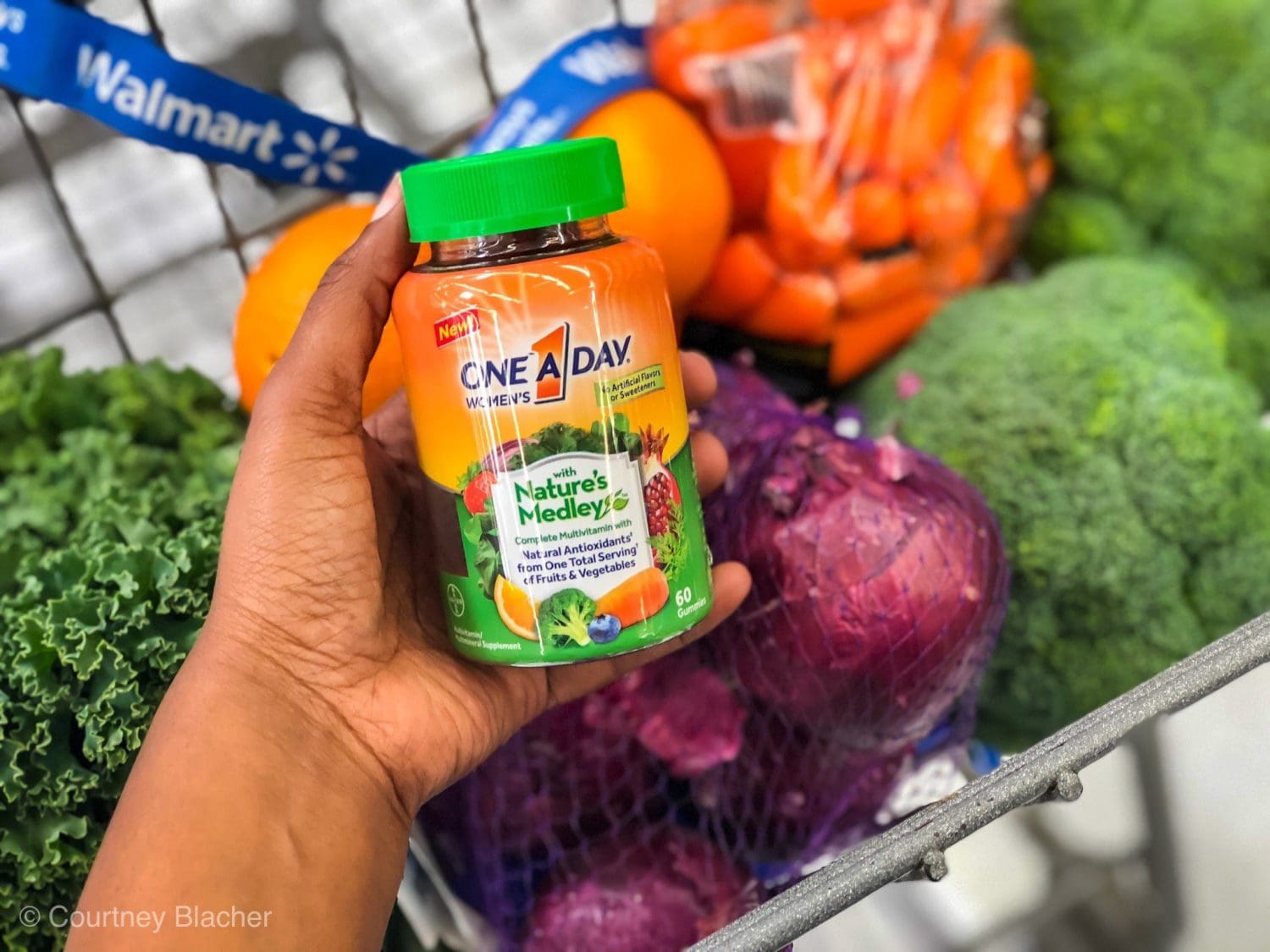 One A Day® Men's with Nature's Medley is a complete multivitamin in a gummy form that is uniquely formulated for men to support heart health, immune health, physical energy and healthy muscle function. Tips For Kids Who Are Picky Eaters
I'm a firm believer in picking my battles but Reese's health was not something I was willing to back down on. Simple things like adding a multivitamin and testing out a few of these tips can make all the difference in the world when it comes to dealing with picky eaters. Get a $4-off coupon here