Tokyo with kids sounds like an amazing adventure, doesn't it? Japan's capital is one of the most populated, bustling cities in the entire world. It's also one of the most exciting. With all kinds of attractions, restaurants, and more, Tokyo is a city that any world traveler should visit at least once in their lives. If you're a world traveler with kids, it means you should take the kiddos there with you. It's a city that is equally welcoming to both children and adults. However, before you explore Tokyo with kids, there's the matter of actually getting there. So let's talk about how to book a trip to this iconic Japanese city.

Planning and Booking a Trip to Tokyo with Kids
As most of us know, traveling outside the United States isn't like domestic travel. You can't just pick up and go whenever you feel like it. You have to consider passports, currency exchange, finding the best rates on long flights, and more. There's a lot to think about and iron out before your trip actually comes to fruition. So let's take a step by step look at getting from where you are to where you want to go. In this case, Tokyo.
Best Times to Visit Tokyo
Japan's climate is relatively temperate, so there's never really a bad time to visit this country in regards to the weather. Although, summer does tend to be sticky with humidity. Winter in Japan is cold, of course, but not so cold that it hampers travel. While there are many different times during the year that are perfect for visiting Japan for different reasons such as the cherry blossoms or festivals, there are really only two times in particular that you'll want to visit to take in Tokyo.
September Through November
While September, October, and November are the rainiest months in Japan, they are also some of the most comfortable. Temperatures during the day average between the low 60s to upper 70s. You'll need an umbrella, but in exchange, you'll be spared the oppressive humidity and some of the tourist congestion that comes with the summer months. You'll also need a jacket, as nightly lows can range from the high 40s to high 50s.
In addition to better temperatures and less crowding, Tokyo also has several big events during these months. Visitors can take in the Tokyo International Film Festival from October through November, although this is admittedly not for the kids. On November 3rd, tourists can take in Culture Day, an event highlighting Japanese culture that is perfect for both adults and children. November 15th marks the Shichi-Go-San Festival, a traditional Japanese rate of passage for three and seven-year-old girls and five-year-old boys celebrating the growth and well-being of young children. Finally, November 23rd brings Labor Thanksgiving Day, a national Japanese holiday devoted to honoring labor and production and giving thanks to one another. This event is marked by many celebrations and makes for a wonderful way to experience Japanese culture for all family members.
March Through May
Another prime time for visiting Tokyo with kids is March through May. During this time, daily temperatures range between the 60s and 70s during the day and between the low 40s to high 50s at night. Although there are three major events that the entire family will love, the biggest drawback to this time is the crowds.
From late March through early April, the famous Japanese cherry blossoms make their appearance. While this is an amazing site for you and your family, it's also an amazing site for everyone else's family, as well. Between Tokyo residents who come out in droves to the urban parks and tourists who do the same from every part of the globe, there will be lots and lots of people, so be prepared for large crowds. Similarly, Golden Week, from April 29th through May 5th attracts slews of people with its succession of public holidays. From local Japanese residents to tourists worldwide, Golden Week makes for some of the most crowded conditions you'll see in Tokyo. Art Fair Tokyo is a massive art exhibit which attracts droves of locals and tourists, as well, for its huge collection of art. Finally, anime lovers of all ages will love AnimeJapan, a celebration of all things Anime that runs from March through April.
Although these popular events make for massive crowds of milling locals and tourists, there is a significant payoff. AnimeJapan, Art Fair Tokyo, and Golden Week are some of the most famous events in all of Japan, and while you'll have to battle the crowds, you will also experience the Japanese festival atmosphere in a way you just can't at any other time of the year.
7 Reasons Your Kids Should Travel No Matter How Young They Are
Less Ideal Times to Visit Tokyo
These times are called "less ideal" and not "worst" because there really is no bad time to visit Tokyo. There are only less optimal times. Any trip to Tokyo will yield amazing experiences and memories, but some times are more productive than others. These time frames are a little less than perfect.
December Through February
The winter months offer the fewest tourists as well as the lowest temperatures. However, the drop in tourists doesn't equate to a drop in hotel prices. In fact, Tokyo's hotel rates remain fairly steady throughout the entire year. That being said, during New Year's travelers can expect hotel rates to skyrocket, and most museums will be closed for a few days before and after the holiday. That makes a combination that is far more expensive and far more limited for tourists, so it's not ideal. If you do visit during this time, be prepared for daily highs ranging from the high 40s to the mid-50s and nightly temperatures than frequently dip below freezing.
There are a few events for tourists to take in should they decide to visit during this time. The Emperor's Birthday on December 23rd is a national holiday marking the birth of Japans' emperor in 1960. New Year's Day is the largest celebration in Japan, with particularly massive celebrations in Tokyo. National Foundation Day, celebrated on February 11th, is a national holiday celebrating the mythological foundation of Japan and the accession of is first emperor, Emperor Jimmu on February 11, 660 BC.
June Through August
While no time period is terrible for visiting Japan, June through August is arguably the most uncomfortable for visiting Tokyo with kids. During this time, the weather is the hottest – and stickiest – of any time during the year, with temperatures of between the high 70s and 80s compounded by high dewpoints. Add crushing crowds to that, and you have a recipe for cranky children, and maybe even cranky adults. Another hurdle during this time is rain. Although September through November receives the most precipitation overall, June through August is the rainy season, so expect frequent, and often torrential downpours.
Travelers who brave these conditions, however, will still be treated to a couple of major events during these months. The last Saturday of July sees one of the most impressive fireworks displays in the world, the Sumidagawa Fireworks Festival. This display features a constant barrage of fireworks from two locations – one near Sensoji Temple in Taito Ward, and one near Tokyo Skytree in the Sumida Ward. Not to be overlooked is the Asakusa Samba Carnival. Now in its 38th years, the Samba Carnival features dazzling colors and talented dancers honoring Japan's close ties with Brazil. It's essentially a Brazilian festival parade in Tokyo which coincides with Brazil's Rio Carnival.
Finding Cheap Flights to Tokyo
After you decide when to visit Tokyo with kids, it's time to figure out how to get there without burning through your money. Transcontinental flights can be incredibly expensive, and when you're traveling with kids, you're going to want to save your hard-earned money for things like experiences and souvenirs, not getting from point A to point B. Sites like Google Flights and Skyscanner are great tools to help you find the cheapest flights available.
Google Flights, powered by Google, leverages the search engine's considerable muscle to scan for deals on flights anywhere on the globe. Similarly, Skyscanner is a bit like the Trivago of flying. It simultaneously searches over 1,200 flight booking sites to help you find the lowest rates on flights to pretty much anywhere.
For our trip, we used Scott's Cheap Flights. This website is nice because it uses actual people to search for deals. You see, Scott is a real person with real experience. His team has that experience, as well. The Flight Experts at Scott's Cheap Flights scour the internet for the best possible deals on flights. They also scan for the best flight options and airlines. Most deals on flights through this website are between 40% to 90% cheaper than standard rates. In addition, many of the flights are non-stop or single-stop flights, and you might even score business class. Finally, airlines with bad reputations are avoided so you can be sure you get a great price and a great airline.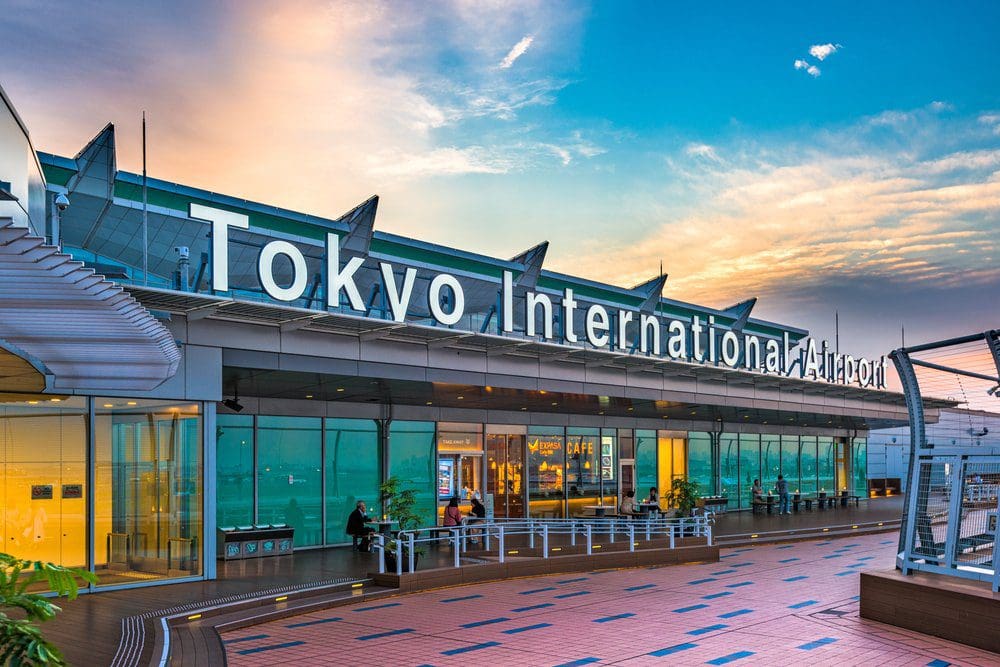 Traveling to Tokyo with Kids
So you've found a great deal on a flight, but now you actually have to get to Tokyo with kids in tow. That requires passports, and in the case of divorced parents, permission to leave the country. Children's passport requirements are:
DS-11 Application Form for New Passport
Passport Photos – Should be color photos that conform to passport photo regulations
Proof of citizenship such as a birth certificate
Evidence of parental relationship
Parental consent. Both parents must be present with the child and provide consent.
Passport fee
Once you've gotten your child's passport and permission to leave the country if applicable, you'll be one step closer to your ultimate Tokyo trip. You'll notice that a passport for a child already requires parental consent, so it's not an arduous process in the case of divorced parents looking for consent.
Currency Use While in Tokyo
Of course, you'll need Yen and not Dollars to pay for accommodations, dining, souvenirs, and the like while in Tokyo. And because you're visiting Tokyo with kids, you'll most likely have lots of opportunities to spend that Yen. Between dining and trying to experience Tokyo has to offer, you'll need an ample supply of funds to do everything.
Currency Exchange
When exchanging your currency, it's best to do it before you leave. You'll almost always get the best rate at banks. You can, of course, exchange your currency at the airport or major hotels once you arrive, but the rates are generally not as good as they are when exchanging before leaving for your trip. So exchange at least the minimum currency you think you'll need for your trip before leaving. That way, if you have to exchange while in Tokyo, you won't be hit as hard by the less friendly exchange rate.
Cash or Credit Card
You'll need both but lean heavily on cash. As advanced as Tokyo is, Japan is still a heavily cash-based country. While chain stores and even large mom and pop shops take credit cards, a much larger percentage of retailers are fully cash-based. You'll need a mix of both to be sure all options are open to you. In general, it's a safer bet to pay cash for everything because it's accepted everywhere, and frankly, it's safer for your account. For those who wish to use a credit card, the most readily accepted cards in Japan are American Express, Diners Club, MasterCard, Visa, and the Japanese credit card, JCB.
Data Usage While in Tokyo
Many cell providers have service in Japan. That part is relatively easy. The hard part is trying to use that service without taking out a second mortgage on your home. If you live in the States but plan to use any sort of Data while in Tokyo with kids, you could be looking at an astronomically high bill upon your return. However, you can mitigate these expenses by altering your data plan or even getting a Japanese SIM card to help you with fees. By choosing the right method, you'll be able to share your exploits with your family in friends on social media while in Tokyo with kids.
SIM Card
Using a Japanese SIM card will allow for data usage without the incredibly high international roaming fees you'd normally be hit with. While Japan has been historically strict with SIM cards, they have loosened up their policies enough to allow travelers to take advantage of this method. Travelers can now buy a data-only SIM card either online or for pickup on arrival at Narita or Haneda airports, as well as buying one over-the-counter after arrival in Tokyo.
International Rate Plans
Another option to limit fees is to upgrade your service for the month of the trip you'll be taking. These days, major providers offer options for data usage while users travel outside of the United States. For example, AT&T offers an International Day Pass which offers free talk and text and a certain amount of data usage anywhere while on your trip. This service is $10 per day, which is quite reasonable. Be vigilant about your data usage, however, as going over your allocated international data can cost you heavily, in AT&T's case, $15 per 1 GB of overage.
Communicating While in Tokyo with Kids
If you're traveling to Tokyo with kids, there are sure to be tons of places you'll want to see. Getting there, getting in, and even purchasing memorabilia are all going to require one major thing: communication. In a perfect world, you'd be fluent in Japanese before you left for your trip, but since we don't live in a perfect world, let's discuss a couple of other ways you can make communicating with Tokyo locals easier.
Translators
Technology has come a long way, and one way it's made travel so much easier for us is translators. These wonderful communication apps are available on smartphones, and they make the days of travel translation books a thing of the past. With these apps, it's super easy to communicate with locals while you're traveling.
iTranslate Voice 3
This app enables voice-to-voice communication across 42 languages. Simply speak into your phone, and the app will translate and speak your words to whomever you wish.
Google Translate
This wildly popular translation app is constantly evolving. This typed translation feature works supports 103 different languages, and it even features a component called World Lens. With this feature, users point their phone camera at signs or text, and World Lens uses an AR text overlay to deliver the words to the user in their own language.
SayHi
This translation app covers 90 languages and dialects and translates your spoken word into your chosen language.
Language Learning Software
If you'd like to learn to speak a little Japanese before your trip to Tokyo with kids, consider language learning software. These programs allow you to study a foreign language at your own pace, giving you the opportunity to communicate directly with other people while on your trip – even if it's in a rudimentary fashion.
Duolingo
Duolingo is an incredibly popular foreign language learning app that helps people easily learn another language. While there is a paid version, you can opt for a free version as well.
Rosetta Stone
Rosetta Stone is another widely known and used language learning platform that offers courses in many languages.
You're Ready to Travel to Tokyo with Kids
From choosing what time to visit Tokyo to booking your flight and even communicating with the locals, these tips will help you make the most of your trip to Tokyo with kids. Knowledge is power and using the information here, you should be able to put together a trip to Tokyo with kids that will make a ton of memories that will last a lifetime.