This post is a sponsored collaboration between WorldinFourDays.com and Prevail®. All options express are my own. For more information on our sponsored content and/or affiliate link policy, please click here. raveling With The Elderly
Traveling With The Elderly &

Prevail

®

Products
There is this shift that happens after we hit our 30's, where we begin to feel protective of our parents. One of the best parts of growing up is being able to do things for your parents instead of the other way around. When our parents begin to age, many of us take on the responsibility of caring for them as they begin to slow down and become more elderly. Part of our parents joining our households is taking their needs into account everywhere we go. prevail underwear
Family vacations are no different. Traveling requires great preparation beforehand because you're going to be on the move and you need things. What things? Things to keep you comfortable! That may mean a lot of different things: a special pillow, a toothbrush, a hairbrush. prevail underwear
For many of our elders, traveling presents a little different of a quandary: dealing with incontinence. That's  right, travel may mean limited access to the restroom, and when you're dealing with a limited capacity to hold it, you are going to need a little more preparation to keep you safe and dry. prevail
Make frequent rest stops – I know, I know. You're trying to get where you're going, you have a tight schedule and all that jazz. Sometimes it takes a little more time to get the job done right. Make sure that you are taking stops at least every two to two and a half hours to keep everyone cozy.
When you need extra protection from leakage, you have to bring out the big guns. As the number one ranked adult incontinence brand in U.S. healthcare*, Prevail products feature expert innovation and high-quality materials, providing a superior hygiene experience that enables men and women to live more confident and worry-free lives.
Prevail is bringing the next generation in breathability to a new, revolutionary brief known as Prevail® Air™. As the first 100% breathable incontinence product in the U.S., the Prevail AirMax™ layer allows for optimal airflow, which helps decrease the moisture held against the skin, reduce heat and humidity next to the skin's surface and maintain overall skin health. Traveling With The Elderly
Limit liquids 
It's ok to drink, but try to keep the liquids to the absolute minimum, or your trip will be held up by a lot of rest stops. Sip lightly and stay on schedule. Traveling With The Elderly
Wear easy to remove clothing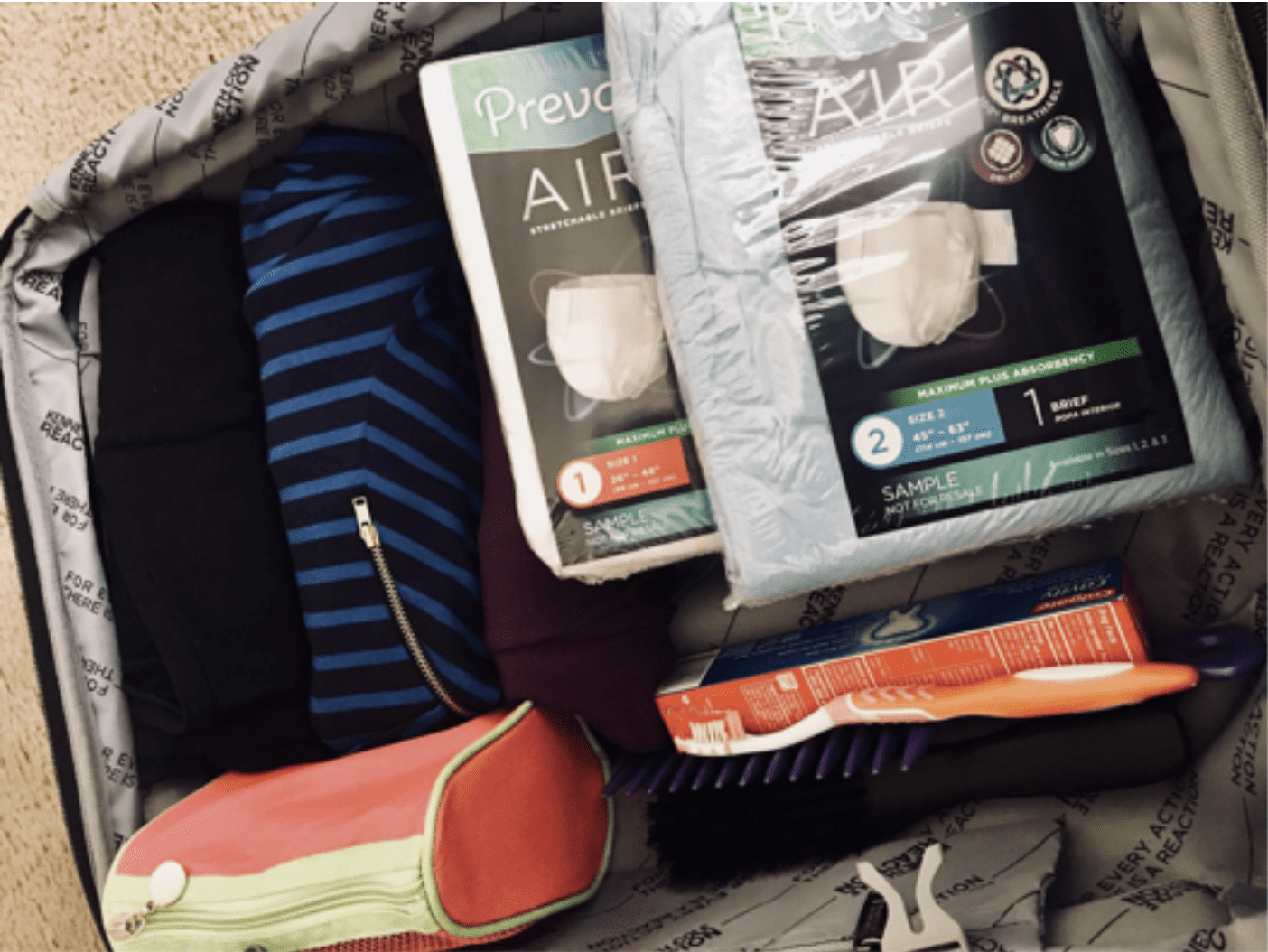 Nobody wants to see their parent doing the pee pee dance! Please be sure when you're traveling to wear clothing that doesn't have many zippers, enclosures or buttons that are difficult to open. Make getting out of quick bladder relief go as smoothly as possible.
Have a plan for accidents and leaks
Accidents are called accidents for a reason. You don't intend them and can't predict when one is going to happen. But you CAN be ready for the unexpected if you plan in advance. Get yourself an essential emergency leak kit: Prevail® Air™, wipes, a plastic sheet to cover your seating, and an outfit just in case. You can't fail as long as you have a plan. 
The best part of having your mom or dad with you is that they'll bring their wisdom, insight, and sense of humor along on the trip. Be ready to create unforgettable memories with them, and don't let leakage slow your enjoyment down. If you're looking for protection from leakage for the elder in your life, make sure to head to Prevail and try their sample products!
I was selected for this opportunity as a member of CLEVER and the content and opinions expressed here are all my own.