The Cutest Tween Unicorn Bedroom Decor Roundup
We just moved into our new place FINALLY! If you've been following along on Instagram then you know this move seems to have dragged on FOREVER. Now that we're all moved in it's time to start thinking about decor. Reese is excited to finally get to decorate her room and has decided on Tween Unicorn Bedroom Decor so I thought I would put together a cute tween unicorn bedroom decor roundup for others also looking for unicorn themed decor.
Character Bean Bag Chair – Pillowfort™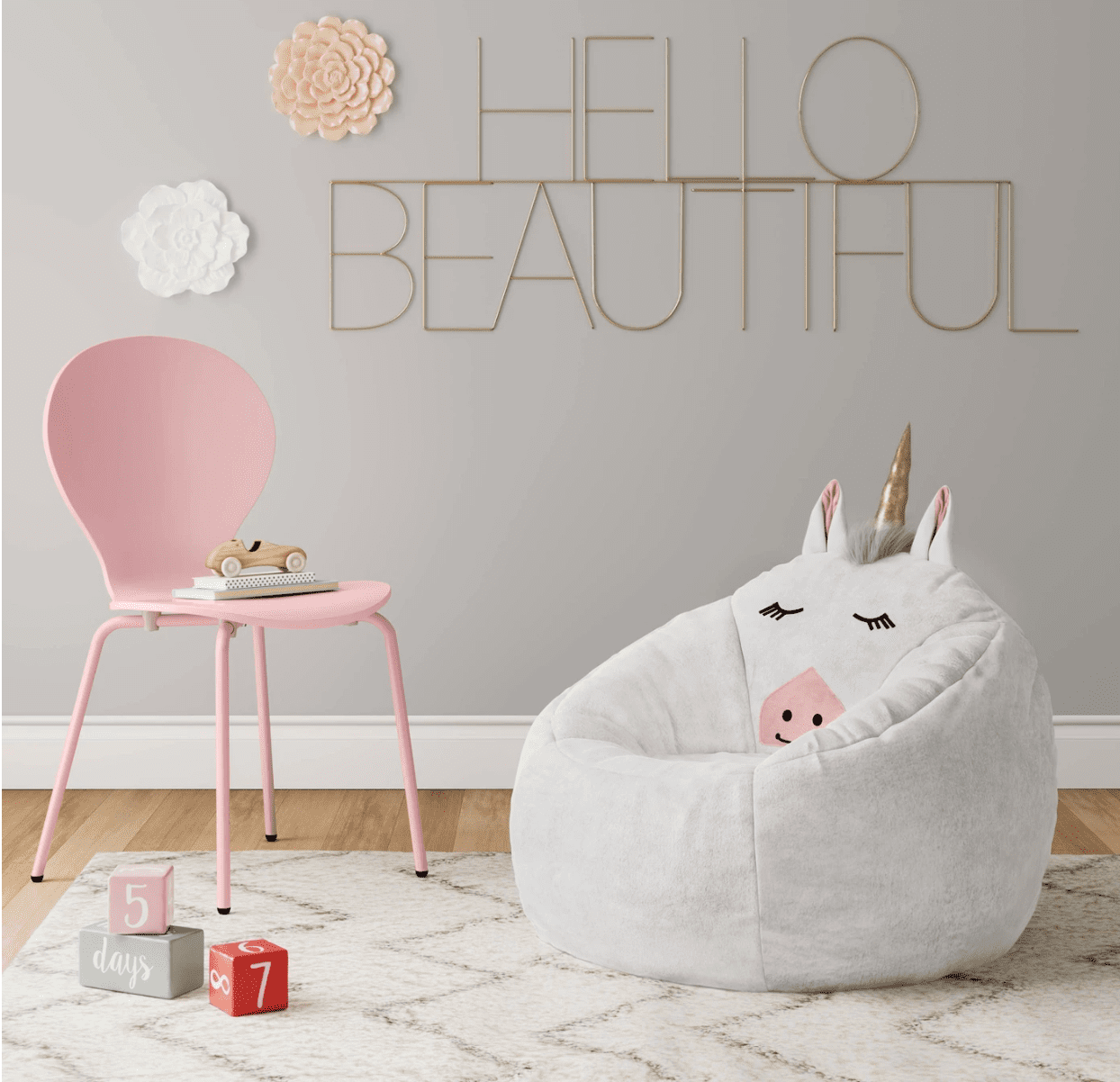 Reese loves to read and is always looking for a cozy place to curl up with a good book. Since we have a "No street clothes on the bed" rule, I wanted to find a chair for her room that was cute and matched her tween unicorn bedroom decor. It needed to be comfortable enough to lounge on for a few hours and I didn't want it to take up a bunch of space. We both fell in love with this Unicorn Character Bean Bag Chair from Target because it had everything we needed and was super affordable. Click for price 
Unicorn Wall Hooks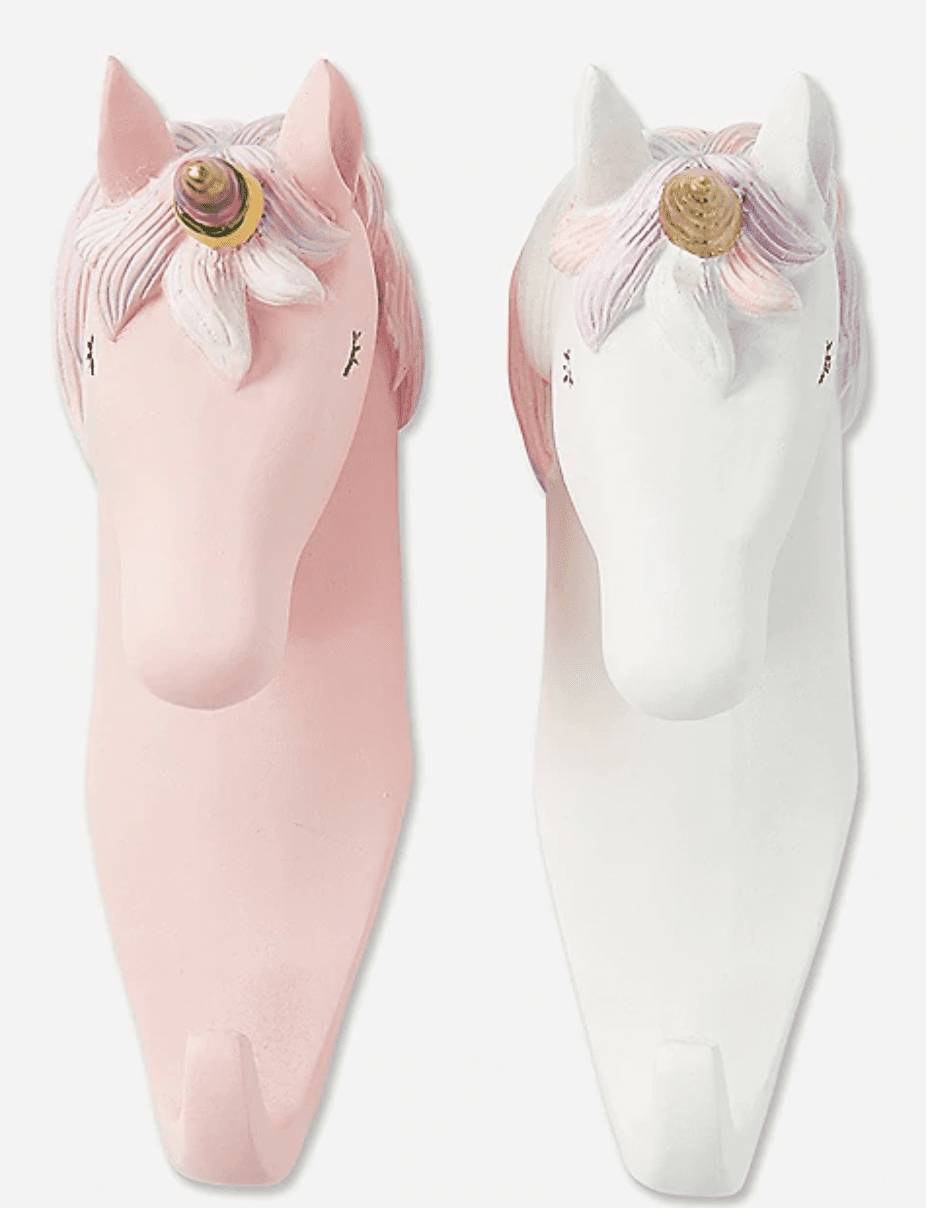 If your daughter is anything like mine then you probably find yourself yelling "Pick up your…" (feel free to replace … with towel, jacket, robe, etc.). I ran across these Unicorn Wall Hooks from Justice and figured since they were so super cute, she might actually use them. (A mom can hope, right?) They come two in a pack but you can buy multiple to hang things like towels, robes, backpacks, jackets, purses…really anything. Click For Price
Sleeping Unicorn Decal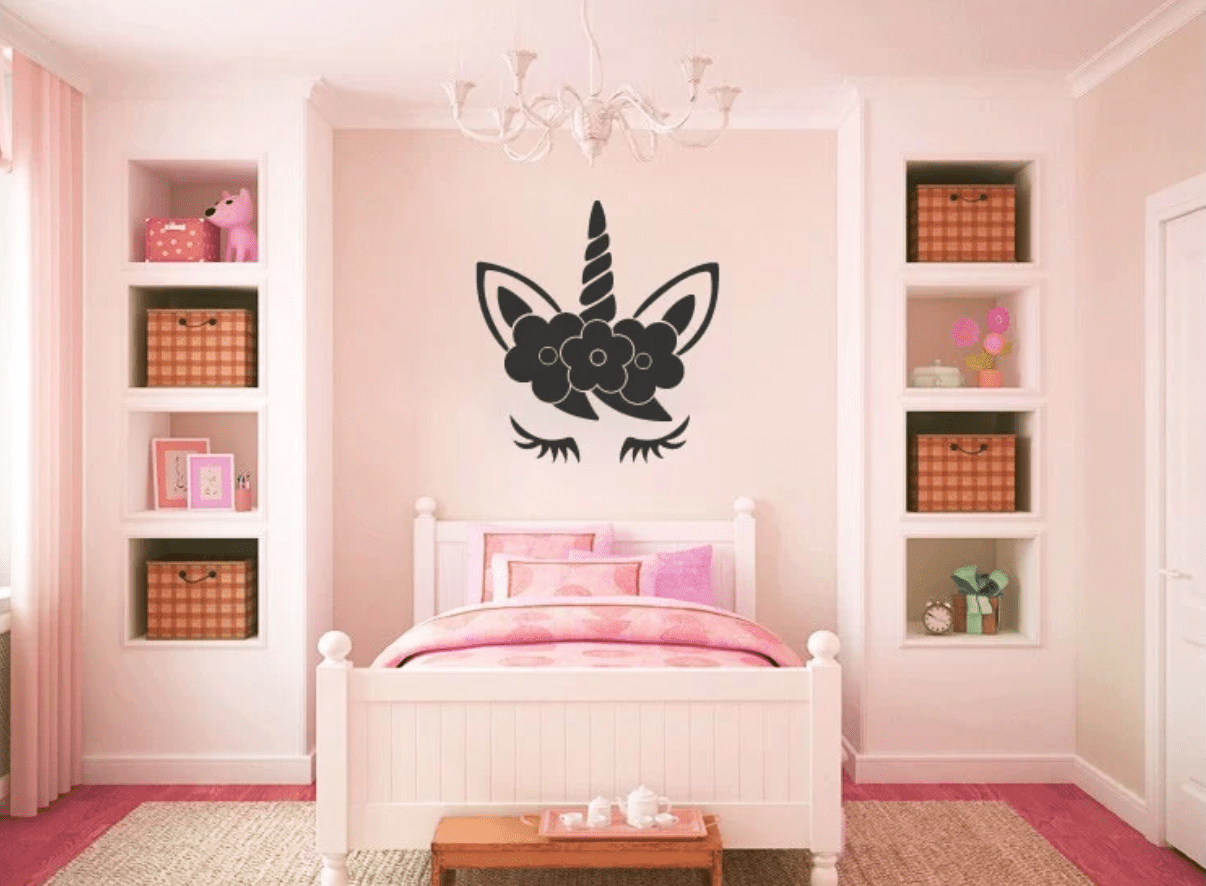 When I asked Reese what color she wanted to paint her walls she came back and asked for wallpaper. Okay, kid, first, this momma does not have the time or patience to install wallpaper, seconds, I can promise you in 2-3 years you will regret a room with walls covered in a unicorn pattern. We decided a fair compromise would be to hang a unicorn decal so I set off to find one to match her tween unicorn bedroom decor. I didn't have to search long before I ran across this Hogue Unicorn Face Sleeping Vinyl Wall Decal. It is 22" H x 24" W and I love that it's removable and re-stickable so if she does decide to add color to her walls in the future we can remove it, paint and put it back up. Click For Price
Elodie The Unicorn Humidifier
California can get pretty dry at times so we tend to use a humidifier year-round to add a little moister to the air. Humidifiers are usually pretty hideous so imagine my surprise when I stumbled across this Elodie The Unicorn Humidifier which will blend right in with any unicorn themed room decor. Click For Price
Unicorn Piggy Bank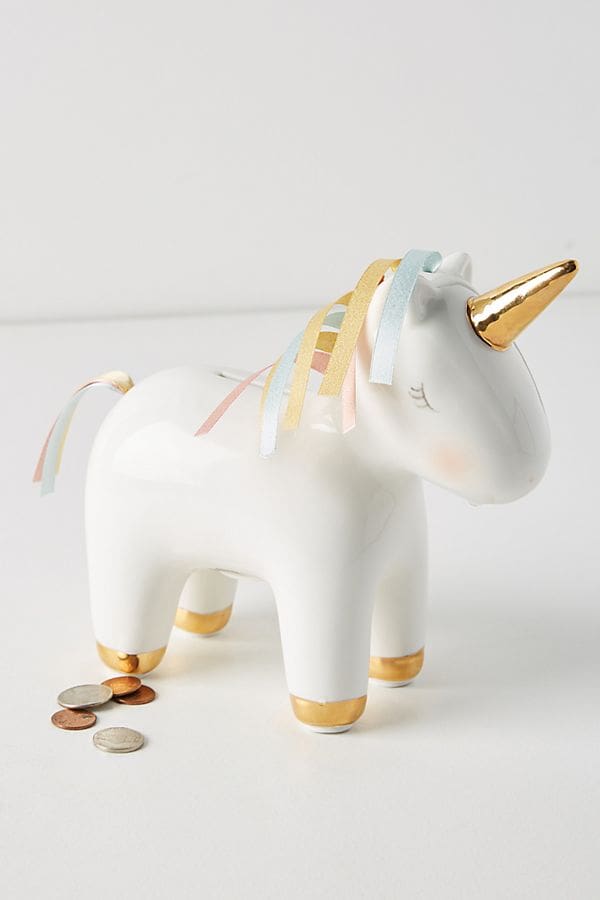 Many people don't know this (unless you've been to our house) but Reese has a slight addiction to piggy banks. We started her out with her first bank when she was born and over the years her collection has grown to over 40. We've picked most of them up from our travels but some (like this Unicorn Piggy Bank) we fall in love with simply because it's cute. Reese raised a good question though. "Is it still called a piggy bank even though it's a unicorn"? Hmmmm That's a good question. Click For Pricing
Girls Unicorn Themed Duvet Cover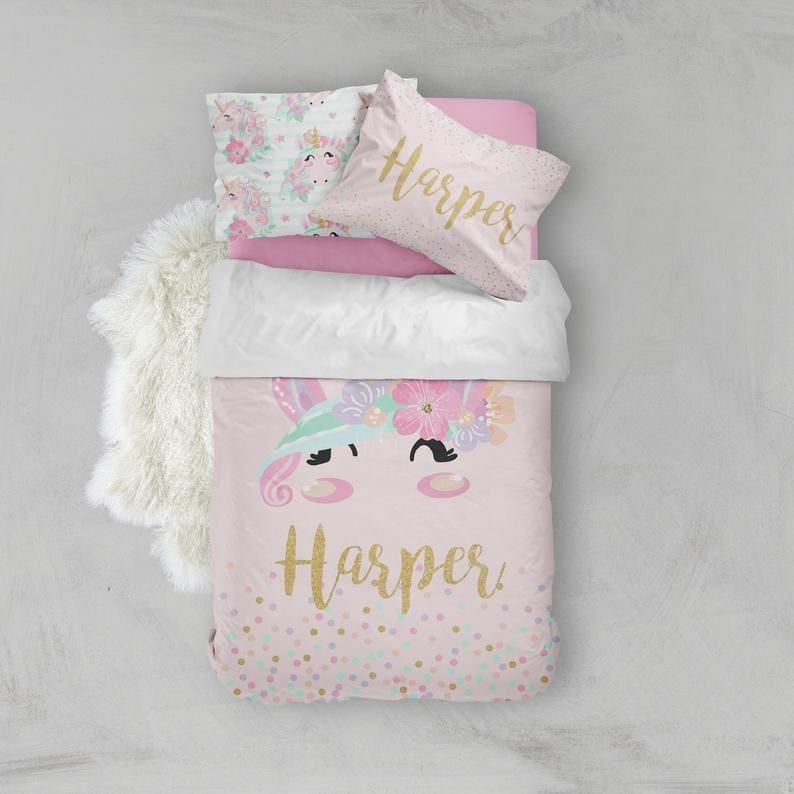 You can't complete your tween unicorn bedroom decor without pulling in some type of unicorn design into your bed linens. First I should start by saying how much I LOVE Etsy. I searched high and low for unicorn themed bedding and most of what I found was well…gross. IT's times like this when hand made items from Etsy come in handy. I absolutely adore this Unicorn Duvet Cover and Pillow Set. It comes in twin, full and queen sizes and can be customized with your child's name. I love that it's a duvet which means I can throw it in the washer without having to wash the entire comforter. Click For Pricing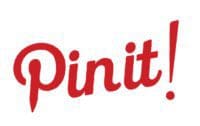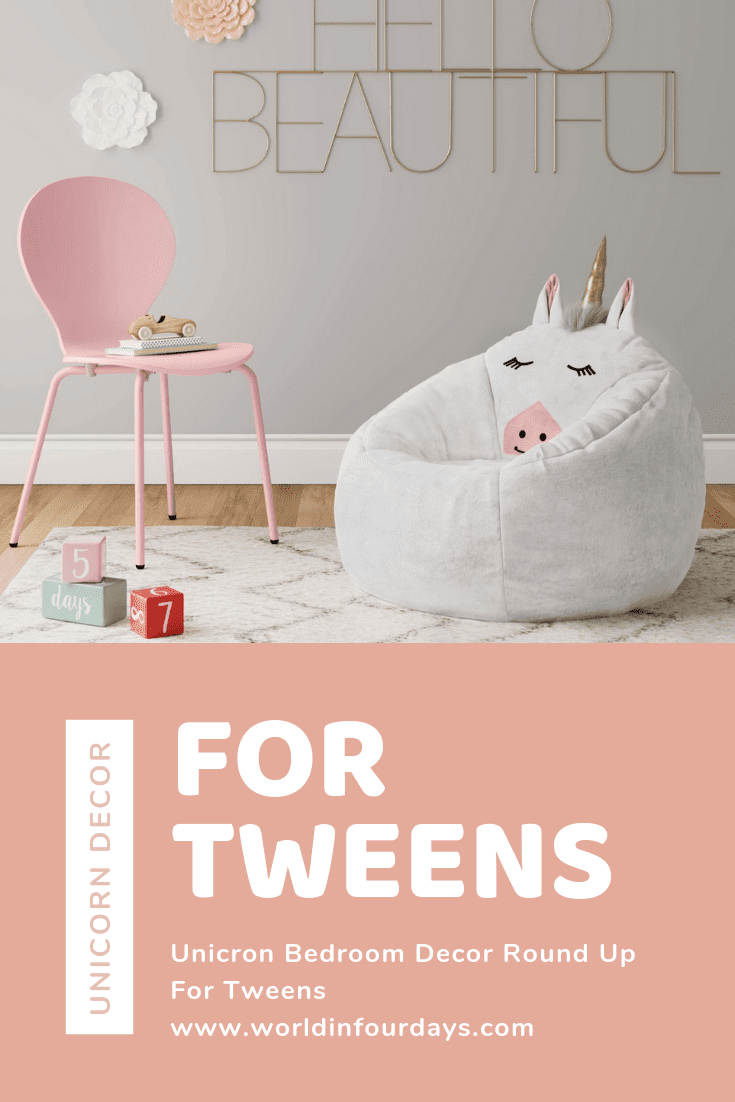 This post contains affiliate links which means we earn a small commission (at no cost to you) whenever you purchase something using a link from this post. Using our links is a great way to say THANK YOU for developing this content. You can learn more about our affiliate link policy here.