Budget airlines get a bad rap for nickel and diming customers, but I had a fantastic experience on a recent trip all the way from Los Angeles to Paris with my daughter, thanks to WOW Airlines. Our flight, while bare bones, got us from Point A to Point B for less than $800 total, for two people, during peak summer travel season! When that's the case, I don't mind saving the frills for my destination! Here's what to know when planning your next vacay with WOW Airlines: Wo
w Airlines Review
Every flight lays over in Iceland, where the airline is based. Our layover was only two hours long, but longer layovers are common and actually encouraged. See more of Europe while you're at it! You can travel out of any one of eight major cities in the U.S., with more than 30 possible destinations throughout Europe and Canada! Wow Airlines Review
Each passenger is allowed one personal item. Carry-on bags and checked luggage cost extra. (Be prepared: Cash is not accepted as a form of payment at the check-in counter.)
How much you pay for your flight depends on how many extra bells and whistles you need. If you can keep it simple, your ticket price will be low. Here's a breakdown of the various levels:
Service Options Wow Airlines Review
WOW Basic includes a flight ticket and one personal item. Expect to pay additional fees for carry-on baggage, checked baggage, and/or a seat reservation. (I promise, you can fit everything you need in your "personal item" if you pack like a pro, and does your seat assignment really matter in the grand scheme of things?) Be aware that cancellations not refunded. Optional cancellation protection can be purchased, but be sure to read the fine print on that. Changes to your ticket will cost you, and in some instances, aren't even possible, so be positive about the details when you make your purchase. There's a fixed fee for infants, and yes, they are allowed one small bag/item as well.
WOW Plus includes a flight ticket, a personal item, a carry-on bag, and a checked bag. You'll get a seat reservation in the "standard leg room" section. Cancellations aren't refunded on this ticket option. The same fine print regarding changes also applies, as well as the rules for infant travelers. Wow Airlines Review
WOW Biz includes everything mentioned above, plus the best seats on the plane, and free coffee or tea with a meal purchase. It also ensures a refund in event of a cancellation due to unavoidable reasons. WOW Biz allows you to skip the line at the KEF airport Iceland with fast track security and priority boarding. The same rules apply for infant travelers as with the other options.
In flight Entertainment Wow Airlines Review
There's no WiFi on board WOW planes, so you'll have to sit back, relax, and unplug! Take a nap, read a book, play a game, or watch a previously-downloaded movie. Forgot your tablet or need an extra? WOW Air rents them out for $20. Keep in mind that no cash is accepted on board, only Visa and MasterCard.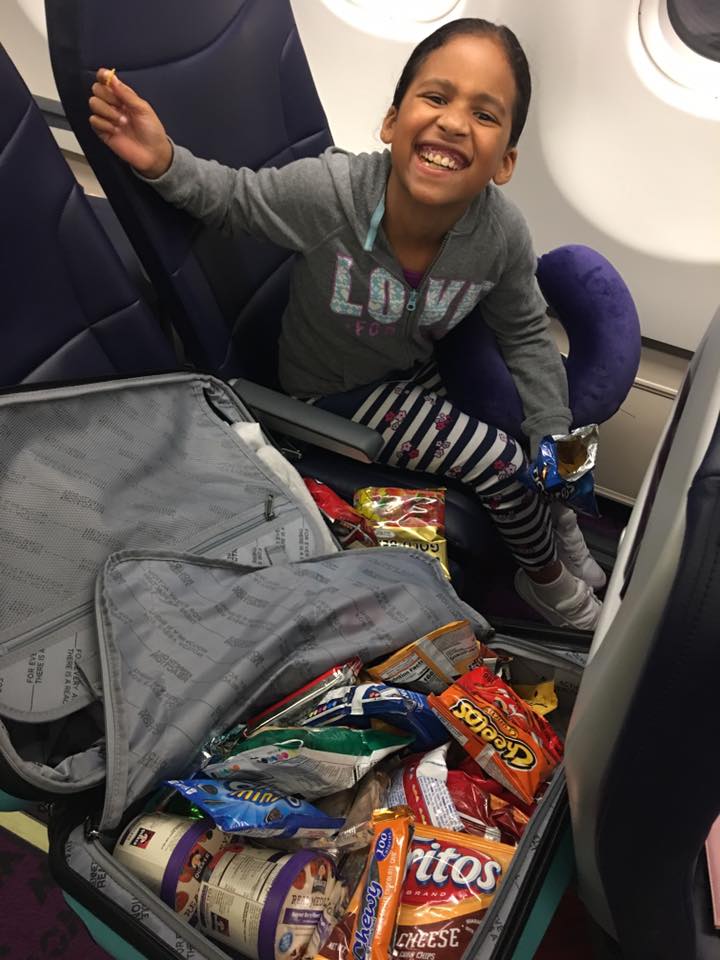 Food
The in-flight menu has cafeteria-style entree options (think sandwiches and pizza) that range from $9.99 to $12.99 and snack options (like yogurt, fruit pouches, and croissants) for around $3. Expect to pay $3 for non-alcoholic beverages and $8 for alcohol. Chips, candy bars, and cookies will set you back closer to $5. Pack your own snacks to save as much as you can when it comes to this stuff (We literally packed an entire suitcase full of food!), but if you need a last-minute souvenir, the $6 Icelandic chocolate bars are just the thing!
Seating Wow Airlines Review
Let's talk about the seats because there are several options! While my daughter and I didn't need much space and accepted whatever was available, it really makes or breaks an experience for some travelers. Get out your tape measure and see which of these works the best for you:
Standard seat in front (29″ – 31″)
Standard seat in back (29″ – 31″)
XL – extra leg room (32″ – 33″)
XXL – extra leg room (35″+)
BigSeat – (37″+) This one is only available on some of the WOW fleet.
Armed with this info, you can plan an awesome, International vacation on a budget, thanks to WOW Airlines. If you're well-versed in the art of traveling budget airlines within the states, this will be a breeze. And if I can do it with a child, so can you!
Where will you go on your first trip with WOW Air? Wow Airlines Review
This is a sponsored post. This means I received payment and/or product in exchange for a review of the brand. My reviews however are not influenced by payment, all opinions are my own and are no reflection of the brand featured.